Constellation Scorpius (Scorpion)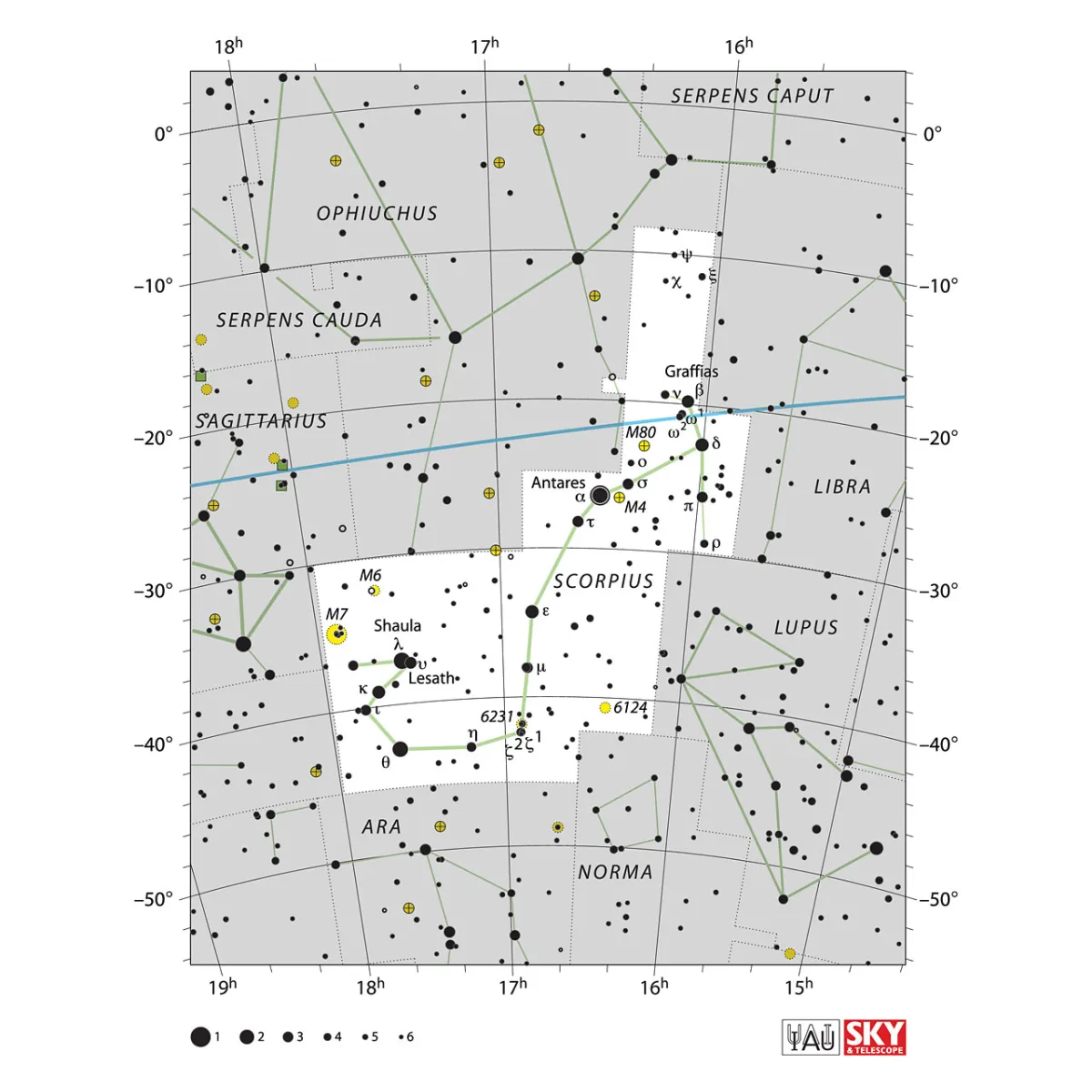 Properties
Despite an area of 497 square degrees, Scorpius is a large, bright and impressive constellation and is one of the most beautiful in the sky. It is partially located in the band of the Milky Way, near its center, west of Sagittarius. The outlines of this constellation are very reminiscent of the shape of this animal: the threateningly outstretched claws lie in the constellation Libra; the striking star formation around Antares, the heart of the scorpion, represents the breastplate; even the tail with the poison sting, raised to attack, is indicated by a star bow. The center of the constellation culminates around midnight on June 3rd. [9, 15]
Stars with Proper Names [154]

| | |
| --- | --- |
| α Sco | Antares, Cor Scorpii, Kalb Al Akrab, Vespertilio |
| β1 Sco | Graffias, Grafias, Grassias, Acrab, Akrab, Elacrab |
| δ Sco | Dschubba, Iclarkrau |
| θ Sco | Sargas |
| λ Sco | Shaula |
| ν Sco | Jabbah |
| σ Sco | Alniyat, Al Niyat |
| υ Sco | Lesath, Lesuth |
Deep-Sky Object Descriptions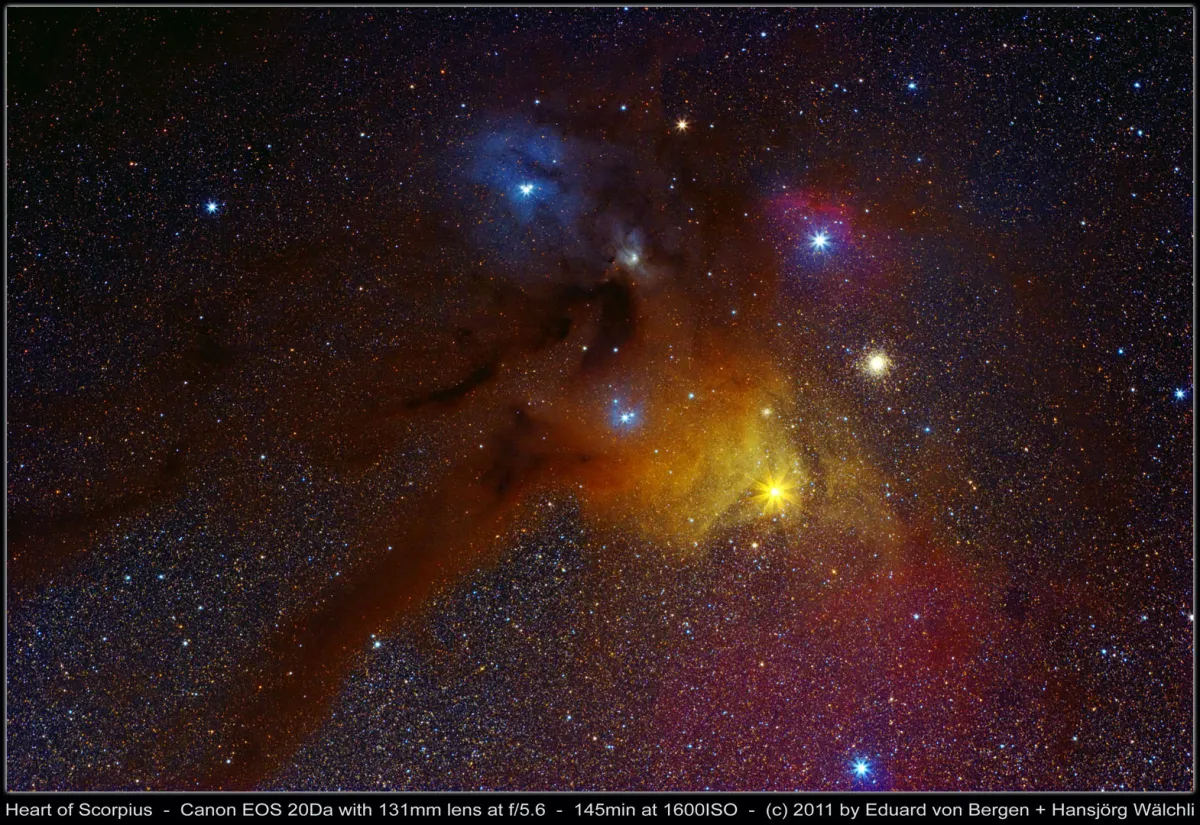 Mythology and History
According to rock carvings in the Caucasus region, the constellation of Scorpio was already in the 3rd millennium BC. Known, but the scorpion also appears in the Orion legend:
Orion was a mighty hunter who knew how to captivate even goddesses in love because of his beautiful figure. Jealousy and resentment were the result, which finally cost the Orion his life. In another version of death, the scorpion plays a role. Gäa, the earth goddess sent Orion a poisonous scorpion because he bragged that there was no animal he could not kill. Orion is said to have died of a scorpion sting, or the Sagittarius came to him just in time Help? As a punishment, the scorpion was moved to a place in the sky that is almost exactly opposite the Orion, so that Orion rises when the scorpion goes down. [20]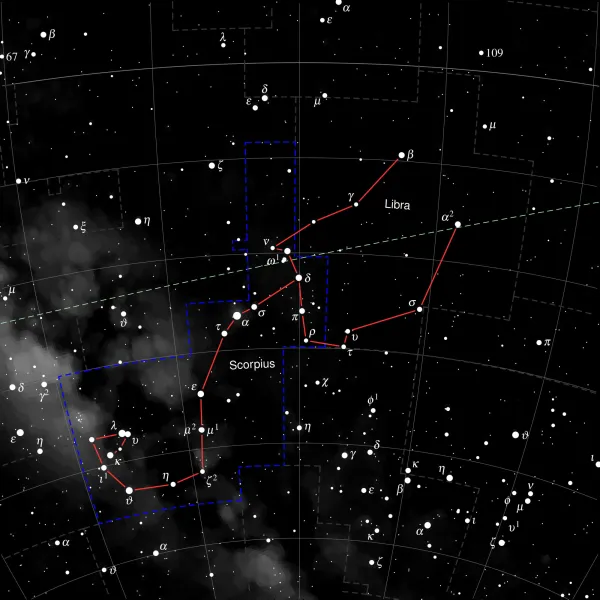 The ancient Greeks counted the area, where today the constellation Libra is located, still to Scorpius and saw here the claws of the scorpion. This is the origin of the Arabic names of the stars. During Julius Caesar's lifetime, the Romans separated into this area and formed the independent constellation and zodiac sign Libra.
Indians from central Brazil see the Scorpion as a carrying net for children. Indians from the Rio Negro river basin in northern Brazil see the scorpion as a big snake with a wide open mouth and a twisted body. The bright Antares is the snake's prey to be strangled down. At the end of the tail lies the egg of the snake. [20] The Indians of the North American tribe of the Navajo interpreted the four stars, which form the stache of the scorpion, as the footprint of a running hare. The first appearance of this constellation at dawn heralded the approach of spring. [61, 107]