Constellation Monoceros (Unicorn)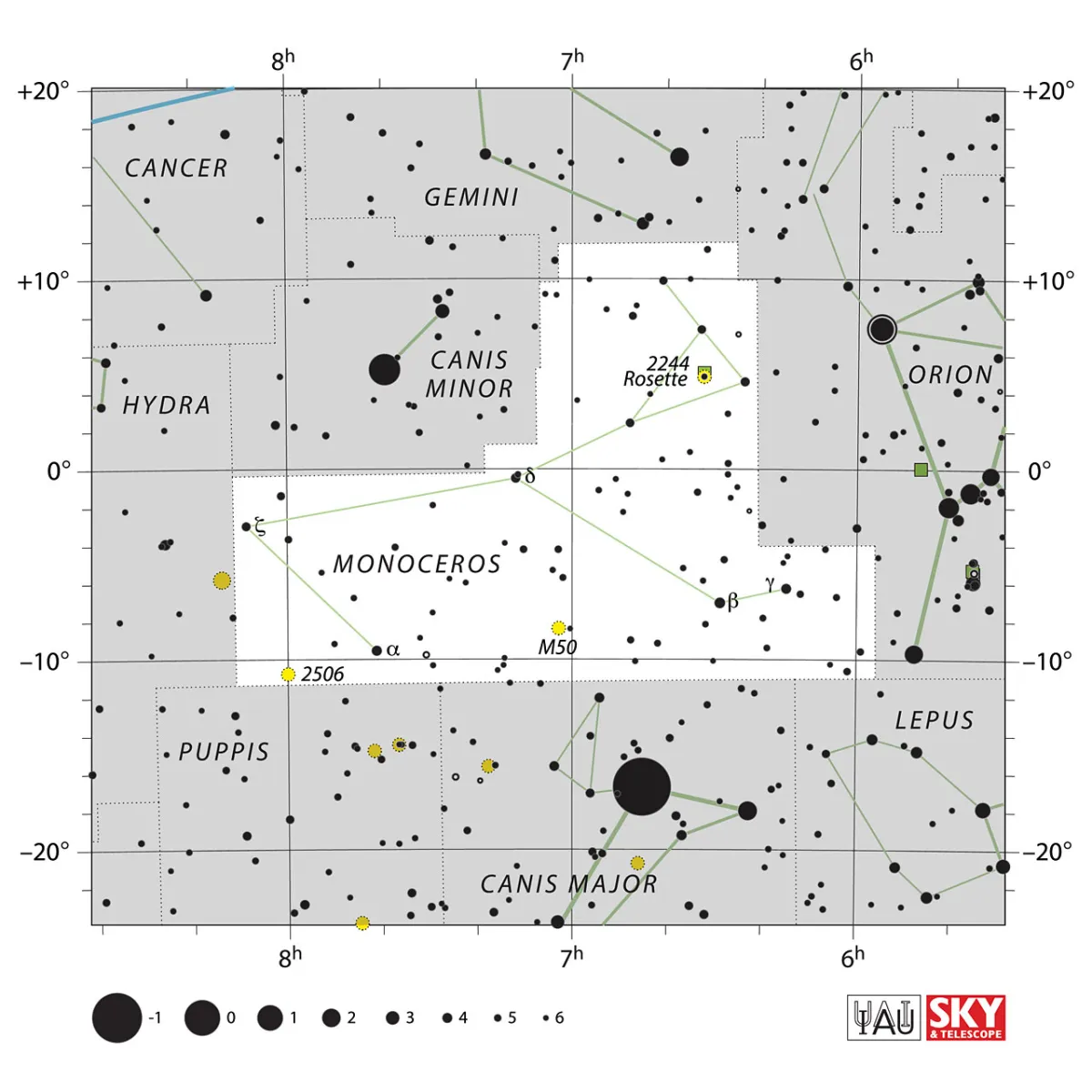 Properties
Monoceros is an inconspicuous constellation surrounded by conspicuous constellations like Gemini in the north, Orion in the west and Canis Maior in the south. The band of the Milky Way runs across the constellation and supplies it with a multitude of open star clusters and bright, diffuse nebulae - including the star cluster of the Rosette Nebula, which can be seen with the naked eye. The constellation area is 482 square degrees and the center culminates around midnight on January 5th. [9, 15]
Stars with Proper Names:
Deep-Sky Object Descriptions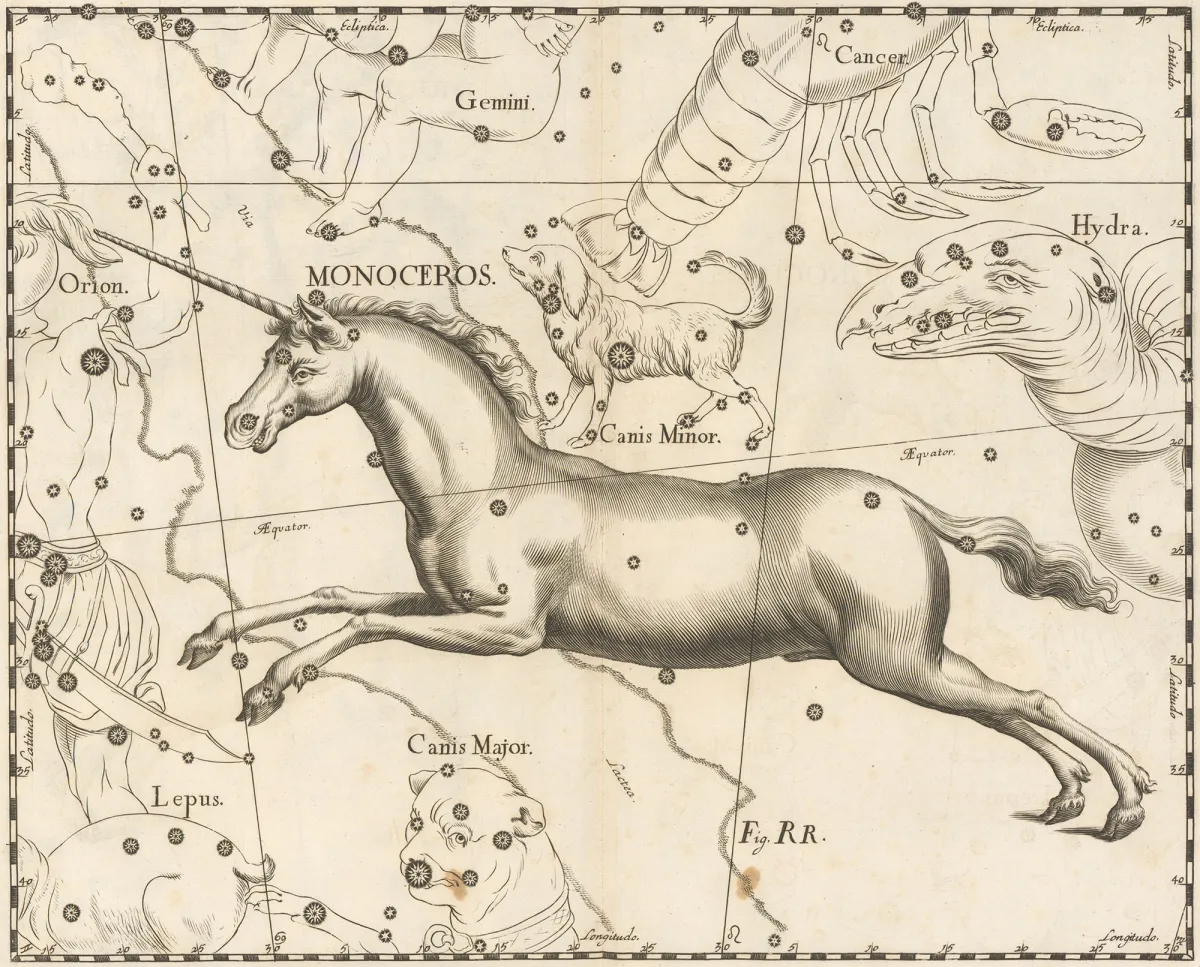 History
Although unicorns play an essential role in numerous legends and fables, this constellation was not yet known in ancient times. It was included in his star map by Kepler's son-in-law, the mathematician Jakob Bartsch, in 1624 after it had been used sporadically beforehand. [7] Others attribute this constellation to Johannes Hevelius, who is said to have drawn it a few decades later, in 1690. [21]
Catalogs
Yale Bright Star Catalogue, 5th Revised Ed. (Hoffleit+, 1991) [154]

| HR | B | F | DM | HD | SAO | FK5 | IR | M* | ADS | VarID | RA | Dec | vMag | spType | dMag | Sep ["] | Remarks |
| --- | --- | --- | --- | --- | --- | --- | --- | --- | --- | --- | --- | --- | --- | --- | --- | --- | --- |
| HR 2107 | | 1 | BD-09 1284 | 40535 | 132714 | | | | | V474 Mon | 05 59 01.0 | -09 22 56 | 6.12 | F2IV | | | SB:15.492d.,VAR:Delta Sct 5.93 - 6.36V, amp. 0.38 B, 0.13372, 0.13612 and 0.08261d; amp. var. in 7.7455d. Multiple periods. |
| HR 2108 | | 2 | BD-09 1285 | 40536 | 132715 | 2455 | | | | | 05 59 04.3 | -09 33 30 | 5.03 | A6IIIm vs | | | SB:9.3553d, K 57.1k/s, V0 +22.2k/s, asini 7.18. |
| HR 2128 | | 3 | BD-10 1349 | 40967 | 151037 | | | | 4615 | | 06 01 50.4 | -10 35 53 | 4.95 | B5III | 3.5 | 1.9 | D:Binary.,SB:ADS 4615A. |
| HR 2142 | | | BD-06 1391 | 41335 | 132793 | | | | | 2817 | 06 04 13.5 | -06 42 33 | 5.21 | B2Ven v | | | RV:Rapidly rotating and variable hydrogen lines suggest recent ejection of equatorial shell.,S:Shell star.,VAR:5.20 - 5.23V, 80.85d, periodic shell phenomena. |
| HR 2150 | | | BD-10 1368 | 41547 | 151098 | | | | | | 06 05 27.0 | -10 14 34 | 5.87 | dF4 | | | |
| HR 2154 | | | BD-04 1362 | 41692 | 132841 | 2467 | | | 4698 | | 06 06 38.7 | -04 11 38 | 5.38 | B5IV | 6.2 | 28.5 | |
| HR 2179 | | | BD-05 1523 | 42278 | 132900 | | | | | | 06 09 36.2 | -05 42 40 | 6.17 | F3IV w | | | |
| HR 2195 | | | BD-06 1439 | 42536 | 132924 | | | | | V653 Mon | 06 11 01.3 | -06 45 15 | 6.15 | A0pSrCr | | | VAR:Alpha CV, amp. 0.04U, 1.36:d. |
| HR 2202 | | | BD-04 1393 | 42657 | 132941 | | | | 4799 | V638 Mon | 06 11 43.7 | -04 39 56 | 6.18 | B9pHgMn | 1.7 | 0.8 | VAR:Alpha CV 6.16 - 6.18V, amp. 0.02y, 0.724d. |
| HR 2205 | | | BD-06 1446 | 42690 | 132944 | | | | | | 06 11 51.8 | -06 33 01 | 5.05 | B2V | | | |
| HR 2224 | | | BD-04 1421 | 43157 | 133003 | | | | 4846 | | 06 14 36.7 | -04 34 06 | 5.83 | B5V | 6.0 | 1.7 | |
| HR 2227 | γ | 5 | BD-06 1469 | 43232 | 133012 | 2475 | I | | 4853 | | 06 14 51.3 | -06 16 29 | 3.98 | K1.5IIIBa0.3 | 9.0 | 51.4 | N:Called Alpha Mon in BAC and many early catalogues. Now HR 2970 is called Alpha Mon. |
| HR 2234 | | | BD-04 1431 | 43319 | 133027 | | | | 4865 | | 06 15 29.7 | -04 54 55 | 5.99 | A5IV s | 4.2 | 4.1 | |
| HR 2237 | | | BD-08 1368 | 43362 | 133029 | | | | 4866 | | 06 15 26.0 | -09 02 07 | 6.10 | B9III | 0.0 | 0.2 | D:132.7y, e 0.52, a 0.24", i 55.7d, mag. diff 0.3.,DYN:0.005". |
| HR 2255 | | 6 | BD-10 1455 | 43760 | 151318 | | | | | | 06 17 35.2 | -10 43 31 | 6.75 | F0Del Del | | | |
| HR 2267 | | | BD-09 1411 | 43993 | 133091 | | I | | | | 06 18 50.6 | -09 23 25 | 5.36 | K1.5III | | | |
| HR 2270 | | | BD-08 1386 | 44037 | 133098 | | | | | | 06 19 07.9 | -08 35 11 | 6.22 | B9V | | | |
| HR 2273 | | 7 | BD-07 1373 | 44112 | 133114 | 1170 | | S | | | 06 19 42.8 | -07 49 23 | 5.27 | B2.5V | | | |
| HR 2280 | | | BD+02 1197 | 44333 | 113758 | | | | 4971 | 2932 | 06 21 25.8 | +02 16 07 | 6.31 | A4.5V | 0.6 | 0.3 | D:6.8 A3V, 7.4 A6V, 120y, a = 0.448".,VAR:ADS 4971, 6.3 - 6.37V, combined mag. Difference between components varies from 0.2 to 1.5V. Uncertain which component is,VAR:var. |
| HR 2292 | | | BD+03 1221 | 44700 | 113801 | | | | | | 06 23 18.5 | +03 45 52 | 6.40 | B3V | | | G:Cas-Tau OB1. |
| HR 2295 | | | BD-04 1484 | 44756 | 133199 | | | | | | 06 23 22.7 | -04 41 14 | 6.67 | A2V | | | |
| HR 2298 | ε | 8 | BD+04 1236 | 44769 | 113810 | 244 | | | 5012 A | | 06 23 46.1 | +04 35 34 | 4.44 | A5IV | 2.2 | 12.9 | D:Binary with HR 2299. Combined light 4.30V, +0.21(B-V). Component C, 12.2v at 93".,SB:331d? Unresolved by speckle interferometry. |
| HR 2299 | | | BD+04 1237 | 44770 | 113811 | | | | 5012 B | | 06 23 46.5 | +04 35 44 | 6.72 | F5V | 2.2 | 12.9 | D:See HR 2298. |
| HR 2300 | | | BD+08 1316 | 44783 | 113817 | | | | | | 06 24 02.3 | +08 53 05 | 6.26 | B8Vn | | | RV:Recent determination of vsini 300k/s. |
| HR 2301 | | | BD-09 1444 | 44816 | 133203 | | I | | | | 06 23 36.0 | -09 52 28 | 6.19 | K5 | | | |
| HR 2310 | | | BD+07 1273 | 44990 | 113845 | | | | | T Mon | 06 25 13.1 | +07 05 09 | 5.98 | F7Iab-K1Iab | | | D:IUE observations suggest an early-type companion, about A0.,VAR:CDelta 5.58 - 6.62V, 27.0205d since 1933. Period has increased from 27.0093 before 1900, with mean value 27.024649d. |
| HR 2312 | | | BD+01 1332 | 45050 | 113855 | | | W | | | 06 25 18.4 | +01 30 04 | 6.66 | B9V | 0.0 | 0.1 | |
| HR 2313 | | | BD-00 1287 | 45067 | 133229 | | | | | | 06 25 16.4 | -00 56 46 | 5.87 | F8V | | | |
| HR 2315 | | | BD+02 1227 | 45137 | 113868 | | | | | | 06 25 46.6 | +02 16 20 | 6.51 | A0V | | | |
| HR 2317 | | | BD-03 1425 | 45168 | 133238 | | | | | | 06 25 47.1 | -03 53 21 | 6.35 | G9III | | | SB:428.1d, K 7.99k/s, V0 +15.85k/s, asini 45.4. |
| HR 2321 | | | BD-07 1422 | 45239 | 133246 | | | | | | 06 25 58.8 | -07 53 39 | 6.40 | A4V | | | |
| HR 2324 | | | BD-01 1242 | 45320 | 133260 | 2493 | | | | | 06 26 39.6 | -01 30 26 | 5.87 | A3Vn | | | |
| HR 2325 | | | BD-04 1510 | 45321 | 133257 | | | | | | 06 26 34.5 | -04 35 50 | 6.15 | B2.5V | | | G:Open cluster NGC 2232 #2. |
| HR 2327 | | | BD+00 1421 | 45357 | 113896 | | | | | | 06 26 58.7 | +00 50 27 | 6.71 | A1Vn | | | |
| HR 2328 | | | BD-07 1429 | 45380 | 133263 | | | | 5070 | | 06 26 44.9 | -07 30 41 | 6.27 | A0Vn | 2.3 | 21.1 | D:Fixed sep. |
| HR 2333 | | | BD+02 1237 | 45415 | 113906 | | | | | | 06 27 20.4 | +02 54 29 | 5.55 | G9III | | | |
| HR 2334 | | | BD+00 1426 | 45416 | 113905 | | I | | | | 06 27 13.8 | +00 17 57 | 5.20 | K1II | | | N:77 Ori in Monoceros. |
| HR 2335 | | | BD-00 1299 | 45433 | 133269 | | I | | | | 06 27 15.6 | -00 16 34 | 5.55 | K5III | | | N:78 Ori in Monoceros. |
| HR 2342 | | | BD+10 1149 | 45512 | 95718 | | | | | | 06 28 18.8 | +10 18 14 | 6.15 | K2III-IV | | | |
| HR 2344 | | 10 | BD-04 1526 | 45546 | 133290 | 246 | | W | | | 06 27 57.6 | -04 45 44 | 5.06 | B2V | 4.2 | 77.2 | G:Brightest star in open cluster NGC 2232, #1. |
| HR 2347 | | | BD+02 1244 | 45563 | 113929 | | | | | | 06 28 16.8 | +01 54 44 | 6.48 | B9V | | | |
| HR 2351 | | | BD+11 1193 | 45638 | 95732 | | | | | | 06 29 00.0 | +11 01 10 | 6.59 | A9IV | | | |
| HR 2355 | | | BD+02 1253 | 45724 | 113940 | | I | W | | | 06 29 14.9 | +02 38 46 | 6.16 | gM1 | 4.0 | 19.3 | |
| HR 2356 | β | 11 | BD-06 1574 | 45725 | 133316 | | | | 5107 A | 2977 | 06 28 49.0 | -07 01 58 | 4.60 | B3Ve v | 0.5 | 7.1 | D:Triple system with HR 2357 and 2358. Combined mag., color 3.74V, -0.15(B-V), all Be stars. AB, 17000y; AC, sep. 10",,D:29000y. Component D, 12.2v at 26" from A. Uncertain which of components A,B,C, HR 2356,7,8 is the light variable,D:NSV 2977, for which the mag. 3.75V is a blend of all three.,S:Shell star with variable H alpha emission.,SB:12.5y, K 30k/s, asini 1900. Shell oscillations. Spectrum var. 12.5y for 3.5 cycles, then ceased.,VAR:Hydrogen lines var. K 30k/s. Shell line velocities do not correspond to orbital elements; may be due to gaseous ring. |
| HR 2357 | β | 11 | BD-06 1575 | 45726 | 133317 | | | | 5107 B | 2977 | 06 28 49.5 | -07 02 04 | 5.40 | B3ne | 0.5 | 7.1 | D:See HR 2356.,DYN:0.008".,S:Shell star. |
| HR 2358 | β | 11 | BD-06 1575 | 45727 | 0 | | | | 5107 C | 2977 | 06 28 49.5 | -07 02 04 | 5.60 H | B3e | 0.5 | 7.1 | D:See HR 2356.,DYN:0.008". |
| HR 2362 | | | BD+09 1259 | 45827 | 113957 | | | | | | 06 30 05.5 | +09 01 45 | 6.57 | A0III | | | S:Also classified A0pSi. |
| HR 2367 | | | BD-09 1493 | 45976 | 151573 | 2497 | I | | | | 06 30 11.3 | -10 04 53 | 5.93 | K0 | | | |
| HR 2370 | | | BD+11 1204 | 45995 | 95766 | | | | 5153 A | | 06 31 09.5 | +11 15 03 | 6.14 | B2V:nne | 2.8 | 16.1 | D:Double emission lines of which red component variable intensity. Component B, 9.09V, -0.05(B-V), -0.30(U-B), B9IVe,,D:RV +6k/s, vsini 201k/s.,G:HII region; in cluster NGC 2264, region of expanding OB assoc. in gas and dust. See note for HR 2456. |
| HR 2374 | | | BD+11 1207 | 46075 | 95783 | | | | | | 06 31 39.2 | +11 47 32 | 6.65 | B6III | | | G:In HII region. |
| HR 2375 | | | BD+11 1209 | 46089 | 95788 | | | | | | 06 31 48.3 | +11 32 40 | 5.23 | A3V | | | G:Possible Eggen group with HR 63, q.v. |
| HR 2378 | | | BD+11 1213 | 46178 | 95803 | | | | 5170 | | 06 32 23.3 | +11 40 25 | 6.03 | K0III | 4.2 | 31.1 | D:Optical. |
| HR 2381 | | | BD-08 1462 | 46229 | 133369 | | I | | | | 06 31 50.1 | -08 09 29 | 5.43 | gK2 | | | |
| HR 2382 | | 12 | BD+04 1304 | 46241 | 114023 | | | | | 3017 | 06 32 19.2 | +04 51 21 | 5.84 | K0V | | | G:In field of open cluster NGC 2244 #56, the Rosette Nebula, associated with dense clouds of gas. Probable nonmember. |
| HR 2385 | | 13 | BD+07 1337 | 46300 | 114034 | 1174 | | | | | 06 32 54.2 | +07 19 59 | 4.50 | A0Ib | | | G:Mon OB1; in reflection nebula; member assoc. Mon R1 at 1050 pc.,VAR:R-I also found at -0.02. |
| HR 2386 | | | BD-05 1678 | 46304 | 133382 | | | W | | | 06 32 23.1 | -05 52 08 | 5.60 | F0Vnn | 7.7 | 4.2 | |
| HR 2395 | | | BD-01 1274 | 46487 | 133404 | 1175 | | | | | 06 33 37.9 | -01 13 13 | 5.10 | B5Vn | | | |
| HR 2404 | | 14 | BD+07 1357 | 46642 | 114085 | | | | 5211 | 3031 | 06 34 46.4 | +07 34 21 | 6.45 | A0V s | 4.0 | 10.5 | D:Fixed sep. |
| HR 2406 | | | BD+10 1186 | 46709 | 95870 | 2505 | I | | | | 06 35 17.6 | +09 59 18 | 5.88 | K4III | | | |
| HR 2409 | | | BD+00 1491 | 46769 | 114097 | | | | | | 06 35 15.8 | +00 53 24 | 5.80 | B8Ib | | | |
| HR 2413 | | | BD+04 1335 | 46885 | 114115 | | | | | | 06 36 00.0 | +04 29 51 | 6.55 | B9III | | | G:Member cluster Collinder 107, a cluster possibly assoc. with a stellar ring. |
| HR 2418 | | | BD-05 1710 | 47054 | 133469 | 2509 | | | | | 06 36 35.3 | -05 12 40 | 5.52 | B8V e | | | S:Shell star. |
| HR 2422 | | | BD+06 1309 | 47129 | 114146 | | | | | V640 Mon | 06 37 24.1 | +06 08 07 | 6.06 | O8p | | | G:Mon OB2; in HII reg.; a SN remnant, D14. Near NGC 2264 in region of expanding OB assoc. in gas and dust. See note for HR,G:2456. Embedded in 21-cm emission.,M:Probably star of largest known mass for primary and secondary components, each about 50 solar masses.,N:Plaskett's star.,P:Intrinsic polarization, probably due to circumstellar matter.,S:Shell star. Also classified O8f and O7.5III(f), O8V + O8f.,SB:14.3961d, K 205.2k/s, V0 +24.9k/s, asini 40.6. Masses each about 55 solar. The secondary is underluminous for its,SB:mass and may be smaller than the primary. vsini secondary 130:k/s.,VAR:6.04 - 6.08V, irregular variations, possibly transition from O- to WR-type spectrum. Polarization variable. |
| HR 2426 | | | BD+10 1201 | 47156 | 95914 | | | | | | 06 37 36.9 | +10 51 11 | 6.38 | K0 | | | |
| HR 2430 | | | BD+02 1315 | 47220 | 114154 | 2512 | | | | | 06 37 40.3 | +02 42 15 | 6.17 | K1III | | | |
| HR 2432 | | | BD+05 1334 | 47240 | 114162 | | | | | | 06 37 52.7 | +04 57 26 | 6.15 | B1Ib | | | G:Mon OB2; near NGC 2264 in region of expanding OB assoc. in gas and dust. See note for HR 2456. At edge of Monoceros,G:loop. Supernova remnant possibly associated with HR 2432. |
| HR 2440 | | | BD-02 1691 | 47420 | 133511 | | I | | | | 06 38 20.5 | -02 32 37 | 6.14 | K2 | | | |
| HR 2441 | | | BD+04 1365 | 47431 | 114194 | | | | | | 06 38 49.5 | +04 42 02 | 6.57 | B8IIIn | | | G:Near NGC 2264 in region of expanding OB assoc. in gas and dust. See note for HR 2456. |
| HR 2442 | | | BD+01 1443 | 47432 | 114191 | | | | | 3060 | 06 38 38.1 | +01 36 49 | 6.21 | O9.5II | | | G:Mon OB1; exciting star of HII region S282 within 0.5d; 21-cm emission.,RV:7.5 hrs.,S:Luminosity class variously given as I, II and III (classified also as O9.5I and O9.7Ib). uv 1548 absorption strong,,S:emission weak.,VAR:Beta C? 6.2 - 6.25V, 7.5 hrs., possibly longest period Beta C type. |
| HR 2454 | | | BD+06 1338 | 47756 | 114244 | | | | | | 06 40 31.8 | +06 22 18 | 6.51 | B8IIISi | | | |
| HR 2456 | | 15 | BD+10 1220 | 47839 | 114258 | | I | | 5322 | S Mon | 06 40 58.7 | +09 53 44 | 4.66 | O7V((f)) | 3.5 | 2.9 | C:Color excess E(B-V) = +0.07.,D:AB binary, 4.8 Oe5, 7.6 B7; C, 9.9v B8V at 17", physical, vsini 141k/s; D, 9.7v A6III at 41", physical, vsini 115k/s;,D:E1 the brighter component of E, B5V at 74", probably optical, vsini 253k/s; E2, A0V, vsini 132k/s.,DYN:0.005".,G:In cluster NGC 2264 #131; HII reg. S273; Mon OB1; T-Tauri assoc., Mon T1. The cluster appears to be the nucleus of the,G:association. In region of neutral hydrogen. Ionized Mon OB1 region probably excited by S Mon. The electron density of,G:the HII region increases toward the center of the cluster. (Note that OB associations MonI = IIMon = Mon OB1 and MonII =,G:IMon = OB2. In conversions from the earlier designations to OB1 and OB2 these groups have occasionally been,G:interchanged; however, they may be related.),S:Also classified O8III((f)). uv 1240 absorption strong.,VAR:ADS 5322A, Ia? 4.62 - 4.67V. R-I also found at -0.11. |
| HR 2458 | | | BD+11 1273 | 47886 | 95997 | | I | | | | 06 41 17.2 | +11 00 12 | 6.11 | M1III | | | |
| HR 2461 | | | BD+00 1546 | 47964 | 114269 | | | | | | 06 41 05.4 | +00 29 43 | 5.79 | B8III | | | |
| HR 2467 | | | BD+06 1351 | 48099 | 114293 | | I | | | | 06 41 59.3 | +06 20 42 | 6.37 | O6.5V e | | | D:Some spectral lines appear double, indicating separation of about 110k/s and vsini of 90 and 75k/s.,G:Mon OB2; 21 cm emission; in HII region D14; in a SN remnant; near NGC 2264 in region of expanding OB assoc. in gas and,G:dust. See HR 2456.,S:Also classified O7V and O8f. |
| HR 2469 | | | BD-09 1601 | 48217 | 133585 | | I | | | | 06 41 56.4 | -09 10 02 | 5.19 | M0III | | | G:Wolf 630 group. |
| HR 2474 | | | BD+03 1371 | 48348 | 114312 | | I | | | | 06 43 06.5 | +03 02 00 | 6.19 | K0 | | | |
| HR 2479 | | | BD+04 1414 | 48434 | 114324 | | | | | | 06 43 38.7 | +03 55 56 | 5.90 | B0III | | | G:Mon OB2.,S:uv indicates sB0.5. |
| HR 2494 | | 16 | BD+08 1486 | 48977 | 114388 | 1177 | | | | | 06 46 32.4 | +08 35 14 | 5.93 | B2.5V | | | G:In HII region; near NGC 2264 in region of expanding OB assoc. in gas and dust. See note for HR 2456. |
| HR 2502 | | | BD-09 1644 | 49147 | 151911 | 2521 | | | | | 06 46 39.0 | -10 06 26 | 5.66 | B9.5V | | | |
| HR 2503 | | 17 | BD+08 1496 | 49161 | 114410 | | I | | | | 06 47 19.8 | +08 02 14 | 4.77 | K4III | | | |
| HR 2506 | | 18 | BD+02 1397 | 49293 | 114428 | 258 | I | | | | 06 47 51.6 | +02 24 44 | 4.47 | K0+IIIaBa0.2 | | | S:Also classified K0III Ba 0.1. |
| HR 2508 | | | BD-08 1558 | 49331 | 133679 | | I | | | 3213 | 06 47 37.1 | -08 59 54 | 5.07 | M1+Ib-IIa | | | VAR:Amp. 0.06V. |
| HR 2514 | | | BD-01 1386 | 49434 | 133687 | | | | | | 06 48 19.0 | -01 19 09 | 5.75 | F1V | | | |
| HR 2517 | | | BD+01 1531 | 49567 | 114465 | | | | | | 06 49 03.7 | +01 00 07 | 6.15 | B3II-III | | | |
| HR 2521 | | | BD-02 1776 | 49643 | 133718 | 1179 | | W | | | 06 49 16.4 | -02 16 19 | 5.74 | B8IIIn | 0.0 | 0.1 | |
| HR 2530 | | | BD-00 1462 | 49933 | 133760 | | | | 5505 | | 06 50 49.9 | -00 32 27 | 5.77 | F2V | 5.5 | 5.9 | D:CPM. |
| HR 2534 | | | BD-07 1592 | 49976 | 133761 | | | | | V592 Mon | 06 50 42.3 | -08 02 28 | 6.29 | A2pSrCrEu v | | | VAR:Alpha CV 6.16 - 6.32V, 2.9760d. Magnetic field and rotation same period. Strontium var. |
| HR 2543 | | | BD+03 1437 | 50062 | 114525 | | | | | | 06 51 39.3 | +03 02 30 | 6.38 | A2V s | | | |
| HR 2551 | | | BD+08 1543 | 50277 | 114556 | | I | | | | 06 52 49.4 | +08 22 49 | 5.77 | F0Vn | | | |
| HR 2552 | | | BD-05 1845 | 50282 | 133807 | | | | | | 06 52 22.9 | -05 18 58 | 6.30 | K0 | | | |
| HR 2555 | | | BD+11 1344 | 50371 | 96241 | | | | | | 06 53 22.5 | +10 59 47 | 6.24 | K0III | | | |
| HR 2570 | | | BD-05 1863 | 50700 | 133855 | | | | 5557 | | 06 54 08.5 | -05 51 09 | 6.41 | A6Vn | 0.1 | 1.2 | |
| HR 2572 | | | BD-00 1487 | 50747 | 133870 | 2533 | | | | | 06 54 24.6 | -01 07 37 | 5.45 | A4IV | | | G:Possible Eggen group with HR 63, q.v. |
| HR 2577 | | | BD-01 1446 | 50820 | 133881 | | | | | 3271 | 06 54 42.1 | -01 45 23 | 6.21 | B3IVe+K2II | | | RV:Pole on.,S:Also classified B3IVe+F. |
| HR 2582 | | | BD-02 1827 | 50890 | 133890 | | | | | | 06 54 58.8 | -02 48 13 | 6.04 | gG6 | | | |
| HR 2584 | | | BD+08 1562 | 50931 | 114626 | | | | | | 06 55 34.6 | +08 19 29 | 6.29 | A0V | | | |
| HR 2589 | | | BD+10 1335 | 51104 | 96294 | 2535 | | | | | 06 56 25.8 | +09 57 23 | 5.92 | B8Vn | | | |
| HR 2599 | | | BD-07 1642 | 51424 | 133937 | | | | | | 06 57 00.1 | -08 10 44 | 6.34 | K0II-III+A2V | | | |
| HR 2606 | | | BD+07 1539 | 51693 | 114713 | | | | | | 06 58 39.0 | +07 37 19 | 6.27 | A3V | | | |
| HR 2610 | | | BD+03 1488 | 51814 | 114722 | 2540 | | | 5648 | | 06 58 57.0 | +03 36 08 | 5.97 | G8III | 6.7 | 3.6 | |
| HR 2613 | | | BD+07 1544 | 51892 | 114731 | | | | | | 06 59 20.1 | +07 19 01 | 6.35 | B7III | | | |
| HR 2622 | | | BD-05 1910 | 52265 | 134031 | | | | | | 07 00 18.0 | -05 22 01 | 6.30 | G0III-IV | | | |
| HR 2624 | | | BD-08 1662 | 52312 | 134036 | 1181 | | W | | | 07 00 23.7 | -08 24 25 | 5.96 | B9III | 6.7 | 1.5 | |
| HR 2627 | | | BD-08 1667 | 52382 | 134041 | | | | | | 07 00 39.3 | -09 12 11 | 6.49 | B1Ib | | | G:CMa OB1. |
| HR 2629 | | | BD+05 1513 | 52479 | 114798 | | | | | | 07 01 41.4 | +04 49 05 | 6.63 | A3V s | | | |
| HR 2633 | | | BD+05 1514 | 52559 | 114801 | | | | | | 07 01 55.0 | +05 33 27 | 6.59 | B2IV-V | | | M:Old disk population runaway star. |
| HR 2636 | | | BD-01 1509 | 52611 | 134073 | | | W | | | 07 01 52.9 | -01 20 44 | 6.17 | G5II | 4.7 | 24.5 | |
| HR 2639 | | | BD-05 1926 | 52666 | 134076 | | I | | | 3341 | 07 01 56.4 | -05 43 20 | 5.20 | M2III | | | |
| HR 2647 | | | BD+09 1496 | 52913 | 114835 | | | | | | 07 03 17.9 | +09 08 18 | 5.97 | A3V s | | | |
| HR 2648 | | 19 | BD-04 1788 | 52918 | 134106 | 2547 | | | | V637 Mon | 07 02 54.8 | -04 14 21 | 4.99 | B1V e | | | RV:Rotational velocity vsini 336k/s.,S:H alpha emission. uv indicates gB1.,VAR:Beta C 4.96 - 5.01V, 0.19120d, secondary 0.19740d, beat period 6.09d. |
| HR 2654 | | | BD+01 1665 | 53205 | 114867 | | | W | | | 07 04 20.2 | +01 29 18 | 6.57 | A0V | 0.9 | 90.4 | |
| HR 2655 | | | BD-05 1943 | 53208 | 134133 | | I | | | | 07 04 05.2 | -05 19 25 | 5.62 | K3III | | | |
| HR 2656 | | | BD-09 1818 | 53240 | 152308 | | | | | | 07 03 57.3 | -10 07 27 | 6.45 | B9IIIn e | | | S:H alpha emission. |
| HR 2663 | | | BD+09 1510 | 53510 | 114899 | | I | | | | 07 05 39.1 | +09 11 09 | 5.78 | M0III | | | |
| HR 2670 | | | BD-10 1862 | 53755 | 152363 | | | | 5782 | V569 Mon | 07 05 49.7 | -10 39 40 | 6.49 | B0.5V+F5III | 3.6 | 38.3 | D:Component B, 10.3v, F5III.,G:Exciting star of HII region S296. Doubtful if member of CMa OB1.,VAR:ADS 5782A, Beta C 6.42 - 6.53V, 0.267d? or 0.18d. Other indications from 4 to 10.4 hrs. |
| HR 2676 | | | BD+05 1543 | 53929 | 114935 | | | | | | 07 07 06.4 | +04 54 37 | 6.11 | B9.5III | | | |
| HR 2694 | | | BD-10 1892 | 54662 | 152470 | | | | | | 07 09 20.3 | -10 20 50 | 6.21 | O6.5V | | | G:Exciting star of HII region S296; member assoc. CMa OB1-R1.,M:Possibly the center of SN explosion 0.8 million years ago.,S:Also classified O7III. |
| HR 2701 | | 20 | BD-04 1840 | 54810 | 134282 | 1186 | I | W | | | 07 10 13.7 | -04 14 14 | 4.92 | K0III | 4.9 | 186.2 | |
| HR 2707 | | 21 | BD-00 1634 | 55057 | 134316 | | | | | V571 Mon | 07 11 23.6 | -00 18 07 | 5.45 | A8Vn-F3Vn v | | | VAR:Delta Sct 5.43 - 5.50V, 0.0999081 and 0.07500d, var. amp., beat per. 0.30083d. Sp. var. |
| HR 2714 | δ | 22 | BD-00 1636 | 55185 | 134330 | 1187 | | | 5864 | | 07 11 51.9 | -00 29 34 | 4.15 | A2V | 9.2 | 32.0 | |
| HR 2731 | | | BD-03 1804 | 55775 | 134391 | | I | | 5911 | | 07 14 11.0 | -03 54 05 | 5.75 | K5III | 5.0 | 2.7 | |
| HR 2732 | | | BD-09 1921 | 55832 | 134395 | | I | | | | 07 14 15.5 | -09 56 51 | 5.90 | K3III | | | |
| HR 2739 | | | BD-10 1933 | 55879 | 152598 | | | | | | 07 14 28.2 | -10 19 00 | 6.03 | B0III | | | G:CMa OB1; NGC 2353 #1; exciting star of HII region S296. NGC 2353, a cluster in which no appreciable amounts of neutral,G:or ionized hydrogen have been detected. |
| HR 2744 | | 24 | BD+00 1871 | 56003 | 134414 | | | | 5933 | | 07 15 19.3 | -00 09 41 | 6.41 | G5III | 5.8 | 3.8 | |
| HR 2752 | | | BD-10 1945 | 56207 | 152621 | | | | | | 07 15 43.1 | -10 35 02 | 5.95 | K0 | | | |
| HR 2765 | | | BD-06 2032 | 56614 | 134474 | | I | | | | 07 17 31.7 | -06 40 48 | 6.29 | K2 | | | |
| HR 2798 | | | BD-08 1862 | 57517 | 134563 | | | | | | 07 21 16.9 | -08 52 42 | 6.55 | F5 | | | |
| HR 2806 | | | BD-08 1872 | 57682 | 134580 | | | | | | 07 22 02.0 | -08 58 45 | 6.43 | O9V | | | G:CMa OB1; in HII reg. Ma 118. |
| HR 2807 | | | BD-02 2079 | 57708 | 134585 | | | | | | 07 22 18.5 | -02 58 44 | 6.23 | F5 | | | |
| HR 2811 | | | BD-05 2089 | 57749 | 134588 | | | | | 3560 | 07 22 25.4 | -05 58 58 | 5.82 | F3IV | | | VAR:Delta Sct? 5.80 - 5.84V. |
| HR 2833 | | | BD-05 2112 | 58526 | 134654 | | | | | | 07 25 51.0 | -05 46 30 | 5.97 | G3Ib | | | |
| HR 2838 | | | BD-04 1943 | 58580 | 134658 | | | | | | 07 26 03.5 | -04 32 15 | 6.76 | A0IV | | | SB:Small RV amp. Components equal Sp., but different rotations. |
| HR 2865 | | | BD-01 1738 | 59311 | 134740 | 2578 | I | | | | 07 29 18.7 | -01 54 19 | 5.59 | K5III | | | |
| HR 2866 | | | BD-07 1996 | 59380 | 134742 | | | | | | 07 29 25.7 | -07 33 04 | 5.86 | F8V | | | |
| HR 2867 | | | BD-10 2067 | 59381 | 152941 | 2579 | I | | | | 07 29 22.1 | -10 19 36 | 5.75 | K5III | | | |
| HR 2876 | | | BD-04 1979 | 59669 | 134774 | 2582 | | | | | 07 30 51.1 | -05 13 35 | 6.24 | K0 | | | |
| HR 2883 | | | BD-08 1964 | 59984 | 134806 | | | | 6158 | | 07 32 05.8 | -08 52 51 | 5.90 | F5V | 2.7 | 23.4 | D:CPM? |
| HR 2920 | | | BD-07 2065 | 60853 | 134883 | | I | | | | 07 36 16.6 | -08 18 41 | 6.27 | K2 | | | |
| HR 2927 | | 25 | BD-03 1979 | 61064 | 134899 | 289 | | W | | 3665 | 07 37 16.7 | -04 06 40 | 5.13 | F6III | 5.3 | 121.7 | D:AB, CPM. B, 13.2v at 26".,G:Hyades group.,VAR:Comp. A of multiple. Delta Sct?, amp. 0.01V, 1.5hr. |
| HR 2958 | | | BD-07 2118 | 61749 | 134969 | | | | | | 07 40 35.5 | -08 11 09 | 6.01 | A3IV | | | |
| HR 2970 | α | 26 | BD-09 2172 | 61935 | 134986 | 293 | I | | | | 07 41 14.8 | -09 33 04 | 3.93 | K0III | | | N:In early catalogues called Gamma Mon; HR 2227 now called Gamma, was Alpha in BAC and numerous older,N:catalogues. |
| HR 3014 | | | BD-06 2281 | 62902 | 135079 | | I | | | | 07 46 02.2 | -06 46 21 | 5.49 | K5III | | | |
| HR 3047 | | | BD-08 2096 | 63752 | 135158 | | I | | | | 07 50 10.6 | -09 11 00 | 5.61 | K3III | | | |
| HR 3054 | | | BD-10 2253 | 63894 | 153479 | 2609 | | | | | 07 50 55.2 | -11 07 43 | 6.16 | K0 | | | |
| HR 3072 | | | BD-05 2280 | 64235 | 135205 | 2611 | | W | | 3777 | 07 52 47.9 | -05 25 41 | 5.76 | F5IV | 0.3 | 0.2 | D:6.4 F2, 6.7, 30.8y, a = 0.295". |
| HR 3122 | | 27 | BD-03 2157 | 65695 | 135345 | 304 | I | | | | 07 59 44.1 | -03 40 47 | 4.93 | K2III | | | |
| HR 3135 | | | BD-02 2379 | 65875 | 135368 | | | | | 3857 | 08 00 44.1 | -02 52 54 | 6.51 | B2.5Ve v | | | G:Group around Zeta Mon.,S:Shell star displaying variable H alpha.,VAR:Gamma Cas?, 6.48 - 6.63V. Amp. at 0.58 micrometers about 0.10m. |
| HR 3141 | | 28 | BD-00 1882 | 65953 | 135380 | 2620 | I | | | V645 Mon | 08 01 13.3 | -01 23 33 | 4.68 | K4III | | | VAR:FK Com, amp. 0.020V, 0.025B, 0.030U, 0.207878d. |
| HR 3150 | | | BD-05 2339 | 66242 | 135406 | 1213 | | | | | 08 02 26.0 | -06 20 14 | 6.33 | G0III | | | |
| HR 3174 | | | BD-08 2222 | 67159 | 135505 | | | | 6588 | | 08 06 27.5 | -09 14 42 | 6.23 | B9V | 1.7 | 30.8 | D:B is A0. BC double 8.6, 13.0 sep. 1". |
| HR 3188 | ζ | 29 | BD-02 2450 | 67594 | 135551 | | I | | 6617 | | 08 08 35.6 | -02 59 02 | 4.34 | G2Ib | 4.9 | 66.0 | D:B, 10.1v G8II at 33" optical. C is K2III.,G:Group around Zeta Mon. |
| HR 3189 | | | BD-10 2400 | 67725 | 153887 | | | | | | 08 08 56.9 | -11 20 23 | 6.32 | A0Vn | | | |
Revised+Historic NGC/IC, Version 22/9, © Dr. Wolfgang Steinicke [277]
Planetary Nebulae
Name
RA
Dec
Type
bMag
vMag
Dim
Dreyer Description
Identification, Remarks
NGC 2346
07 09 22.5
-00 48 22
PN
11.8
11.6
0.87
* 10 nff with S, vF, neb
PK 215+3.1, CS=11.2
Galactic Nebulae
Name
RA
Dec
Type
bMag
vMag
Dim
Dreyer Description
Identification, Remarks
NGC 2149
06 03 30.7
-09 43 50
RN
3 × 2
F, * 12 inv
vdB 66
NGC 2170
06 07 31.3
-06 23 53
RN
2 × 2
* 9 in vF, pL neb, E 170°
LBN 994
NGC 2182
06 09 30.9
-06 19 35
RN
2 × 2
pB **, L * neb, E 90° ±
LBN 998
NGC 2183
06 10 46.9
-06 12 43
RN
1 × 1
eF, S, lE, * 11·12 sp
LBN 996
NGC 2185
06 11 00.4
-06 13 36
RN
1 × 1
* 11 and 4 S st in vF, L neb
LBN 997, part of N 2185
NGC 2237
06 30 54.6
+05 02 52
EN
80 × 50
pB, vvL, dif (? = 5361)
w part of Rosette nebula
NGC 2238
06 30 40.3
+05 00 47
EN
6.0
80 × 60
S * in nebulosity
LBN 948, knot in Rosette nebula
NGC 2245
06 32 41.2
+10 09 24
RN
5 × 4
pL, com, mbN sf alm *, * 7·8 nf
LBN 904
NGC 2246
06 32 33.7
+05 07 42
EN
eeF, L, irrR, e diffic
LBN 948, part of Rosette nebula
NGC 2247
06 33 05.1
+10 19 18
RN
6 × 6
Neb * in eF, eL neby, nf IV 3
LBN 901
NGC 2261
06 39 09.5
+08 44 40
EN+RN
9.0
3 × 1
B, vmE 330°, N com = * 11
LBN 920, Hubble's variable nebula
NGC 2282
06 46 51.2
+01 18 54
RN
3 × 3
* 10 in F, R neby
IC 2172, CED 87, assoc. w OCL 535
NGC 2313
06 58 02.8
-07 56 42
EN
F, vS, R
LDN 1653
NGC 2316
06 59 40.8
-07 46 38
RN+EN
4 × 3
pF, S, R, r, S st inv
NGC 2317, LBN 1021, part of one neb
IC 446
06 31 06.0
+10 27 35
RN+*
5 × 4
Neb * 10m
IC 2167, LBN 898, CED 77
IC 447
06 31 04.0
+09 52 00
RN
25 × 20
vF, eeL, dif
IC 2169, LBN 903
IC 448
06 32 45.0
+07 23 18
RN
15 × 10
Neby, np * 5 mag
LBN 930, DG 107
IC 466
07 08 38.9
-04 19 02
EN
1 × 1
* 11.5 in vF neb
CED 92, Sh2-288
IC 2177
07 04 25.3
-10 27 13
EN
20 × 20
pB, eL, iR, v dif
LBN 1027, vdB 93, Sh2-292, Be star
Open Clusters
Name
RA
Dec
Type
bMag
vMag
Dim
Dreyer Description
Identification, Remarks
NGC 2215
06 20 49.2
-07 17 02
II2p
8.4
8
Cl, cL, pRi, pC, st 11…15
OCL 550
NGC 2219
06 23 44.3
-04 40 36
OCL
10
Cl, P, vlC, st 6, 11…12
NGC 2225
06 26 37.5
-09 38 32
OCL
40
Cl, P, lCM, st 12…15
NGC 2226
NGC 2232
06 27 15.0
-04 45 30
IV3p
4.2
45
B * (10 Monoc) + CL
OCL 545
NGC 2236
06 29 39.6
+06 49 51
III2p
8.5
8
Cl, pRi, pC, st 10, 12…15
OCL 501
NGC 2244
06 32 19.0
+04 51 24
II3p
5.3
4.8
24
Cl, beautiful, st sc (12 Monoc)
NGC 2239, OCL 515, in Rosette nebula
NGC 2250
06 33 49.8
-05 05 04
IV2p
8.9
10
Cl, pRi, lC, iF, st 8, 12…14
OCL 547, *Grp ?
NGC 2251
06 34 38.4
+08 21 59
III2p
7.3
10
Cl, vL, E, Ri, lC
OCL 499
NGC 2252
06 34 19.8
+05 19 22
IV2p
7.7
18
Cl, vL, pRi, lC, st S
OCL 514
NGC 2254
06 35 46.6
+07 40 15
I2p
9.1
6
Cl, S, pC, iF, st 11…13
OCL 500
NGC 2259
06 38 33.3
+10 52 57
II2p
10.8
3.5
Cl, cRi, eC, iF, st eS
OCL 492
NGC 2260
06 38 03.0
-01 28 20
OCL
20
Cl, vL, P, vlC, st L & S
NGC 2262
06 39 38.7
+01 08 30
I2p
11.3
4
Cl, vC, iR, bM, st eS
OCL 531
NGC 2264
06 40 58.2
+09 53 44
IV3pn
4.1
40
15 Monoc, Cl, **, ? Neb
OCL 495, LBN 911, Christmas Tree cluster
NGC 2269
06 43 17.0
+04 37 28
II2p
10.0
3
Cl, vmC, not Ri, st vS
OCL 524
NGC 2270
06 43 57.7
+03 28 45
OCL
Cl, lC, not Ri
NGC 2286
06 47 40.1
-03 08 52
IV3m
7.5
15
Cl, L, C, ab 100 st 9…15
OCL 548
NGC 2301
06 51 45.2
+00 27 33
I3m
6.0
15
Cl, Ri, L, iF, st L & S
OCL 540
NGC 2302
06 51 56.6
-07 05 04
II2p
9.1
8.9
2.5
Cl, L, P, lC
NGC 2299, OCL 554
NGC 2306
06 54 29.5
-07 11 55
OCL
Cl, P, vlC
* cloud?
NGC 2309
06 56 03.6
-07 10 28
II2m
10.5
5
Cl, pL, pRi, mC, st 13
OCL 557
NGC 2311
06 57 47.5
-04 36 41
III2p
9.6
7
Cl, lC, not Ri
OCL 553
NGC 2323
07 02 47.8
-08 22 33
II3m
5.9
15
! Cl, vL, Ri, pC, E, st 12…16
M 50, OCL 559
NGC 2324
07 04 07.9
+01 02 41
II2r
8.4
8
Cl, L, Ri, cC, st 12…16
OCL 542
NGC 2335
07 06 49.4
-10 01 43
III3m
7.2
7
Cl, L, lC
OCL 562
NGC 2338
07 07 43.0
-05 43 00
OCL
Cl, vlC
*Grp ?
NGC 2343
07 08 06.7
-10 37 00
III3p
6.7
6
Cl, cL, P, lC
OCL 565
NGC 2349
07 10 48.1
-08 35 34
OCL
Cl, cL, P, cC
NGC 2353
07 14 30.3
-10 15 57
II2p
7.1
18
Cl, L, lC, one vB *
OCL 567
NGC 2364
07 20 46.4
-07 32 58
OCL
Cl, pC, st pL, bifid
NGC 2368
07 21 02.2
-10 22 28
IV2p
11.8
3
Cl, S, pRi, st 15
OCL 571
NGC 2506
08 00 01.7
-10 46 11
I2r
7.6
12
Cl, pL, vRi, C, st 11…20
OCL 593
Galaxies
Name
RA
Dec
Type
bMag
vMag
Dim
Dreyer Description
Identification, Remarks
NGC 2377
07 24 56.7
-09 39 38
Sc
13.5
12.7
1.7 × 1.3
eF, vS * inv, * 11 s
UGCA 132, 3C 178, IRAS 07225-0933, CGMW 1-839
NGC 2494
07 59 07.2
-00 38 15
SB0-a
14.0
13.1
0.9 × 0.7
F, S, lE
IC 487, UGC 4141, MCG 0-21-1, CGCG 3-2, IRAS 07565-0030
«Strasbourg-ESO Catalogue of Galactic Planetary Nebulae» Acker et al., 1992 [141]
PNG
RA
J2000.0
Dec
J2000.0
Main ID
PK
IRAS
Discoverer
Identities
oDiam
["]
rDiam
["]
Dist
[kpc]
Rvel
[km/s]
ExpVel
[km/s]
C* Name
C* Mag
C* SP Type
PN G201.7+02.5
06 39 56
+11 06 30
K 4-48
06371+1109
KOHOUTEK 1969
0.
2.2
PN G204.1+04.7
06 52 30
+9 57 48
K 2- 2
204+04.1
KOHOUTEK 1963
ARO 128
415.
+28.0
10. (O-III)
AG82 69
U: 12.8, B: 14.3, V: 15.0
PN G204.8-03.5
06 23 55
+5 30 12
K 3-72
KOHOUTEK 1969
10.5
13. (O-III), 16. (N-II)
PN G210.0+03.9
07 00 28
+4 20 44
We 2- 34
WEINBERGER 1977
230.
PN G210.3+01.9
06 53 34
+3 08 24
M 1- 8
210+01.1
MINKOWSKI 1946
ARO 129, VV 31, VV' 49
18.
+52.0 ± 25.0
11.0 (O-III)
V: 21.38
PN G211.2-03.5
06 35 45
+0 00 41
M 1- 6
211-03.1
06331-0003
MINKOWSKI 1946
ARO 126, Sa 3- 1, VV 29, VV' 45
< 5.
2.9
B: 16.76, V: 15.84
PN G212.0+04.3
07 05 19
+2 46 59
M 1- 9
212+04.1
07026+0251
MINKOWSKI 1946
ARO 131, VV 32, VV' 53
< 12.
2.3
+136.0 ± 10.1
7. (O-III), 19.0 (N-II)
B: 15.7, V: 15.6
PN G215.6+03.6
07 09 24
+0 38 31
NGC 2346
215+03.1
07068-0043
MINKOWSKI 1946
ARO 80, M 1-10, Sa 2- 5, VV 33, VV' 54
52.
0.64
+20.0 ± 3.0
8.0 (O-III), 12.5 (N-II)
AG -00 965, AG82 74, CSI -00 -7068 0, HD 293373, V651 Mon
B: 11.78, V: 11.47
? + A2 V
PN G216.0-00.2
06 56 14
-2 53 08
A 18
216-00.1
ABELL 1955
A55 13, ARO 224, VV' 50
73.
U: 20.46, B: 21.36, V: 20.90
PN G216.3-04.4
06 41 34
-5 02 40
We 1- 5
WEINBERGER 1977
15.
AG82 66
B: 19.7, V: 19.1
PN G217.4+02.0
07 06 48
-3 04 43
St 3-1
07043-0300
STEPHENSON 1978
15.
PN G218.9-10.7
06 23 37
-10 13 23
HDW 5
HARTL et al 1983
HaWe 7
94.
B: 16.55, V: 16.29
Hg O(H)
PN G221.7+05.3
07 26 34
-5 21 54
M 3- 3
221+05.1
MINKOWSKI 1948
ARO 236, Sa 2- 8, VV' 62, Y-C 38
12.2
+95.0 ± 25.0
10.0 (O-III)
PN G224.3+15.3
08 06 45
-2 52 43
K 1-13
224+15.1
KOHOUTEK 1963
A 25, ARO 246
165.
+16.0
22. (O-III)
AG82 97, CSI -02 -08042, UBV 7761
U: 17.65, B: 18.80, V: 18.94
PN G224.9+01.0
07 17 26
-10 10 40
We 1- 6
WEINBERGER 1977
62.
AG82 78
B: 16.8
Hg O(H)
PN G226.7+05.6
07 37 19
-9 38 48
M 1-16
226+05.1
07349-0932
MINKOWSKI 1946
ARO 239, Sa 2-11, VV 41, VV' 66
3.
3.6
+49.0 ± 25.0
10. (O-III)
AG82 85
B: >17.9, V: 16.9