Constellation Delphinus (Dolphin)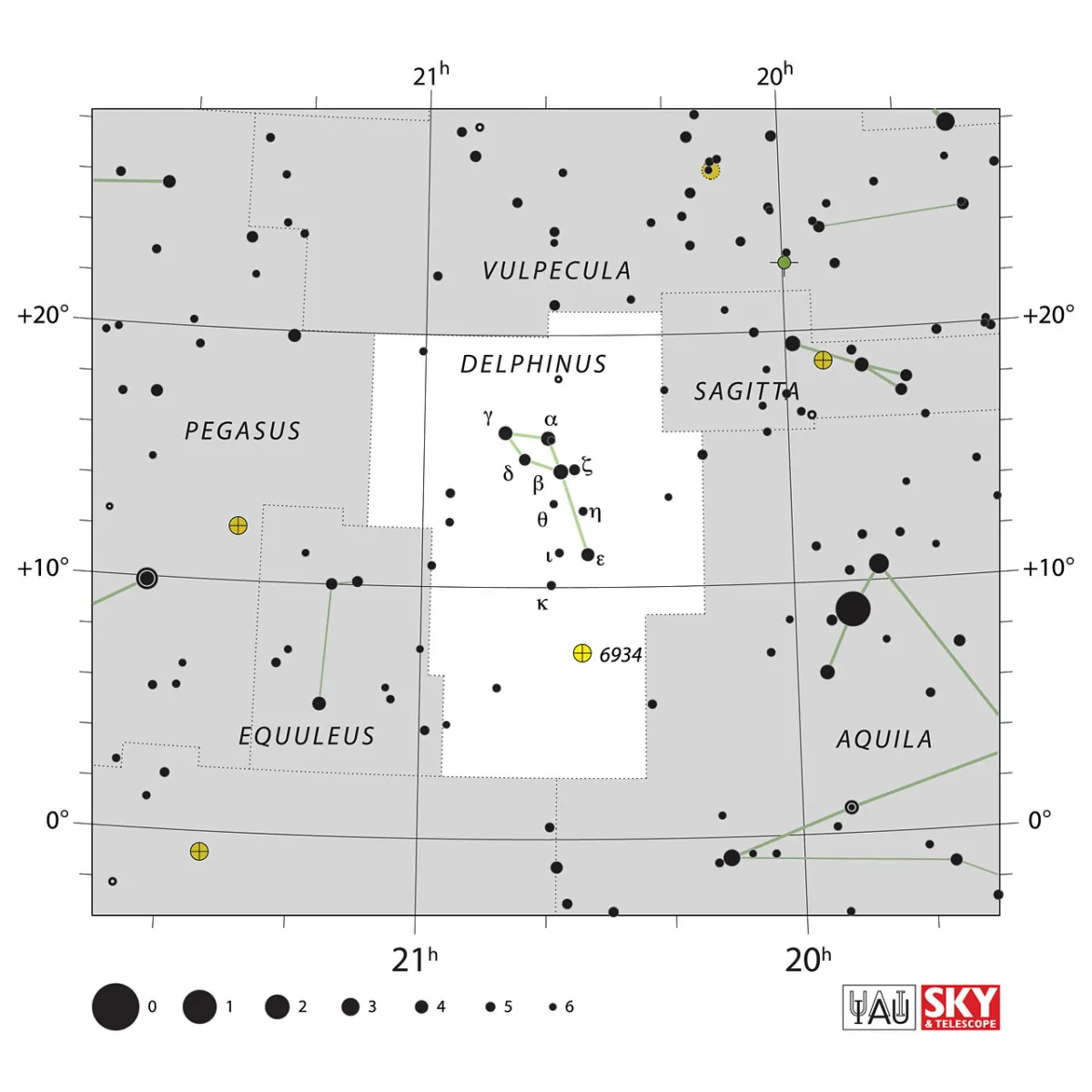 Properties
Delphinus is located northeast of the bright star Atair in Aquila. It is very small with an area of 189 square degrees, but has a memorable shape with the outlines of a diamond and a tail at the southern end. Together with the neighboring constellations Vulpecula and Sagitta, which are also small, Delphinus lies in a star-rich area of the Milky Way, where Novae often light up. Delphinus is one of the few constellations that still lives up to its name in its current form. It culminates around midnight on July 31st. [9, 15]
Stars with Proper Names:
α Del: Sualocin, Scalovin, Svalocin, Nicolaus
β Del: Rotanev, Rotanen, Venator
ε Del: Deneb Dulfim, Deneb El Delphinus
Data for constellation Delphinus [150]

| | |
| --- | --- |
| IAU Name | Delphinus |
| IAU Genitive | Delphini |
| IAU Abbr. | Del |
| English Name | Dolphin |
| Season (47° N) | April … November |
| Right Ascension | 20h 14m 14s … 21h 09m 00s |
| Declination | +02° 24' 08" … +20° 56' 24" |
| Area | 189 deg2 |
| Neighbours (N↻) | Vul, Sge, Aql, Aqr, Equ, Peg |
Deep-Sky Object Descriptions
Mythology and History
The constellation was already known to the ancient Greeks and refers to the deeper relationship between humans and these very intelligent marine animals. According to legend, dolphins were messengers of the sea god Poseidon and, among other things, saved his son Arion from drowning when he was attacked by pirates on a ship. [25]
Another beautiful story about Delphinus is this: The Roman sea god Neptune, who is also identified with the Greek Poseid, fell in love with Amphitrite, one of the graceful sea nymphs. The sea nymphs were not only very beautiful beings, but they also had the ability to soothe strong winds that churned the sea. However, Amphitrite initially had no interest in Neptune. Therefore, the sea god convinced a dolphin to advertise him at Amphitrite. The dolphin was successful and was able to win the beauty for Neptune. In gratitude for his commitment, Neptune transformed the dolphin into a constellation that still shines in the northern firmament today.
Much more recent are the names of the two brightest stars, Sualocin and Rotanev. These names appeared for the first time in the Palermo Catalog of 1814. Years later it was only realized that these names, read backwards, resulted in the name Nicolaus Venator, the Latinized form of Niccolo Cacciatore. He was the assistant to the Italian astronomer Giuseppe Piazzi at the 19th century Palermo Observatory.[7, 55]