Constellation Andromeda (Chained Maiden)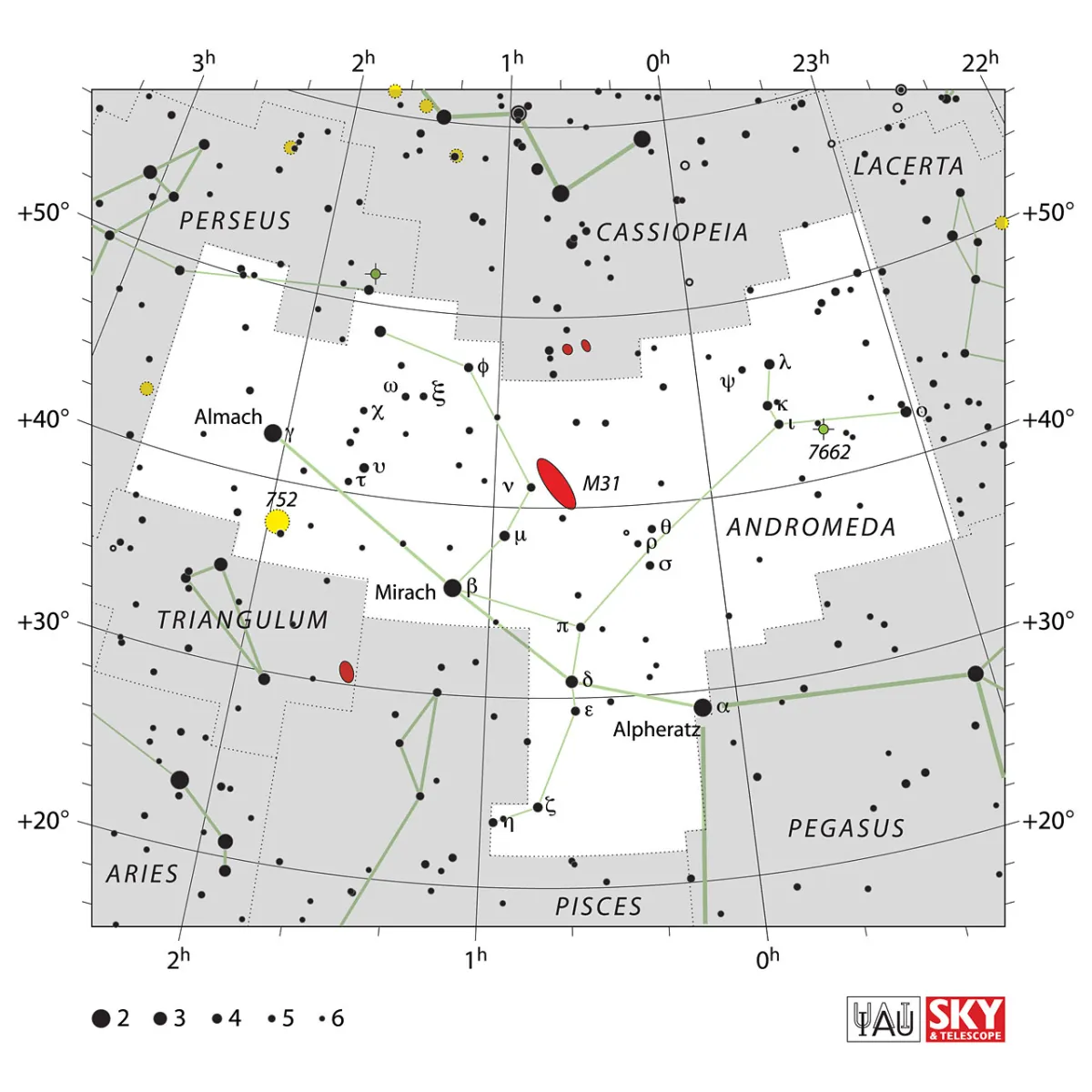 Properties
The constellation Andromeda shares a common star with Pegasus: α Andromedae (Alpheratz, also Sirrah) is also the star in the northeast corner of the well-known large rectangle of Pegasus. In older atlases one can still find the designation δ Pegasi for the same star. In the meantime, however, it has been agreed that Alpheratz will officially be included in the Andromeda constellation. [20]
The main part of Andromeda extends east from Pegasus so it follows it thanks to the movement of the sky. Immediately afterwards it is followed by the constellation Perseus, which connects to the east of Andromeda. Andromeda is very close to Cassiopeia, north of her, while she is distanced from Cepheus by Lacerta. On clear, dark nights, the Andromeda Galaxy can be observed with the naked eye. The constellation Andromeda covers an area of ​​722 square degrees. The center culminates at midnight on around September 30th. [9, 15]
Stars with Proper Names:
α And: Alpheratz, Alpherat, Sirrah, Sirah
β And: Mirach, Merach, Mirac, Mirak, (Al Mizar)
γ1 And: Almaak, Almach, Alamak, Almak, Almaach
ξ And: Adhil
Data for constellation Andromeda [150]

| | |
| --- | --- |
| IAU Name | Andromeda |
| IAU Genitive | Andromedae |
| IAU Abbr. | And |
| English Name | Chained Maiden |
| Season (47° N) | June … February |
| Right Ascension | 22h 57m 22s … 02h 39m 33s |
| Declination | +21° 40' 36" … +53° 11' 13" |
| Area | 722 deg2 |
| Neighbours (N↻) | Cas, Lac, Peg, Psc, Tri, Per |
Deep-Sky Object Descriptions
Mythology and History
Andromeda was the daughter of the Ethiopian king Cepheus and his wife Cassiopeia. When Cassiopeia boasted that her and her daughter's beauty was greater than that of the nymphs in the sea, Poseidon, god of the oceans, sent the mighty whale Cetus to destroy the Ethiopian coast. The only way to appease the monster was to sacrifice the lovely daughter Andromeda for him. After a long fight on the part of her parents, she was finally chained to a rock by the sea.
Fortunately, the great hero Perseus arrived just thenpast. He fell in love with the beautiful, almost naked Andromeda, clad only with a few pieces of jewelry, chained to the rock. Perseus demanded Andromeda's hand from King Cepheus and a kingdom of their own to save them. Worried for his daughter's life, he agreed. Then Perseus put on his winged shoes and hurried through the air towards the sea monster. Everything he did was designed to get this girl's attention to himself. Therefore he carried out the liberation as noisy and sensational as possible, armed only with the curved sword in his muscular arm. He could have defeated the monster with the severed head of the Gorgon Medusa, which he was carrying, but that did not seem appropriate to the situation. [20] However, the variant in which he used the head of Medusa to petrify the sea monster is more common. [66]
Perseus and Andromeda married and happily lived a long life. It is said that the gods were so satisfied that they gave the main characters of this drama a place among the stars.
In 1627 the Catholic Church tried unsuccessfully to Christianize the «heretical» constellations, which had been known for centuries, even millennia, and to transform them into figures from the Christian world of faith. The constellation of Andromeda became «Sepulchrum Christi» (tomb of Christ). [20, 84]