Clusters NGC 7788 & NGC 7790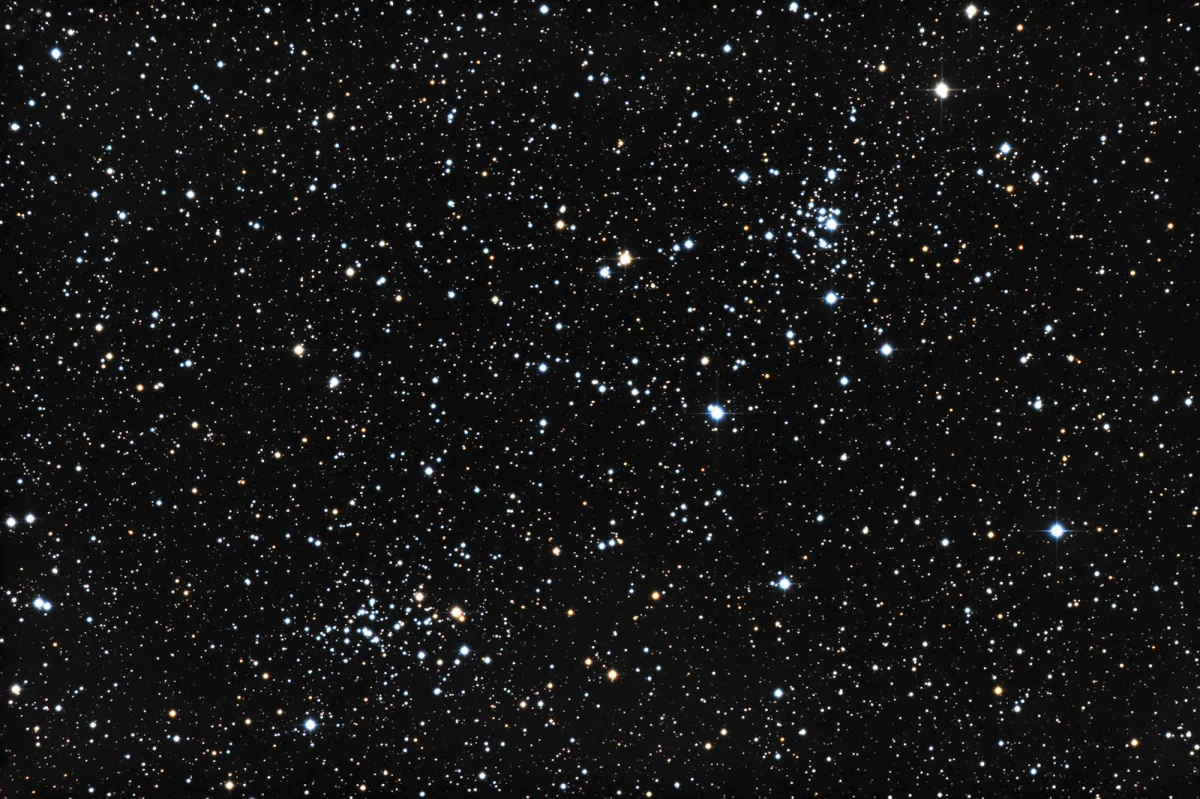 History
On 16 December 1788, William Herschel discovered an open star cluster with his 18.7 inch reflector and recorded it as VII 56. (class VII = pretty much compressed clusters of large or small stars). He noted: «A pretty compressed cluster of small stars of several sizes, considerably rich, extended near in the direction of the parallel of declination. 5 or 6' long.» [465] That cluster was later added as NGC 7790 to Dreyer's «New General Catalogue». [313]
Only 17 arc minutes towards northwest there is another open star cluster, which was apparently missed by William Herschel. It was discovered on 5 October 1829 by his son John using his 18.3 inch reflector. He cataloged it as h 2283 (GC 5030) and noted for sweep 216: «Very small and close cluster. One star 10 m with a great many very minute stars close to it.» With sweep 219 he noted: «A pretty rich, small, condensed cluster. One star 10 m, the rest 13 m.» [466] That cluster was later added as NGC 7788 to Dreyer's «New General Catalogue». [313]
Physical Properties
The open star cluster NGC 7788 is of the Trumpler type I2p. [277] The age of this relatively young star cluster is estimated at 20-40 million years. It is of a surrounded by a stellar halo extending out to a radius of 5 arc minutes (about 3.4 pc) from an early mass ejection. [387]
NGC 7790 is of Trumpler type III2p. [277] It is slightly older than its neighbor NGC 7788 with an estimated age of 60-80 million years Evidence of a halo. Both star clusters are believed to have originated in the same star-forming region but not in the same molecular cloud NGC. 7790 has been the subject of numerous studies, largely due to three Cepheid variables making the cluster an important rung in the cosmic distance ladder. The calculated distance is 3160 ± 160 pc. The distance to NGC 7788 is about 400 pc. [387]
Two other, fainter star clusters are in view: Berkeley 58 (distance ~3715 pc, age ~251 million years) and the faint Frolov 1 (distance ~2560 pc, age ~45 million years). [138]
Finder Chart
Open star clusters NGC 7788 and NGC 7790 are in the constellation Cassiopeia. The best viewing time is July to January when the circumpolar constellation is at its highest.