NGC 70 Galaxy Group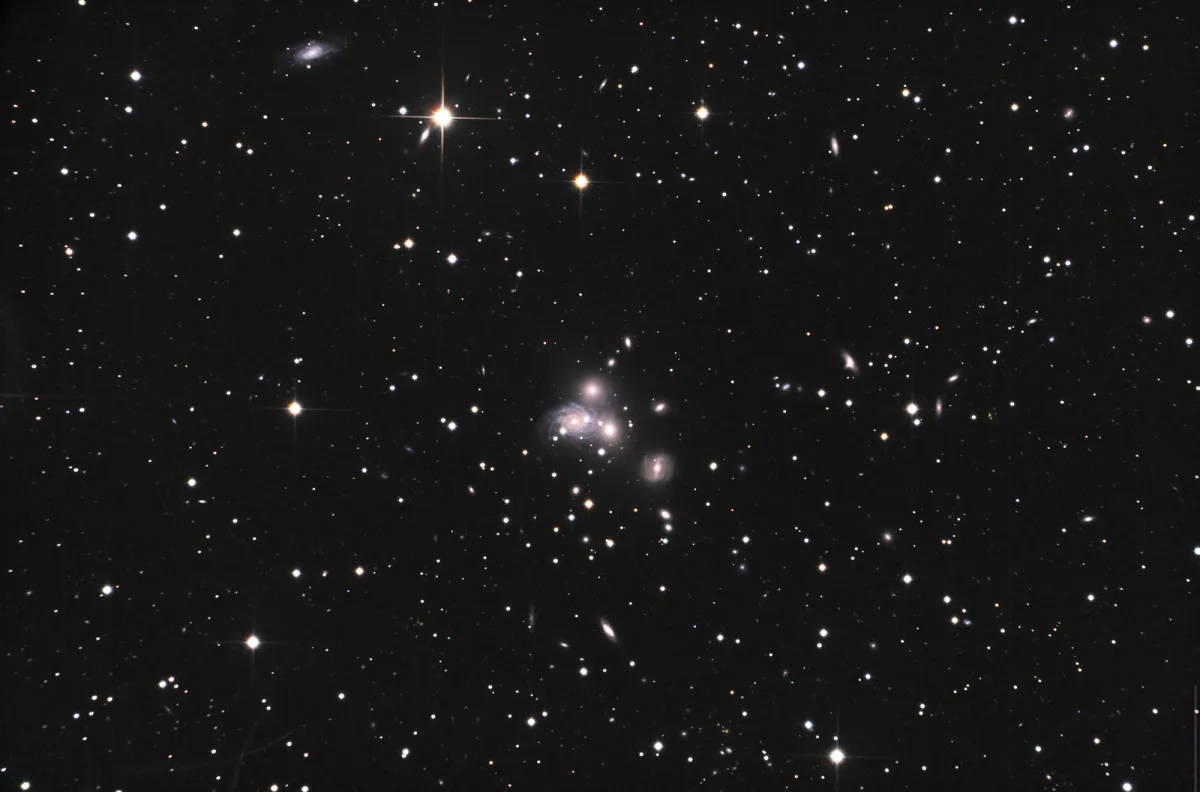 History
The galaxies NGC 68, NGC 70, NGC 71 and NGC 72 were discovered on September 11, 1784 by the German-British astronomer William Herschel with his 18.7 inch reflector telescope. On October 7, 1855, RJ Mitchell, assistant to William Parsons, 3rd Earl von Rosse, directed the huge 72 inch reflector telescope at this group of galaxies and discovered other galaxies: NGC 67, NGC 69 and NGC 74. The somewhat remote galaxy NGC 76 had to wait until September 22, 1884 to be discovered by the French astronomer Guillaume Bigourdan with a 12.4 inch refractor telescope. His observation also led to IC 1539, a duplicate entry from NGC 70. [277]
Boris Aleksandrovich Vorontsov-Velyaminov lists this group of galaxies in his «Atlas and Catalog of Interacting Galaxies» published in 1959 as VV 166. [432] In Halton Arps' 1966 published «Atlas of Peculiar Galaxies» it is listed under Arp 113 as closely related and interfering spiral galaxies Find. [199]
Physical Properties
NGC 70 belongs to a compact group of seven or eight galaxies and shows similarities to Stephan's Quintet (HCG 92) in the neighboring constellation Pegasus. NGC 68 shows a smaller redshift than the other galaxies in the group and also shows no gravitational changes. It is probably not one of them and is in the foreground. [433, 434] The distance of the group to the Milky Way is around 90 Mpc to 96 Mpc. [145]
«Catalogue of Principal Galaxies (PGC)», Paturel et al. 1989 [144]

| Name | RA [hms] | Dec [dms] | mType | Dim ['] | Btot [mag] | HRV [km/s] | PA [°] |
| --- | --- | --- | --- | --- | --- | --- | --- |
| UGC 166 | 00 17 36.0 | +30 12 20 | D | 1.9 x .9 | 15.1 | 4834 | 18 |
| NGC 67 | 00 18 14.9 | +30 03 46 | E | .3 x .2 | 15.8 | 6844 | |
| NGC 68 | 00 18 18.2 | +30 04 19 | L M | 1.2 x 1.1 | 14.2 | 5803 | |
| NGC 69 | 00 18 20.5 | +30 02 22 | CB M | .3 x .3 | 15.8 | 6754 | |
| NGC 70, IC 1539 | 00 18 22.4 | +30 04 51 | S M | 1.6 x 1.4 | 14.2 | 7169 | 0 |
| NGC 71 | 00 18 23.6 | +30 03 47 | L M | 1.5 x 1.2 | 14.3 | 6716 | |
| NGC 72 | 00 18 28.4 | +30 02 24 | SBRM | 1.1 x .9 | 14.6 | 7249 | 15 |
| NGC 72A | 00 18 34.3 | +30 02 09 | C M | .3 x .3 | 15.6 | 6807 | |
| NGC 74 | 00 18 48.7 | +30 03 39 | S | .8 x .3 | 15.5 | | |
| NGC 76 | 00 19 37.7 | +29 56 07 | C | 1.0 x .9 | 14.0 | 7389 | 80 |