Constellation Corvus (Crow)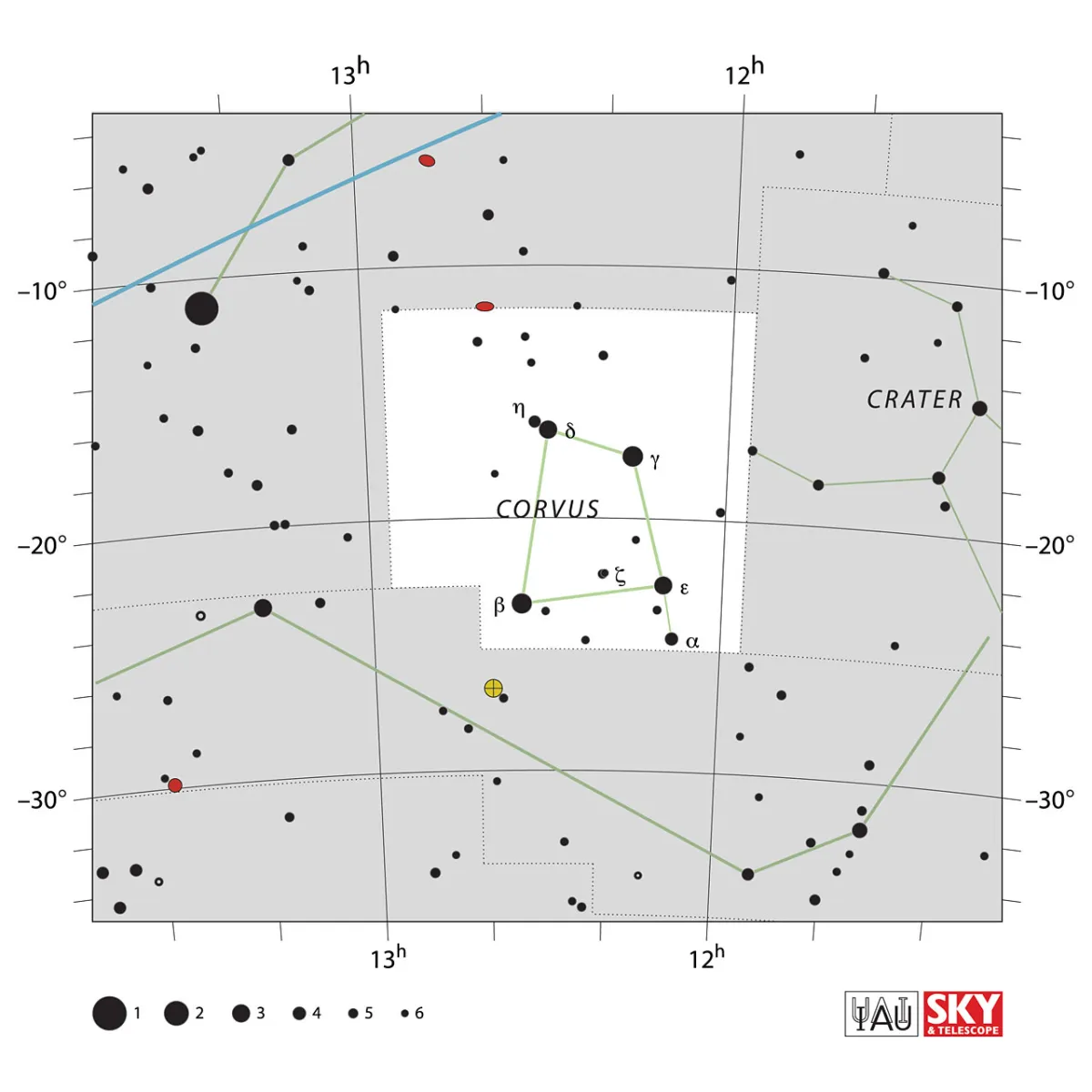 Properties
The constellation Corvus is located southwest of the bright star Spica in Virgo. Although the stars are not particularly bright, they form a distinctive shape of a tall, rather rectangular trapezoid. The constellation occupies an area of 184 square degrees in the sky and its center culminates around midnight on March 28th. [9, 15]
Stars with Proper Names:
α Crv: Alchiba, Alchita, Al Minliar Al Ghurab, Al Chiba
β Crv: Kraz
γ Crv: Gienah Ghurab, Gienah
δ Crv: Algorab, Algores, Algoral, Algorel
ε Crv: Minkar
Deep-Sky Object Descriptions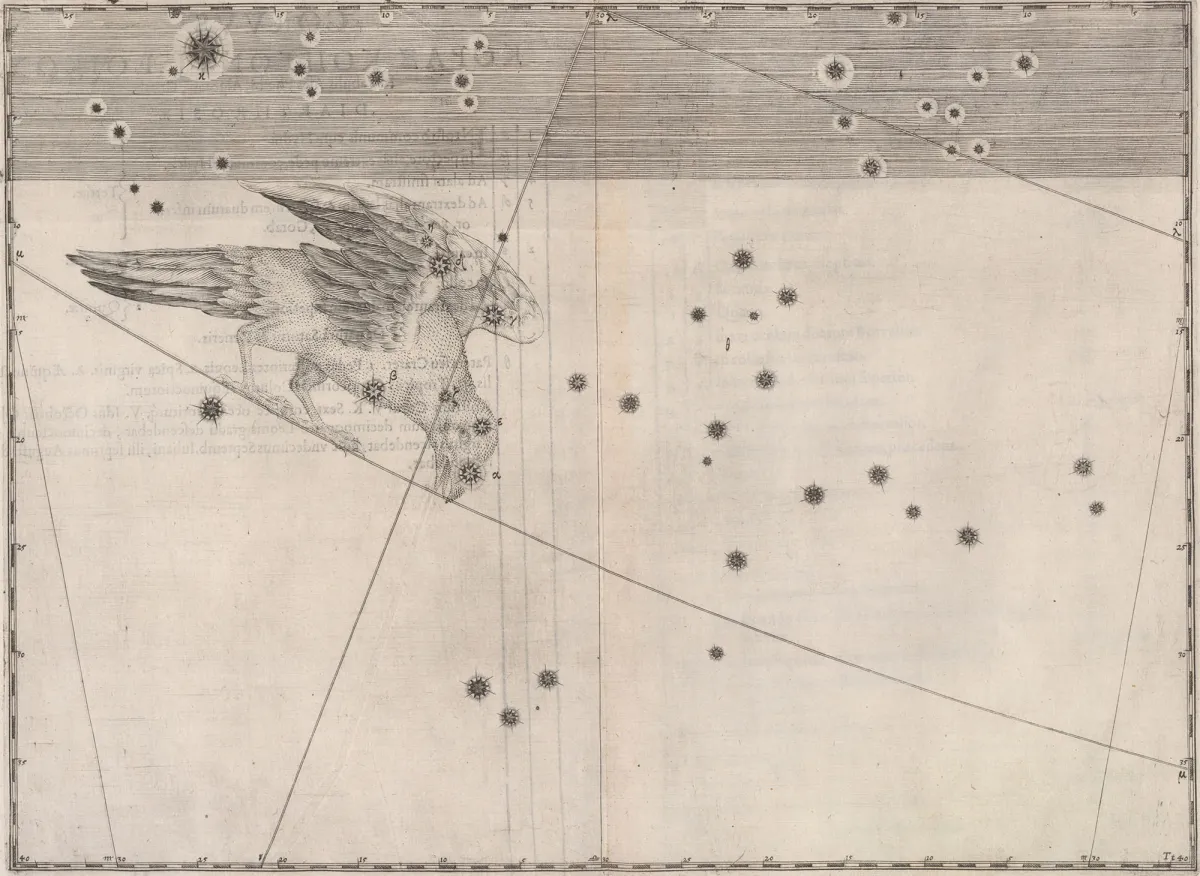 Mythology and History
The origin of this constellation can be traced back at least to the ancient Greeks. According to legend, Apollo sent the raven to fetch fresh spring water with a golden cup. Instead, however, the raven feasted on figs, and when he returned he carried the water snake in his clutches. He croaked outrageously that this would have prevented him from fulfilling his sacred duty. However, Apollo recognized the lie and banished all three to the sky, where Corvus and Crater (cup) lie on the back of the hydra (water snake). In addition, the raven was condemned to eternal thirst - an "attempt to explain" the croaking cries of these birds.
According to another legend, a white raven brought Apollo the news that Coronis, his lover, had been unfaithful to him. Apollon is said to have blackened the raven out of anger. In the Greek world of legends, Apollo was always closely associated with ravens, as he himself had turned into a raven in the conflict between the gods and the titans.
The Indians from the Rio Negro river basin in northern Brazil see a flying heron in the raven. [7, 20]
Catalogs
Yale Bright Star Catalogue, 5th Revised Ed. (Hoffleit+, 1991) [154]

| HR | B | F | DM | HD | SAO | FK5 | IR | M* | ADS | VarID | RA | Dec | vMag | spType | dMag | Sep ["] | Remarks |
| --- | --- | --- | --- | --- | --- | --- | --- | --- | --- | --- | --- | --- | --- | --- | --- | --- | --- |
| HR 4588 | | | BD-21 3443 | 104307 | 180374 | | | | 8389 | | 12 00 42.5 | -21 50 14 | 6.28 | K0IV | 7.1 | 11.7 | |
| HR 4590 | | | BD-18 3295 | 104337 | 157042 | 2961 | | | | | 12 00 51.2 | -19 39 32 | 5.26 | B1.5V | | | G:Possible blue straggler in Hyades group.,M:Old disk population runaway star.,N:31 Crt in Crv.,SB:2.9631d, K 120.5k/s, V0 +3k/s, msin3i 8.22, asini 4.90. |
| HR 4623 | α | 1 | CD-2410174 | 105452 | 180505 | | | | | | 12 08 24.8 | -24 43 44 | 4.02 | F2III-IV | | | G:Sirius group? UMa stream.,N:Alchiba; Alchita; Al Minliar al Ghurab; Al Chiba.,S:Metal-deficient. |
| HR 4630 | ε | 2 | BD-21 3487 | 105707 | 180531 | 453 | I | | | 5483 | 12 10 07.5 | -22 37 11 | 3.00 | K2.5IIIaBa0.2: | | | N:Minkar. |
| HR 4635 | | 3 | BD-22 3305 | 105850 | 180546 | | | | | | 12 11 03.9 | -23 36 09 | 5.46 | A2V | | | |
| HR 4655 | | | BD-20 3606 | 106485 | 180602 | | | | | | 12 14 59.6 | -20 50 39 | 5.83 | gG7 | | | |
| HR 4661 | | | BD-22 3322 | 106612 | 180619 | | | | 8481 | | 12 15 47.0 | -23 21 13 | 6.54 | F3V | 1.2 | 1.6 | D:6.8 F5, 7.9. |
| HR 4662 | γ | 4 | BD-16 3424 | 106625 | 157176 | 457 | I | | | 5515 | 12 15 48.4 | -17 32 31 | 2.59 | B8IIIpHgMn | | | G:Hyades group; probable blue straggler.,M:Old disk population runaway star.,N:Gienah Ghurab; Gienah, a name also applied to HR 7949.,R:Diam. = 0.00072 - 0.00075".,VAR:Expanding circumstellar shell. |
| HR 4670 | | | BD-15 3442 | 106819 | 157184 | | | | | 5527 | 12 17 03.3 | -16 41 37 | 6.05 | A2IV | | | |
| HR 4691 | | | BD-21 3511 | 107295 | 180695 | | | | 8515 | | 12 20 10.7 | -22 10 32 | 5.97 | G3IV | 1.8 | 0.3 | |
| HR 4696 | ζ | 5 | BD-21 3514 | 107348 | 180700 | | | | 8517 | | 12 20 33.7 | -22 12 57 | 5.21 | B8Vne | 8.4 | 11.2 | D:Companion F6III optical. |
| HR 4699 | | | BD-12 3614 | 107418 | 157226 | 2988 | I | W | | 5564 | 12 20 55.7 | -13 33 56 | 5.14 | K1III | 8.1 | 48.6 | |
| HR 4711 | | 6 | CD-2410314 | 107815 | 180747 | | | | | | 12 23 21.6 | -24 50 26 | 5.68 | gK1 | | | |
| HR 4742 | | | BD-15 3471 | 108477 | 157299 | | | | | | 12 27 49.4 | -16 37 55 | 6.35 | G3III | | | |
| HR 4757 | δ | 7 | BD-15 3482 | 108767 | 157323 | 465 | I | | 8572 A | 5656 | 12 29 51.9 | -16 30 56 | 2.95 | B9.5V | 5.3 | 24.4 | D:CPM. B is K2Ve, lithium strong.,G:Pleiades group.,N:Algorab; Algores; Algoral; Algorel.,S:uv indicates dB9.5, CIff.,VAR:ADS 8572A. |
| HR 4758 | | | BD-12 3647 | 108799 | 157326 | | | | 8573 | | 12 30 04.8 | -13 23 35 | 6.35 | G0V | 2.7 | 1.5 | D:AB 6.5 G0V, 8.6, 161.53y, a = 1.385".,DYN:0.042". |
| HR 4759 | | | BD-22 3383 | 108821 | 180850 | | I | | | 5662 | 12 30 17.5 | -23 41 48 | 5.63 | M0III | | | |
| HR 4775 | η | 8 | BD-15 3489 | 109085 | 157345 | | | | | 5690 | 12 32 04.2 | -16 11 46 | 4.31 | F2III-IV | | | VAR:Delta Sct? |
| HR 4776 | | | BD-13 3552 | 109141 | 157350 | | | | | | 12 32 36.0 | -13 51 33 | 5.74 | F2V | | | |
| HR 4778 | | | BD-18 3416 | 109238 | 157359 | | | | | 5715 | 12 33 22.4 | -19 47 31 | 6.26 | F2V | | | |
| HR 4779 | | | BD-12 3659 | 109272 | 157361 | 1321 | | | | | 12 33 34.3 | -12 49 49 | 5.58 | G8III | | | |
| HR 4786 | β | 9 | BD-22 3401 | 109379 | 180915 | 471 | I | | | 5729 | 12 34 23.2 | -23 23 48 | 2.65 | G5II | | | N:Kraz in Becvar; Allen says unnamed. |
| HR 4797 | | | BD-19 3521 | 109585 | 180937 | | | | | TU Crv | 12 35 58.6 | -20 31 38 | 6.20 | F0III | | | VAR:Delta Sct, amp. 0.02B, 0.082d. |
| HR 4809 | | | BD-17 3668 | 109931 | 157415 | 3010 | | | | | 12 38 44.6 | -18 15 01 | 6.00 | dA6 | | | |
| HR 4821 | | | BD-12 3676 | 110317 | 157447 | | | | 8627 B | 5855 | 12 41 16.0 | -13 00 49 | 6.08 H | F3Vn | 0.1 | 5.4 | D:Binary with HR 4822, q.v.,G:Hyades group.,SB:1.46047d, K 88.2k/s, V0 -14.6k/s, msin3i 0.531, asini 1.76.,VAR:See HR 4822. |
| HR 4822 | | | BD-12 3676 | 110318 | 157448 | | | | 8627 A | 5855 | 12 41 16.2 | -13 00 54 | 5.98 H | F5V | 0.1 | 5.4 | D:Binary with HR 4821. Colors for combined light. Mag. of blend, 5.27V. Component C, 10.5v at 59" optical.,G:Hyades group.,SB:44.4137d, K 25.9k/s, V0 -11.6k/s, asini 15.3.,VAR:Uncertain which component is variable suspect. Combined max. mag. 5.14V. E?, amp. 0.15V. |
| HR 4827 | | | BD-18 3442 | 110385 | 157451 | | | | | | 12 41 49.2 | -19 45 31 | 6.03 | F3-5III | | | G:Hyades group. |
| HR 4911 | | | BD-14 3605 | 112304 | 157599 | 3033 | | | | | 12 55 53.3 | -15 19 37 | 6.17 | A0Vn | | | |
Revised+Historic NGC/IC, Version 22/9, © Dr. Wolfgang Steinicke [277]
Planetary Nebulae
Name
RA
Dec
Type
bMag
vMag
Dim
Dreyer Description
Identification, Remarks
NGC 4361
12 24 30.8
-18 47 03
PN
10.3
10.9
2.1
vB, L, R, vsmbMN, r
ESO 573-PN19, PK 294+43.1, CS=13.2
Galaxies
Name
RA
Dec
Type
bMag
vMag
Dim
Dreyer Description
Identification, Remarks
NGC 3472
11 57 28.1
-19 37 26
S0
15.1
14.3
0.8 × 0.6
eF, S, R, gbM
ESO 572-25
NGC 4024
11 58 31.5
-18 20 48
E/SB0
12.7
11.7
1.9 × 1.6
F, vS, iF, bM
ESO 572-31, MCG -3-31-4
NGC 4027
11 59 30.5
-19 15 57
SBd
11.7
11.1
3.3 × 2.4
globular, pF, pL, R, rr, st 16
ESO 572-37, MCG -3-31-8, UGCA 260, VV 66, Arp 22, 1SZ 109, 8ZW 158, IRAS 11569-1859
NGC 4027 A
11 59 29.3
-19 19 55
IBm
14.9
14.5
0.9 × 0.6
globular, pF, pL, R, rr, st 16
ESO 572-36, MCG -3-31-7, VV 66, Arp 22
NGC 4033
12 00 34.7
-17 50 36
E6
12.6
11.7
2.4 × 1.2
pB, S, lE, bM
ESO 572-42, MCG -3-31-11
NGC 4035
12 00 29.2
-15 56 57
SBbc
14.2
13.4
1.1 × 1
eF, pL, * 9 m 45° ±
MCG -3-31-10, 1SZ 122, IRAS 11579-1540
NGC 4038
12 01 52.8
-18 51 52
SBm
10.9
10.3
3.4 × 1.7
pB, cL, R, vgbM
ESO 572-47, MCG -3-31-14, UGCA 264, Arp 244, VV 245, Antennae
NGC 4039
12 01 53.8
-18 53 08
SBm
10.9
10.3
3.3 × 1.7
pF, pL
ESO 572-48, MCG -3-31-15, UGCA 265, Arp 244, VV 245, Antennae
NGC 4050
12 02 53.9
-16 22 27
SBab
13.1
12.2
3 × 2
F, cL, iR, lbM
MCG -3-31-16, IRAS 12003-1605
NGC 4094
12 05 53.9
-14 31 34
SBc
12.7
12.0
4.1 × 1.5
eF, L, pmE, vgbM, 2 st 11 nr
MCG -2-31-16, UGCA 269, IRAS 12033-1414
NGC 4114
12 07 12.2
-14 11 05
SBa
14.0
13.1
1.8 × 0.8
cF, S, iR, gbM
MCG -2-31-18, NPM1G -13.0366
NGC 4177
12 12 41.2
-14 00 50
Sc
13.2
12.5
1.7 × 1.2
vF, pL, R, vgbM
MCG -2-31-21, IRAS 12101-1344
NGC 4188
12 14 07.4
-12 35 10
Sb
14.5
13.7
0.7 × 0.6
eF, pS
MCG -2-31-23, IRAS 12115-1218
NGC 4225
12 16 38.3
-12 19 37
S0-a
14.9
14.0
0.7 × 0.5
F, eS, R, * 170°, 60"
MCG -2-31-27, NPM1G -12.0397, IRAS 12140-1203
NGC 4263
12 19 42.2
-12 13 32
Sb
13.4
12.6
1.2 × 0.6
vF, pL, iF
NGC 4265, MCG -2-32-1, IRAS 12171-1156
NGC 4329
12 23 20.7
-12 33 29
E5
14.5
13.5
1.1 × 0.6
vF, vS, R, bMN
MCG -2-32-9
NGC 4462
12 29 21.0
-23 09 59
SBab
12.8
12.0
3.1 × 1.1
pB, pS, E 130°, sbM
ESO 506-13, MCG -4-30-2, AM 1226-225, IRAS 12266-2253
NGC 4524
12 33 54.4
-12 01 38
Sbc
14.2
13.4
1.3 × 0.8
vF, iF, bM
MCG -2-32-14, IRAS 12312-1145
NGC 4714
12 50 19.2
-13 19 28
E-S0
13.7
12.7
1.6 × 1.2
F, pS, R, gbM
MCG -2-33-18
NGC 4722
12 51 32.3
-13 19 48
S0-a
13.7
12.8
1.8 × 0.7
2 vF, vS, f III 356
IC 3833, MCG -2-33-31, IRAS 12488-1303
NGC 4723
12 51 03.0
-13 14 12
Sm
15.1
14.5
1.1 × 0.7
2 vF, vS, f III 356
MCG -2-33-26
NGC 4724
12 50 53.6
-14 19 56
E-S0
13.7
12.7
0.9 × 0.6
F, vS, R, stellar, np of 2
MCG -2-33-22
NGC 4726
12 50 46.0
-14 16 04
S0
15.8
14.8
1.2 × 0.2
vF, 4' n of D neb
NGC 4727
12 50 57.2
-14 19 59
SBbc
12.6
11.8
1.6 × 1.2
F, pL, R, lbM, sf of 2
NGC 4740, MCG -2-33-23, IRAS 12483-1403
NGC 4748 1
12 52 12.6
-13 24 49
Sa
14.6
13.7
0.8 × 0.7
F, vS, iR, gbM
MCG -2-33-34, IRAS 12495-1308
NGC 4748 2
12 52 12.9
-13 24 39
SB
15.0
14.1
0.5 × 0.4
F, vS, iR, gbM
NGC 4756
12 52 52.2
-15 24 45
E-S0
13.4
12.4
1.7 × 1.3
vF, pS, r
MCG -2-33-39, DRCG 25-59
NGC 4763
12 53 27.1
-17 00 21
SBa
13.1
12.4
1.2 × 0.8
vF, S, lbM
MCG -3-33-13, IRAS 12507-1643
NGC 4782
12 54 35.8
-12 34 09
E1
12.7
11.7
1.8 × 1.7
pF, pS, R, mbM, p of D neb
MCG -2-33-50, VV 201, 3C 278
NGC 4783
12 54 36.4
-12 33 29
E0/P
12.6
11.6
2.3 × 1.3
pF, pS, R, mbM, f of D neb
MCG -2-33-51, VV 201, 3C 278
NGC 4792
12 55 03.6
-12 29 48
S0
15.2
14.2
0.7 × 0.3
vS, R, 7' n np of II 538
NPM1G -12.0432
NGC 4794
12 55 10.4
-12 36 33
SBa
14.5
13.6
1.7 × 0.7
vF, S, 2 or 3 st near
MCG -2-33-60
NGC 4802
12 55 49.6
-12 03 17
S0
12.4
11.4
2.4 × 1.6
vF, S, * 10 att
MCG -2-33-61, IRAS 12532-1147
IC 761
12 05 53.6
-12 40 22
S0
15.8
14.8
0.7 × 0.2
Neb * 14m
MCG -2-31-14, NPM1G -12.0389
IC 766
12 10 53.6
-12 39 17
S0-a
14.9
14.0
1.3 × 0.3
pB, E ns, sbMN = 14m
MCG -2-31-20
IC 785
12 23 02.0
-13 13 23
Sc
14.7
14.0
0.9 × 0.3
F, vS, R, stell
MCG -2-32-7, NPM1G -12.0404, IRAS 12204-1256
IC 786
12 23 10.9
-13 12 15
S0
14.4
13.4
1 × 0.9
vF, eS, R, stell
MCG -2-32-8, NPM1G -12.0405
IC 806
12 42 08.4
-17 20 59
Sab
15.2
14.4
0.7 × 0.6
eF, eS, R, * 12 close
MCG -3-32-19, NPM1G -17.0339
IC 807
12 42 12.4
-17 24 13
E-S0
14.3
13.3
0.7 × 0.7
pF, vS, R, gbM
MCG -3-32-20, NPM1G -17.0340
IC 829
12 52 27.3
-15 31 05
S0-a
14.6
13.7
0.7 × 0.6
Neb * 13m
MCG -2-33-37, NPM1G -15.0446, DRCG 25-45
IC 3799
12 48 59.5
-14 23 55
Scd
14.4
13.7
2.4 × 0.3
vF, pL, vmE 210°, 1st of 7
MCG -2-33-11, FGC 1502
IC 3819
12 50 16.3
-14 22 48
E3
16.4
15.4
0.3 × 0.2
eF, vS, 2nd of 7
NPM1G -14.0474
IC 3822
12 50 22.6
-14 19 21
Sc
15.2
14.5
1.2 × 0.1
eF, vS, 3rd of 7
MCG -2-33-19
IC 3824
12 50 30.5
-14 25 31
E4
15.6
14.6
0.5 × 0.3
eF, vS, 4th of 7
NPM1G -14.0475
IC 3825
12 50 37.0
-14 28 58
S
16.0
15.2
0.3 × 0.2
eeF, vS, ? * 14, 5th of 7
IC 3831
12 51 18.5
-14 34 24
S0
13.6
12.6
1.4 × 0.9
F, vS, R, bM, 7th of 7
MCG -2-33-27
IC 3834
12 51 32.3
-14 13 15
Sb
14.5
13.7
0.8 × 0.4
vF, lbM, * 13 p 0'.8
MCG -2-33-30
IC 3838
12 50 51.8
-14 29 30
Sc
14.1
13.4
0.8 × 0.7
vF, S, lbM, * 13 s 0'.8
IC 3827, MCG -2-33-21, IRAS 12482-1413
«Strasbourg-ESO Catalogue of Galactic Planetary Nebulae» Acker et al., 1992 [141]
PNG
RA
Dec
Main ID
PK
IRAS
Discoverer
Identities
oDiam
["]
rDiam
["]
Dist
[kpc]
Rvel
[km/s]
ExpVel
[km/s]
C* Name
C* Mag
C* SP Type
PN G294.1+43.6
12 24 31
-18 47 09
NGC 4361
294+43.1
12219-1830
HERSCHEL 1868
ARO 26, ESO 573-19, VV 62, VV' 110
63.
1.2
+9.0 ± 2.0
32.0 (O-III)
AG82 145, BD -17 3614, GCRV 7449, HD 107969
U: 11.53, B: 12.85, V: 13.21
O(H)
PN G303.6+40.0
12 53 41
-22 51 42
A 35
303+40.1
ABELL 1955
A55 24, Sh 2-313, VV' 112
770.
700.
0.36
-6.6 ± 3.8
4.0 (O-III)
AG82 148, BD -22 3467, CD -22 9659, CPD -22 5522:LW Hya, SAO 181201
U: 10.88, B: 10.53, V: 9.63
? + G8 IV