Constellation Canes Venatici (Hunting Dogs)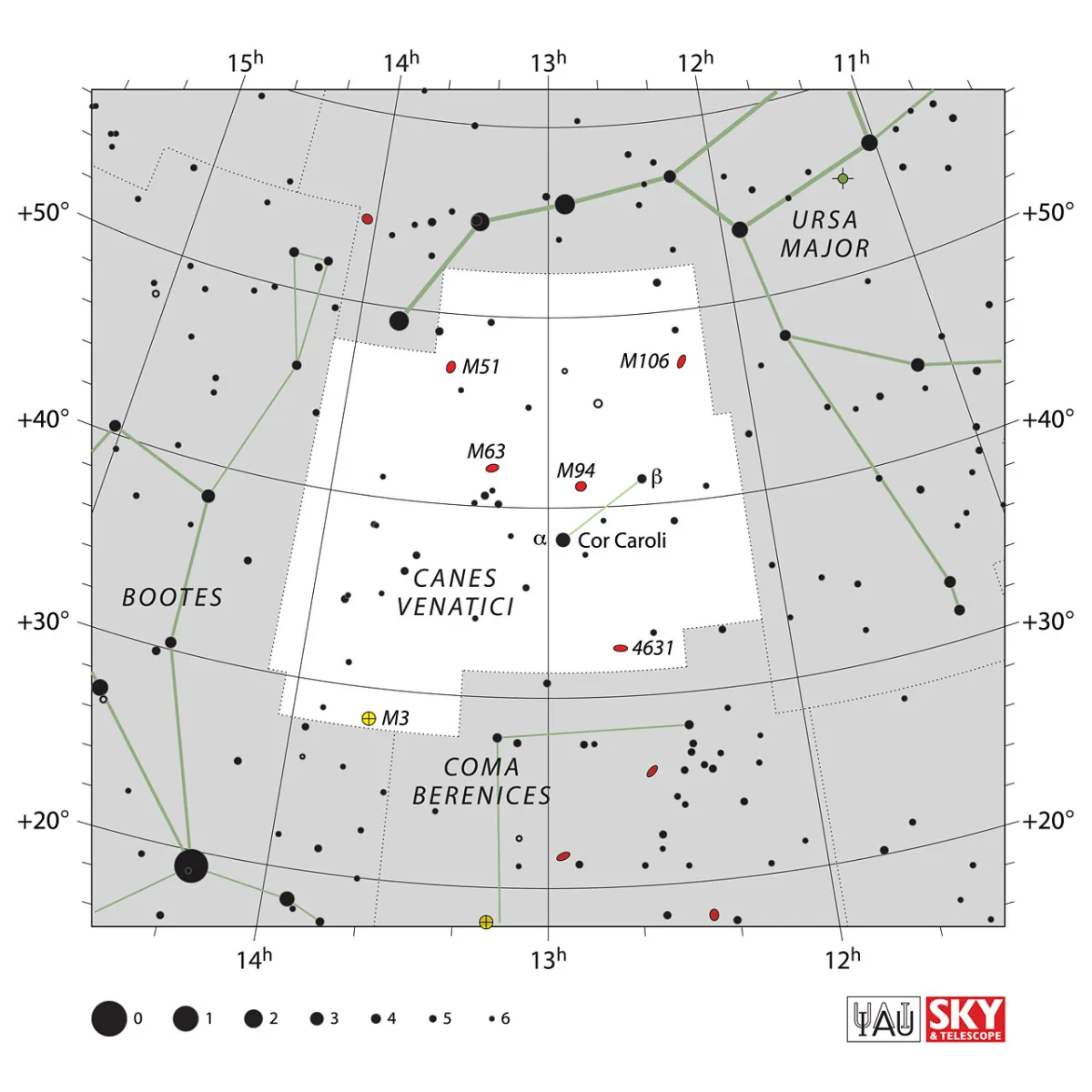 Properties
Canes Venatici is located south of the Big Dipper drawbar. It contains a number of faint stars, of which only the two brightest are clearly visible to the naked eye. The constellation contains numerous galaxies, which belong to a gigantic cluster that extends from Ursa Maior via Coma Berenices down to the Virgo. The area of this constellation is 465 square degrees and the center culminates at midnight on around April 7th. [9, 15]
Stars with Proper Names:
α2 CVn: Cor Caroli
β CVn: Chara
Deep-Sky Object Descriptions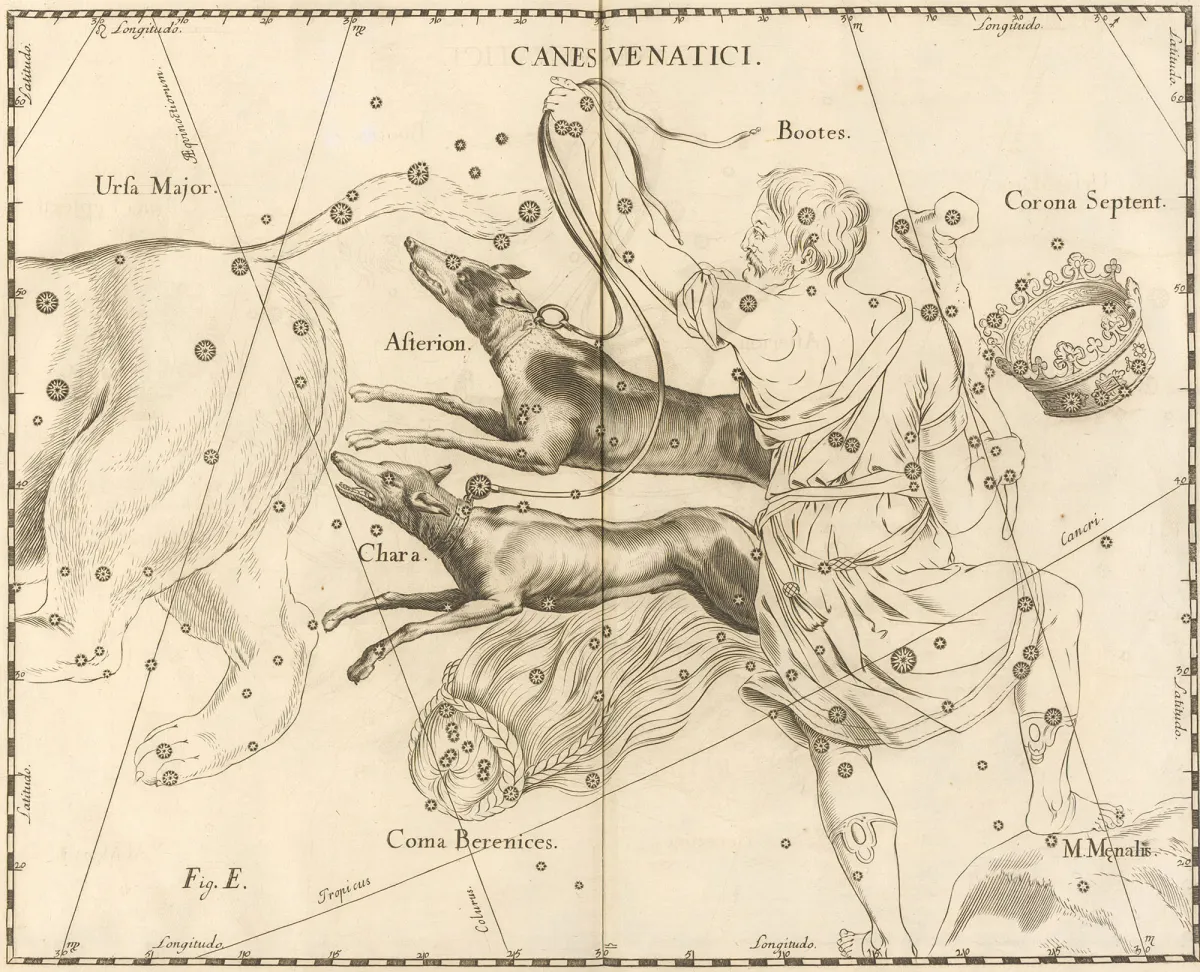 Mythology and History
The constellation was introduced in 1690 by the Gdańsk astronomer Johannes Hevelius in his work Prodromus astronomiae. For centuries it was considered part of Ursa Maior. It depicts the two dogs, Asterion and Chara, the bear guardian, who drive the bear around the celestial pole. [7, 51]
The brighter of the two striking stars is called Cor Caroli (Heart of Karl). According to folklore, the star was named by Edmund Halley in honor of King Charles II of England. It is said that the star shone particularly splendidly on the evening of the king's return to London in May 1660. Others claim that the original name was Cor Caroli Regis Martyris, in honor of Charles I, who was executed many years earlier. [88]
Catalogs
Yale Bright Star Catalogue, 5th Revised Ed. (Hoffleit+, 1991) [154]

| HR | B | F | DM | HD | SAO | FK5 | IR | M* | ADS | VarID | RA | Dec | vMag | spType | dMag | Sep ["] | Remarks |
| --- | --- | --- | --- | --- | --- | --- | --- | --- | --- | --- | --- | --- | --- | --- | --- | --- | --- |
| HR 4666 | | 2 | BD+41 2284 | 106690 | 44097 | 458 | I | | 8489 | | 12 16 07.6 | +40 39 37 | 5.66 | M1III+F7V | 3.1 | 11.4 | D:Binary. Companion 8.77V, +0.57(B-V), +0.09(U-B), F7V. |
| HR 4690 | | 3 | BD+49 2130 | 107274 | 44127 | 1316 | I | | | | 12 19 48.7 | +48 59 03 | 5.29 | M0III | | | |
| HR 4715 | | 4 | BD+43 2218 | 107904 | 44155 | 2993 | | | | AI CVn | 12 23 47.0 | +42 32 34 | 6.06 | F3III-IV | | | G:In Hyades group.,SB:0.1707d.,VAR:Delta Sct 5.89 - 6.15V. Multiple periods 0.2085, 0.1529, 0.1259 and 0.1158d. |
| HR 4716 | | 5 | BD+52 1626 | 107950 | 28366 | 2994 | I | | | Var | 12 24 01.5 | +51 33 44 | 4.80 | G6IIIBa0.2 | | | VAR:E? Amp. 0.067V. |
| HR 4728 | | 6 | BD+39 2521 | 108225 | 63000 | 461 | I | | | | 12 25 50.9 | +39 01 07 | 5.02 | G9III | | | |
| HR 4761 | | 7 | BD+52 1631 | 108845 | 28407 | | | W | | | 12 30 02.9 | +51 32 08 | 6.21 | F6-8V | 2.8 | 229.0 | |
| HR 4783 | | | BD+34 2332 | 109317 | 63070 | 1322 | I | | | | 12 33 38.9 | +33 14 51 | 5.42 | K0IIICN-1 | | | |
| HR 4784 | | | BD+34 2333 | 109345 | 63072 | | | | | | 12 33 47.4 | +33 23 05 | 6.24 | K0III | | | |
| HR 4785 | β | 8 | BD+42 2321 | 109358 | 44230 | 470 | I | S | | 5725 | 12 33 44.5 | +41 21 27 | 4.26 | G0V | | | M:Probable nearby star.,N:Chara is the name assigned either to this star or, more generally, to the "southern hound" of the constellation Canes,N:Venatici; the northern "hound" is called Asterion, a name not generally assigned any particular star.,SB:2429.9d, K 2.6k/s, V0 +6.5k/s, asini 75.7. Orbit questioned by Morbey and Griffin (1987, ApJ, 317, 343).,SB:Resolved by speckle interferometry 1978.40, sep. 0.110"; however, unresolved on numerous other occasions, so measure,SB:must be confirmed.,VAR:Beta CVn amp. 0.05V. |
| HR 4811 | | 9 | BD+41 2312 | 109980 | 44265 | | | | | | 12 38 46.3 | +40 52 28 | 6.37 | A7Vn | | | |
| HR 4816 | | | BD+36 2295 | 110066 | 63118 | 3013 | | | | AX CVn | 12 39 16.9 | +35 57 07 | 6.45 | A0pSrCrEu | | | S:Unusually strong CrI and FeI lines. Magnetic star. 73 Dra type.,VAR:Alpha CV 6.32 - 6.55V, 4900:d. |
| HR 4843 | | | BD+44 2221 | 110834 | 44307 | | | | | | 12 44 27.1 | +44 06 11 | 6.33 | F6IV | | | |
| HR 4845 | | 10 | BD+40 2570 | 110897 | 63177 | | | | | | 12 44 59.5 | +39 16 44 | 5.95 | G0V | | | |
| HR 4846 | | | BD+46 1817 | 110914 | 44317 | 1327 | I | | | Y CVn | 12 45 07.8 | +45 26 25 | 4.99 | C7I | | | S:Infrared spectra show CO, CN and C2 molecules.,VAR:SRb 7.4 - 10.0p, 158.0d, some cycles 250 and 90d. Possible secondary 2000 - 2200d. |
| HR 4866 | | 11 | BD+49 2163 | 111421 | 44332 | | | | | | 12 48 41.8 | +48 28 01 | 6.27 | A6m | | | |
| HR 4875 | | | BD+38 2373 | 111604 | 63217 | | | | | 5983 | 12 50 10.7 | +37 31 01 | 5.89 | A3V | | | VAR:Delta Sct? 5.9 - 5.94v. |
| HR 4904 | | | BD+34 2369 | 112171 | 63244 | 3027 | | | | | 12 54 13.1 | +33 32 04 | 6.26 | A7IV | | | |
| HR 4909 | | | BD+47 2003 | 112264 | 44383 | 3030 | I | | | TU CVn | 12 54 56.5 | +47 11 48 | 5.84 | M5III | | | VAR:SRb 5.55 - 6.6V, 7.2 - 7.7p, 50d. |
| HR 4914 | α1 | 12 | BD+39 2580 | 112412 | 63256 | | | | 8706 B | | 12 56 00.4 | +38 18 53 | 5.60 | F0V | 2.7 | 19.4 | D:Binary with HR 4915.,DYN:0.015".,G:Hyades group. |
| HR 4915 | α2 | 12 | BD+39 2580 | 112413 | 63257 | 485 | I | | 8706 A | Alp2 CVn | 12 56 01.7 | +38 19 06 | 2.90 | A0pSiEuHg | 2.7 | 19.4 | D:Binary with HR 4914.,DYN:0.015".,G:Hyades group.,N:COR CAROLI.,R:Radius relative to Sun = 4.1.,S:Oxygen deficient relative to magnesium. A slight underabundance of Mg. Strong Si and Eu lines. Also classified,S:A0IIIp, A1IV-Vp (Si v. st., Ca v. wk.).,VAR:ADS 8706A, Alpha CV 2.84 - 2.98V, 2.78 - 2.81B, 5.46939d. The prototype star. Var. magnetic field with same rotation,VAR:period. |
| HR 4919 | | | BD+46 1833 | 112570 | 44398 | | | | | | 12 57 07.7 | +46 10 37 | 6.12 | K0III-IV | | | |
| HR 4943 | | 14 | BD+36 2337 | 113797 | 63338 | 1337 | | | | 6089 | 13 05 44.5 | +35 47 56 | 5.25 | B9V | | | RV:Previous estimates vsini from 0 to 170:k/s.,VAR:5.1 - 5.3v. Period of some hours? |
| HR 4945 | | | BD+46 1847 | 113847 | 44465 | 1338 | I | | 8775 | | 13 05 52.3 | +45 16 07 | 5.63 | K1III | 5.4 | 2.9 | |
| HR 4964 | | | BD+38 2407 | 114357 | 63372 | | | | | | 13 09 38.7 | +37 25 23 | 6.02 | K3III | | | |
| HR 4967 | | 15 | BD+39 2611 | 114376 | 63374 | | | | 8805 BC | | 13 09 42.0 | +38 32 02 | 6.28 | B7III | 0.3 | 284.4 | D:ADS 8805BC. Binary? C, 11.2 at 1". A is HR 4971, not CPM. ADS and IDS differ on naming of the components. IDS,,D:adopted here, is the more consistent with FGW Struve's early discovery. |
| HR 4971 | | 17 | BD+39 2614 | 114447 | 63380 | 491 | | | 8805 A | | 13 10 03.2 | +38 29 56 | 5.91 | A9III-IV | 0.3 | 284.4 | S:Also classified F0V. |
| HR 4997 | | | BD+40 2633 | 115004 | 44519 | | I | | | | 13 13 43.0 | +40 09 10 | 4.92 | G8IIIaCN0.5 | | | |
| HR 5004 | | 19 | BD+41 2374 | 115271 | 44531 | | | | | | 13 15 32.0 | +40 51 19 | 5.79 | A7V | | | |
| HR 5017 | | 20 | BD+41 2380 | 115604 | 44549 | 494 | | | | AO CVn | 13 17 32.5 | +40 34 21 | 4.73 | F3III | | | G:Hyades group?,S:MgII 4481 anomalously strong.,SB:Amp. 1.5k/s, 0.135d or 0.176d.,VAR:Delta Sct 4.70 - 4.75V, 0.12168d. Var. amp.? |
| HR 5022 | | | BD+34 2410 | 115723 | 63462 | | I | | | | 13 18 27.8 | +34 05 53 | 5.82 | K4.5III | | | |
| HR 5023 | | 21 | BD+50 1994 | 115735 | 44556 | 3063 | | | | BK CVn | 13 18 14.5 | +49 40 55 | 5.15 | A0V | | | S:Also classified ApSi.,VAR:Alpha CV, amp. 0.04V, 0.767d. |
| HR 5025 | | | BD+35 2435 | 115810 | 63468 | 3064 | | | 8861 D | | 13 19 04.2 | +35 07 41 | 6.02 | F0IV | 3.6 | 319.0 | |
| HR 5032 | | 23 | BD+40 2647 | 116010 | 44570 | 1346 | I | | | | 13 20 19.0 | +40 09 02 | 5.60 | K1III | | | |
| HR 5045 | | | BD+44 2269 | 116303 | 44582 | | | | | 6210 | 13 22 03.8 | +43 54 11 | 6.35 | A7m | | | |
| HR 5052 | | | BD+37 2404 | 116581 | 63514 | | I | | | 6220 | 13 23 54.0 | +37 02 02 | 6.07 | M3III | | | |
| HR 5067 | | | BD+46 1868 | 116957 | 44611 | | | | | | 13 26 16.6 | +46 01 41 | 5.88 | gK0 | | | |
| HR 5077 | | | BD+41 2400 | 117261 | 44621 | | | | | | 13 28 26.2 | +40 43 47 | 6.47 | G8III | | | |
| HR 5079 | | | BD+51 1846 | 117281 | 28766 | | | | | | 13 28 11.7 | +50 35 14 | 6.80 R | F1IV | | | |
| HR 5083 | | | BD+51 1847 | 117361 | 28771 | | | | | | 13 28 45.7 | +50 43 06 | 6.43 | F0IV | | | C:IR source?,S:Also classified F5V, Sr enhanced. |
| HR 5096 | | | BD+42 2405 | 117710 | 44637 | | | | | | 13 31 15.8 | +42 06 22 | 6.08 | K2III | | | |
| HR 5108 | | | BD+39 2658 | 118156 | 63616 | | | | 8956 | | 13 34 21.8 | +38 47 21 | 6.37 | F0IV | 4.3 | 30.6 | D:Optical. |
| HR 5110 | | | BD+37 2426 | 118216 | 63623 | 502 | | | | BH CVn | 13 34 47.8 | +37 10 57 | 4.98 | F2IV | | | SB:2.6132d, K 9.5k/s, V0 +6.4k/s, asini 0.341. Eker and Doherty (1987, MNRAS, 228, 869) observed double lines at high,SB:resolution and provide and alternate orbit. A primary temperature of 6750 K is estimated from Fe/C line ratio, while,SB:equivalent widths of CaI and FeI lines from K-type secondary give 4500-5000 K. Implied spectral type of secondary is,SB:K2IV.,VAR:RS 4.94 - 5.01V, 2.6131738d. Probable reflection effect. |
| HR 5112 | | 24 | BD+49 2227 | 118232 | 44668 | 3083 | | | | 6322 | 13 34 27.3 | +49 00 58 | 4.70 | A5V | | | S:Shell star, but shell seems to have disappeared in 1981, 1983.,VAR:Delta Sct? |
| HR 5116 | | | BD+44 2285 | 118295 | 44675 | 1353 | | | | | 13 35 14.1 | +44 11 49 | 6.84 | A7-F0III | | | |
| HR 5127 | | 25 | BD+37 2433 | 118623 | 63648 | | | | 8974 | | 13 37 27.6 | +36 17 42 | 4.82 | A7III | 2.0 | 1.7 | D:AB 5.01 A7III, 6.91 F0V, 240.0y, a = 1.091" or 220.4y, a = 1.205". Combined mag., colors.,DYN:0.017". |
| HR 5143 | | | BD+31 2526 | 119035 | 63676 | | | | | | 13 40 15.6 | +31 00 43 | 6.21 | G5II: | | | |
| HR 5145 | | | BD+28 2248 | 119081 | 82944 | | | W | | | 13 40 39.1 | +28 03 55 | 6.23 | K3III | 3.3 | 91.2 | |
| HR 5160 | | | BD+42 2431 | 119445 | 44720 | | | | | | 13 42 28.8 | +41 40 27 | 6.30 | G6III | | | |
| HR 5161 | | | BD+35 2474 | 119458 | 63701 | 3089 | | | | | 13 42 43.4 | +34 59 20 | 5.98 | G5III | | | SB:149.72d, K 20.8k/s, V0 -7.7k/s, asini 42.2. |
| HR 5179 | | | BD+41 2424 | 120047 | 44742 | | | | | | 13 46 13.5 | +41 05 19 | 5.87 | A5V | | | |
| HR 5180 | | | BD+39 2678 | 120048 | 63735 | | | | | | 13 46 19.0 | +38 30 14 | 5.94 | G9III | | | |
| HR 5186 | | | BD+39 2680 | 120164 | 63739 | 3094 | | W | | | 13 46 59.8 | +38 32 34 | 5.50 | K0III+F8V | 3.2 | 71.3 | |
| HR 5195 | | | BD+31 2547 | 120420 | 63760 | 3096 | | | | | 13 48 38.7 | +31 11 25 | 5.62 | K0III | | | |
| HR 5199 | | | BD+40 2694 | 120499 | 63763 | | I | | | R CVn | 13 48 57.2 | +39 32 34 | 7.40 | M6IIIe v | | | S:Also classified M5.5e-M9e.,VAR:M 6.5 - 12.9v, 328.53d. Period varies. |
| HR 5204 | | | BD+37 2457 | 120600 | 63772 | | | | | | 13 49 45.0 | +36 37 58 | 6.38 R | A7IV-V | | | |
| HR 5214 | | | BD+35 2492 | 120818 | 63779 | | | | | | 13 51 04.5 | +34 46 21 | 6.65 | A5IV | | | G:Sirius group; UMa stream. |
| HR 5215 | | | BD+35 2493 | 120819 | 63781 | | I | | | 6468 | 13 51 09.2 | +34 39 52 | 5.87 | M2III | | | |
| HR 5219 | | | BD+35 2496 | 120933 | 63793 | 3102 | I | | | AW CVn | 13 51 47.5 | +34 26 39 | 4.74 | K5III | | | VAR:SR? 4.72 - 4.81V. |
| HR 5229 | | | BD+29 2464 | 121164 | 83055 | 3106 | | | | | 13 53 10.3 | +28 38 53 | 5.90 | A7V | | | |
| HR 5245 | | | BD+32 2411 | 121682 | 63837 | 1360 | | | | | 13 56 10.5 | +32 01 57 | 6.32 | F4IV-V | | | |
| HR 5271 | | | BD+46 1922 | 122675 | 44858 | 3115 | | | | | 14 02 12.2 | +45 45 13 | 6.27 | K2III | | | |
Revised+Historic NGC/IC, Version 22/9, © Dr. Wolfgang Steinicke [277]
Globular Clusters
Name
RA
Dec
Type
bMag
vMag
Dim
Dreyer Description
Identification, Remarks
NGC 5272
13 42 11.2
+28 22 34
VI
6.3
18
!!, globular cluster of stars, eB, vL, vsmbM, st 11…
M 3, GCL 25
Galaxies
Name
RA
Dec
Type
bMag
vMag
Dim
Dreyer Description
Identification, Remarks
NGC 4109
12 06 51.1
+42 59 46
Sa
15.0
14.1
0.7 × 0.6
vF, I 195 nnf 6'
MCG 7-25-24, CGCG 215-27, NPM1G +43.0210
NGC 4111
12 07 02.9
+43 04 00
S0-a
11.6
10.7
4.6 × 1
vB, pS, mE 151°
UGC 7103, MCG 7-25-26, CGCG 215-28
NGC 4117
12 07 46.1
+43 07 35
S0
14.0
13.0
1.8 × 0.9
vF, vS
UGC 7112, MCG 7-25-27, CGCG 215-29
NGC 4118
12 07 52.9
+43 06 41
S0-a
15.5
14.6
0.7 × 0.4
eF, vS, 1' s of III 708
MCG 7-25-28, CGCG 215-30
NGC 4135
12 09 08.8
+44 00 13
SBbc
14.7
13.9
1 × 0.6
vF, pS, R, 2 F st inv
MCG 7-25-32, CGCG 215-34
NGC 4137
12 09 17.4
+44 05 24
SBc
14.8
14.1
1.1 × 0.7
vF, pS, R, 1 fainter than sp one
UGC 7135, MCG 7-25-33, CGCG 215-36, VV 454
NGC 4138
12 09 29.7
+43 41 08
S0-a
12.2
11.3
2.6 × 1.7
B, pL, lE, vgbM, * np
UGC 7139, MCG 7-25-35, CGCG 215-37
NGC 4143
12 09 36.2
+42 32 04
SB0
11.8
10.9
2.3 × 1.4
cB, R, vg, vsbMN
UGC 7142, MCG 7-25-36, CGCG 215-39
NGC 4145
12 10 01.7
+39 52 58
SBcd
11.8
11.3
5.9 × 4.1
B, vL, vglbM
UGC 7154, MCG 7-25-40, CGCG 215-42, KUG 1207+401, KCPG 324A
NGC 4145 A1
12 10 54.3
+39 45 26
Sd
15.1
14.5
1.9 × 0.5
B, vL, vglbM
MCG 7-25-46, CGCG 215-48, KUG 1208+400, A 1208+40, VV 814
NGC 4145 A2
12 10 53.3
+39 44 55
S?
16.5
15.7
0.3 × 0.3
B, vL, vglbM
A 1208+40, VV 814
NGC 4148
12 10 07.9
+35 52 42
S0-a
14.2
13.3
1.5 × 1
F, S, * 12 sf
UGC 7158, MCG 6-27-18, CGCG 187-16
NGC 4151
12 10 32.3
+39 24 24
SBab
11.5
10.8
6.3 × 4.5
vB, S, R, vsmbMBN, p of 2
UGC 7166, MCG 7-25-44, CGCG 215-45, KUG 1208+396A, KCPG 324B
NGC 4156
12 10 49.4
+39 28 23
SBb
14.0
13.2
1.3 × 1.2
pF, S, E, vgbM, f of 2
UGC 7173, MCG 7-25-45, CGCG 215-47, KCPG 325
NGC 4163
12 12 09.0
+36 10 07
Im
14.5
14.0
1.9 × 1.6
vF, pL, vlE, er
NGC 4167, UGC 7199, MCG 6-27-26, CGCG 187-20, KUG 1209+364
NGC 4183
12 13 16.8
+43 41 53
Sc
12.9
12.3
5.3 × 0.7
vF, cL, mE 170° ±
UGC 7222, MCG 7-25-51, CGCG 215-53, FGC 1386
NGC 4187
12 13 29.3
+50 44 30
E2
14.2
13.2
1.3 × 1
pB, S, lE
NGC 4187A, UGC 7229, MCG 9-20-117, CGCG 269-42
NGC 4187 B
12 13 28.8
+50 45 25
C
16.2
15.2
0.3 × 0.3
pB, S, lE
NGC 4187 C
12 13 26.9
+50 42 37
E2
16.6
15.6
0.5 × 0.4
pB, S, lE
MCG 9-20-118
NGC 4190
12 13 44.4
+36 38 01
Im/P
13.9
13.3
1.7 × 1.6
cF, pS, R, vglbM, r
UGC 7232, MCG 6-27-30, CGCG 187-24, VV 104, KUG 1211+369
NGC 4214
12 15 38.8
+36 19 39
IBm
10.2
9.8
8 × 6.6
cB, cL, iE, biN
NGC 4228, UGC 7278, MCG 6-27-42, CGCG 187-32, KUG 1213+366, IRAS 12131+3636
NGC 4217
12 15 50.6
+47 05 24
Sb
12.0
11.2
5.2 × 1.5
pF, L, mE 45°, ** n, p of 2
UGC 7282, MCG 8-22-87, CGCG 243-53
NGC 4218
12 15 46.0
+48 07 54
Sa
13.4
12.5
1.2 × 0.7
vF, vS
UGC 7283, MCG 8-22-88, CGCG 243-54, IRAS 12132+4824, ARAK 353, HARO 28
NGC 4220
12 16 11.8
+47 52 59
S0-a
12.3
11.4
3.9 × 1.5
cB, pL, pmE 134°, psbM
UGC 7290, MCG 8-22-89, CGCG 243-55, IRAS 12137+4809
NGC 4226
12 16 26.3
+47 01 32
Sa/P
14.4
13.5
1 × 0.5
F, S, lE, f of 2
UGC 7297, MCG 8-22-90, CGCG 243-57
NGC 4227
12 16 33.7
+33 31 20
SB0-a
13.7
12.8
1.5 × 0.9
F, vS, vlE, psbM, sp of 2
UGC 7296, MCG 6-27-43, CGCG 187-33
NGC 4229
12 16 38.7
+33 33 40
S0-a
14.2
13.3
1.1 × 0.8
cF, vS, lE, psbM, nf of 2
UGC 7299, MCG 6-27-44, CGCG 187-34
NGC 4231
12 16 48.9
+47 27 29
S0-a
14.5
13.6
1.2 × 1.1
vF, vS, n of D neb
UGC 7304, MCG 8-22-94, CGCG 243-60, NPM1G +47.0223
NGC 4232
12 16 49.0
+47 26 20
SBb/P
14.4
13.6
1.3 × 0.7
vF, vS, s of D neb
UGC 7303, MCG 8-22-93, CGCG 243-59, IRAS 12143+4743
NGC 4242
12 17 30.0
+45 37 09
SBd
11.4
10.8
5.2 × 4
vF, cL, iR, vgbM, r
UGC 7323, MCG 8-22-98, CGCG 243-61
NGC 4244
12 17 29.9
+37 48 28
Sc
10.9
10.4
16.6 × 1.9
pB, vL, eE 43°, vgbM
UGC 7322, MCG 6-27-45, CGCG 187-35, FGC 1402, IRAS 12150+3804
NGC 4248
12 17 50.4
+47 24 33
SBb
13.1
12.5
2.9 × 1.2
vF, S, pmE, psbM
UGC 7335, MCG 8-22-99, CGCG 244-1, CGCG 243-64
NGC 4258
12 18 57.8
+47 18 25
SBbc
9.1
8.4
18.6 × 7.2
vB, vL, vmE 0°, sbMBN
M 106, UGC 7353, MCG 8-22-104, CGCG 243-67, VV 448, CGCG 244-3
NGC 4288
12 20 38.0
+46 17 40
SBcd
13.3
12.9
2.2 × 1.6
vF, pS, R, vgbM, r
UGC 7399, MCG 8-23-6, DDO 119, CGCG 244-6
NGC 4288 A
12 20 40.6
+46 15 19
E-S0
15.5
14.5
0.4 × 0.4
vF, pS, R, vgbM, r
MCG 8-23-7
NGC 4346
12 23 27.9
+46 59 38
SB0
12.3
11.2
3.2 × 1.3
vF, S, mE 100° ±, vsmbMBN
UGC 7463, MCG 8-23-16, CGCG 244-9
NGC 4369
12 24 36.4
+39 22 58
Sa
12.3
11.7
2.1 × 2
cB, S, R, mbMN, r
UGC 7489, MCG 7-26-4, MK 439, IRAS 12221+3939, CGCG 216-2, KUG 1222+396
NGC 4381
12 23 59.1
+48 46 48
Sbc
13.2
12.4
3.7 × 1.3
F, S
NGC 4357, UGC 7478, MCG 8-23-17, CGCG 244-10, KARA 528
NGC 4389
12 25 35.0
+45 41 06
SBbc/P
12.5
11.7
2.6 × 1.3
pB, pL, iE, vglbM
UGC 7514, MCG 8-23-28, CGCG 244-14
NGC 4392
12 25 18.7
+45 50 51
C
14.7
13.7
0.7 × 0.6
cF, S, R, vgbM
MCG 8-23-23, CGCG 244-12, 1ZW 35
NGC 4395
12 25 48.8
+33 32 48
SBm
10.6
10.2
13.2 × 11
eF, vL, np of D neb
UGC 7524, MCG 6-27-53, CGCG 187-42, KUG 1223+338, IRAS 12233+3348
NGC 4449
12 28 11.3
+44 05 42
IBm
10.0
9.6
6.2 × 4.4
vB, cL, mE, D or bifid, rrr, * 9 f 5'
UGC 7592, MCG 7-26-9, CGCG 216-5
NGC 4460
12 28 45.5
+44 51 52
SB0-a
12.2
11.3
4.2 × 1.3
B, pL, E 123°, psbM
UGC 7611, MCG 8-23-41, CGCG 244-22
NGC 4485
12 30 31.3
+41 42 03
IBm/P
12.3
11.9
2.4 × 1.8
B, pS, iR, np of 2
UGC 7648, MCG 7-26-13, CGCG 216-7, KCPG 341A, Arp 269, VV 30
NGC 4490
12 30 36.1
+41 38 34
SBcd
10.2
9.8
6.4 × 3.2
vB, vL, mE 130°, r, sf of 2
UGC 7651, MCG 7-26-14, CGCG 216-8, KCPG 341B, Arp 269, VV 30
NGC 4509
12 33 06.8
+32 05 32
Sab/P
14.3
13.5
0.8 × 0.5
vF, S, R, lbM
UGC 7704, MCG 5-30-18, MK 773, IRAS 12306+3222, CGCG 159-15, KUG 1230+323
NGC 4534
12 34 05.4
+35 31 06
Sd
12.9
12.3
2.6 × 2.1
cF, L, lE, vglbM, r
UGC 7723, MCG 6-28-10, CGCG 188-8, KARA 536, KUG 1231+357
NGC 4542
12 34 49.1
+50 48 20
S
14.8
13.9
1 × 0.5
eF, pL, R
NGC 4537, UGC 7746, MCG 9-21-21, CGCG 270-11
NGC 4583
12 38 04.4
+33 27 31
SB0-a
14.3
13.4
1.1 × 0.9
cF, S, lE, bM
MCG 6-28-17, CGCG 188-11
NGC 4617
12 41 05.7
+50 23 39
Sb
14.0
13.2
2.9 × 0.5
pF, S, iR, er
UGC 7847, MCG 9-21-28, CGCG 270-13, KARA 545
NGC 4618
12 41 33.0
+41 09 04
SBm
11.2
10.8
4.2 × 3.4
B, L, E, mbM, curved branch n
IC 3667, UGC 7853, MCG 7-26-37, CGCG 216-17, KCPG 349A, VV 73, Arp 23, KUG 1239+414
NGC 4619
12 41 44.4
+35 03 46
SBb/P
13.5
12.7
1.3 × 1.3
F, pS, R, lbM, * 8·9 f
UGC 7856, MCG 6-28-18, CGCG 188-14, IRAS 12393+3520
NGC 4625
12 41 52.5
+41 16 25
SBm/P
12.9
12.4
1.6 × 1.4
pF, S, R
IC 3675, UGC 7861, MCG 7-26-38, IRAS 12395+4132, KCPG 349B, KUG 1239+415, Arp 23, CGCG 216-18
NGC 4627
12 41 59.6
+32 34 26
E4/P
13.1
12.4
1.7 × 1
F, S, R, np of 2
UGC 7860, MCG 6-28-19, CGCG 188-15, Arp 281, KUG 1239+328A
NGC 4631
12 42 07.6
+32 32 30
SBcd
9.8
9.2
15.2 × 2.8
!, vB, vL, eE 70° ±, bMN, * 12 att n
UGC 7865, MCG 6-28-20, CGCG 188-16, IRAS 12396+3249, KCPG 350A, Arp 281, KUG 1239+328B, Whale Galaxy
NGC 4655
12 43 36.4
+41 01 09
E
14.7
13.9
1 × 1
vF, vS, stellar, * 15 f
MCG 7-26-42, CGCG 216-21, NPM1G +41.0304
NGC 4656
12 43 58.1
+32 10 11
SBm
11.0
10.5
15.3 × 2.4
!, pB, L, vmE 34°, sp of 2
UGC 7907, MCG 5-30-66, CGCG 159-65, IRAS 12417+3228, KCPG 350B, FGC 174A, KUG 1241+324
NGC 4662
12 44 26.3
+37 07 16
SBbc
13.5
12.7
1.9 × 1.6
pF, pL, R, gbM, r
UGC 7917, MCG 6-28-25, CGCG 188-18, KARA 550
NGC 4687
12 47 23.8
+35 21 07
E1
14.2
13.2
0.7 × 0.6
vF, vS, R, psbM
UGC 7958, MCG 6-28-31, MK 442, CGCG 188-21, KUG 1244+356
NGC 4704
12 48 46.4
+41 55 16
SBbc/P
14.5
13.7
1 × 0.9
cF, S, R, gbM
UGC 7972, MCG 7-26-54, CGCG 216-31, IRAS 12464+4211
NGC 4707
12 48 23.2
+51 09 48
Sm
13.4
12.9
2.2 × 2.1
S, stellar
UGC 7971, MCG 9-21-50, DDO 150, CGCG 270-25, 1ZW 43
NGC 4711
12 48 45.7
+35 19 58
SBb
14.2
13.4
1.3 × 0.8
F, S, E, glbM, er
IC 3804, UGC 7973, MCG 6-28-33, CGCG 188-22, IRAS 12463+3536
NGC 4719
12 50 08.6
+33 09 33
SBb
14.0
13.2
1.4 × 1.1
vF, stellar
UGC 7987, MCG 6-28-35, MK 446, IRAS 12477+3325, KUG 1247+334, KARA 553, CGCG 188-24
NGC 4736
12 50 53.1
+41 07 17
Sab
9.0
8.2
14.4 × 12.1
vB, L, iR, vsvmbMBN, r
M 94, UGC 7996, MCG 7-26-58, IRAS 12485+4123, CGCG 216-34, CGCG 217-1
NGC 4737
12 50 52.9
+34 09 26
Sab
15.1
14.3
0.9 × 0.6
eF, vS, pmE
MCG 6-28-36, CGCG 188-25, NPM1G +34.0263
NGC 4741
12 50 59.4
+47 40 18
Sc
14.4
13.7
1.4 × 0.7
vF, S, R, psbM
UGC 8000, MCG 8-23-98, CGCG 244-45, CGCG 245-3
NGC 4774
12 53 06.6
+36 49 08
Ring
14.8
14.3
0.6 × 0.4
eF, cS, R, bM
MCG 6-28-37, CGCG 188-26, ARAK 392, IRAS 12507+3705, KUG 1250+370, 1ZW 45, VV 789, Kidney Bean galaxy
NGC 4800
12 54 37.8
+46 31 53
Sb
12.4
11.6
1.6 × 1.2
pB, cS, R, psbM, * 14 p
UGC 8035, MCG 8-24-4, CGCG 245-5, ARAK 393, IRAS 12523+4648
NGC 4834
12 56 25.1
+52 17 45
Sbc
15.6
14.8
0.9 × 0.3
vF, S, iR, bM
MCG 9-21-67, CGCG 270-34
NGC 4837 1
12 56 47.8
+48 17 46
P
14.4
13.4
1.1 × 0.5
Neb ?
UGC 8068, MCG 8-24-11, CGCG 245-6, 1ZW 46, IRAS 12545+4834
NGC 4837 2
12 56 49.8
+48 18 00
Sd
14.4
13.8
1 × 0.4
Neb ?
UGC 8068, MCG 8-24-12, CGCG 245-6, 1ZW 46
NGC 4846
12 57 47.7
+36 22 12
SBbc
14.4
13.6
1.3 × 0.6
eF
UGC 8079, MCG 6-29-2, CGCG 188-32, IRAS 12554+3637, KUG 1255+366, KARA 561, CGCG 189-4
NGC 4861
12 59 01.8
+34 51 43
SBm
14.1
13.5
4.2 × 1.6
vF, pL, vmE 30° ±, bet 2 st
IC 3961, UGC 8098, MCG 6-29-3, MK 59, 1ZW 49, Arp 266, VV 797, KCPG 362A, CGCG 189-5, KUG 1256+351
NGC 4868
12 59 09.0
+37 18 34
Sab
13.0
12.2
1.5 × 1.4
pB, S, R, mbM
UGC 8099, MCG 6-29-4, CGCG 189-8, KUG 1256+375, IRAS 12567+3734
NGC 4870
12 59 17.8
+37 02 54
S
15.4
14.6
0.9 × 0.3
pF, lE, bet 2 st
NGC 4893
12 59 59.6
+37 11 38
E
15.2
14.3
0.4 × 0.3
vF, * 20 sp, * 17 nf
IC 4015, UGC 8111, MCG 6-29-8, CGCG 189-10, VV 222, NPM1G +37.0379
NGC 4901
12 59 56.3
+47 12 22
E
15.3
14.5
1 × 1
pF, S, R, gbM
UGC 8112, MCG 8-24-19, CGCG 245-9, NPM1G +47.0239
NGC 4914
13 00 42.9
+37 18 53
E4
12.5
11.6
3.5 × 2.1
pB, cS, R, smbM, * 17 np
UGC 8125, MCG 6-29-14, CGCG 189-13
NGC 4917
13 00 55.5
+47 13 21
SBb
14.6
13.8
1.5 × 1
eF, S, E, bM
UGC 8130, MCG 8-24-23, CGCG 245-11
NGC 4932
13 02 37.5
+50 26 21
Sc
14.3
13.6
1.5 × 1.3
cF, S, R, vglbM
UGC 8150, MCG 9-21-89, CGCG 270-40
NGC 4938
13 02 57.4
+51 19 09
S
15.1
14.3
0.8 × 0.7
eF, R, psbM
MCG 9-21-91, CGCG 270-42
NGC 4956
13 05 01.0
+35 10 40
S0
13.3
12.4
1.5 × 1.5
pB, cS, R, smbM
UGC 8177, MCG 6-29-25, CGCG 189-17
NGC 4959
13 05 41.0
+33 10 46
Sa
15.4
14.5
0.8 × 0.8
eF, S, R
MCG 6-29-29, CGCG 189-18, NPM1G +33.0272
NGC 4963
13 05 51.9
+41 43 17
S
14.1
13.3
0.8 × 0.8
F, vS, R, stellar, vS * s
UGC 8190, MCG 7-27-30, CGCG 217-10, IRAS 13035+4159
NGC 4985
13 08 12.0
+41 40 37
S0
14.7
13.7
1.3 × 1.2
vF, vS, R, lbM
UGC 8218, MCG 7-27-32, CGCG 217-12, NPM1G +41.0317
NGC 4986
13 08 24.5
+35 12 19
SBb
14.0
13.2
1.7 × 0.9
vF, S, R, stellar
UGC 8221, MCG 6-29-44, CGCG 189-27
NGC 4987
13 07 59.0
+51 55 46
E4
14.4
13.4
1.2 × 0.7
vF, vS, stellar
UGC 8216, MCG 9-22-15, CGCG 271-13
NGC 4998
13 08 10.3
+50 39 52
Sc
15.2
14.5
0.9 × 0.8
vF
MCG 9-22-17, CGCG 271-15, IRAS 13062+5054
NGC 5002
13 10 38.2
+36 38 03
SBm
14.4
13.8
1.7 × 1
vF, pL, E, * 13 att, n
UGC 8254, MCG 6-29-51, CGCG 189-34, KUG 1308+368
NGC 5003
13 08 37.8
+43 44 14
Sa
15.2
14.3
1 × 0.8
vF, pS, lbM, Minute of RA?
UGC 8228, MCG 7-27-33, CGCG 217-13
NGC 5005
13 10 56.1
+37 03 31
SBbc
10.6
9.8
5.8 × 2.9
vB, vL, vmE 66°, vsbMN
UGC 8256, MCG 6-29-52, CGCG 189-35, IRAS 13086+3719
NGC 5009
13 10 47.2
+50 05 35
SBb
15.3
14.5
1.1 × 0.7
vF, R, bet 2 vS st
UGC 8258, MCG 8-24-61, CGCG 245-25
NGC 5014
13 11 31.4
+36 16 54
Sa
13.5
12.9
1.6 × 0.5
pF, S, E, psbM
UGC 8271, MCG 6-29-55, MK 449, IRAS 13092+3632, CGCG 189-37, KUG 1309+365
NGC 5021
13 12 06.1
+46 11 47
SBb
14.2
13.4
1.5 × 0.7
pF, cS, R, * 12 nf 90"
UGC 8284, MCG 8-24-84, CGCG 245-30, IRAS 13099+4627
NGC 5023
13 12 11.7
+44 02 14
Sc
12.9
12.3
5.8 × 0.8
pF, L, mE 20°, vlbM
UGC 8286, MCG 7-27-43, CGCG 217-17, FGC 1578
NGC 5025
13 12 44.8
+31 48 31
Sb
14.4
13.6
2 × 0.6
vF, S, lE, * 13 n
UGC 8292, MCG 5-31-155, CGCG 160-162, IRAS 13103+3204
NGC 5029
13 12 37.4
+47 03 48
E4
14.1
13.1
1.7 × 1.1
F, vS, R, gbM
UGC 8293, MCG 8-24-87, CGCG 245-32
NGC 5033
13 13 28.0
+36 35 36
Sc
10.8
10.2
10.7 × 5
vB, pL, E 167°, smbMvBN, * np
UGC 8307, MCG 6-29-62, CGCG 189-43, IRAS 13111+3651
NGC 5040 1
13 13 32.6
+51 15 31
S
15.0
14.2
1 × 0.5
F, S, iR, vgmbM
MCG 9-22-31, CGCG 271-24
NGC 5040 2
13 13 30.7
+51 16 24
S0
16.0
15.0
0.3 × 0.2
F, S, iR, vgmbM
NPM1G +51.0230
NGC 5055
13 15 49.0
+42 01 59
Sbc
9.3
8.6
12.6 × 7.2
vB, L, pmE 120° ±, vsmbMBN
M 63, UGC 8334, MCG 7-27-54, CGCG 217-23, Sunflower galaxy
NGC 5074
13 18 25.8
+31 28 06
Sb
14.4
14.0
0.7 × 0.6
eF, vS
MCG 5-31-172, CGCG 161-1, CGCG 160-183, WAS 67, KUG 1316+317
NGC 5083
13 19 03.1
+39 35 22
SBc
14.9
14.2
1.3 × 1.1
pF, pL, R
UGC 8367, MCG 7-27-59, CGCG 217-28, IRAS 13167+3951
NGC 5093
13 19 37.8
+40 23 11
Sa
14.6
13.7
1.4 × 0.7
vF, S, R, lbM
UGC 8373, MCG 7-27-60, CGCG 217-29
NGC 5096
13 20 08.6
+33 05 17
S0-a
14.8
13.9
0.7 × 0.7
vF, cS, R, bM, sp of 2
MCG 6-29-76, CGCG 189-51, VV 633, triple system
NGC 5098 A
13 20 14.7
+33 08 36
E0
15.1
14.1
0.7 × 0.7
vF, S, bet 2 st, nf of 2
MCG 6-29-77, CGCG 189-52
NGC 5098 B
13 20 17.9
+33 08 42
E-S0
15.6
14.6
0.6 × 0.6
vF, S, bet 2 st, nf of 2
MCG 6-29-78, CGCG 189-52
NGC 5103
13 20 30.0
+43 05 04
S?
13.6
12.7
1.4 × 1
pB, cS, E
UGC 8388, MCG 7-27-62, CGCG 217-31, CGCG 218-1, PRC C-44, near SAO 44572
NGC 5107
13 21 24.4
+38 32 18
SBcd
13.8
13.1
1.7 × 0.5
vF, S, cE 0° ±
UGC 8396, MCG 7-28-1, MK 1346, IRAS 13191+3847, CGCG 217-33, CGCG 218-3, KUG 1319+387
NGC 5112
13 21 56.6
+38 44 07
SBc
12.6
12.1
4 × 2.9
F, L, iR, vglbM
UGC 8403, MCG 7-28-3, CGCG 218-5, KUG 1319+389, IRAS 13196+3859
NGC 5117
13 22 56.4
+28 18 56
SBc
14.2
13.5
2.2 × 1
vF, L, Δ 2 st 11 np
UGC 8411, MCG 5-32-10, CGCG 161-37
NGC 5123
13 23 10.4
+43 05 10
Sc
13.5
12.8
1.3 × 1.1
pF, S, R, gmbM
UGC 8415, MCG 7-28-5, CGCG 218-6, IRAS 13209+4320
NGC 5127
13 23 45.2
+31 33 55
E2
12.9
11.9
2.8 × 2.2
pB, pL, R, gmbM, ** p
UGC 8419, MCG 5-32-13, CGCG 161-42
NGC 5131
13 23 57.0
+30 59 15
Sa
14.4
13.5
2.1 × 0.3
F, pS, lE, N = * 15
UGC 8422, MCG 5-32-14, CGCG 161-43
NGC 5141
13 24 51.4
+36 22 44
S0
13.8
12.8
1.3 × 1
cF, cS, R, vsmbM *, * 12 sp, sp of 2
UGC 8433, MCG 6-30-4, CGCG 190-6, CGCG 189-65, KCPG 373A
NGC 5142
13 25 01.2
+36 23 59
S0
14.2
13.3
1 × 0.7
F, cS, R, vsmbM *, nf of 2
UGC 8435, MCG 6-30-6, MK 452, KCPG 373B, CGCG 189-66, CGCG 190-7, KUG 1322+366A
NGC 5143
13 25 01.4
+36 26 15
SBd
16.4
15.8
0.7 × 0.4
vF
MCG 6-30-5, CGCG 190-8, CGCG 189-67, KUG 1322+366B
NGC 5145
13 25 13.9
+43 16 02
Sb
13.4
12.6
2 × 1.8
pB, vS, vlE, glbM
UGC 8439, MCG 7-28-9, CGCG 218-10, IRAS 13230+4331
NGC 5149
13 26 09.1
+35 56 04
SBbc
13.7
12.9
1.6 × 0.9
cF, pS, E, bM, sp of 2
UGC 8444, MCG 6-30-10, CGCG 190-10, IRAS 13238+3611, KUG 1323+361, KCPG 375A
NGC 5154
13 26 28.6
+36 00 38
Sc
14.5
13.8
1.4 × 1.2
vF, pL, R, nf of 2
UGC 8447, MCG 6-30-11, CGCG 190-11, KCPG 375B
NGC 5157
13 27 16.8
+32 01 51
SBa
14.2
13.3
1.3 × 0.9
F, pS, vlE, bM, p of 2
UGC 8455, MCG 5-32-21, CGCG 161-56
NGC 5166
13 28 15.0
+32 01 56
Sb
14.3
13.5
2.3 × 0.4
pF, pL, lE, lbM, f of 2
NGC 5166A, UGC 8463, MCG 5-32-26, CGCG 161-62, IRAS 13259+3217
NGC 5166 B
13 28 33.1
+32 04 09
Sb
15.6
14.8
0.5 × 0.3
pF, pL, lE, lbM, f of 2
MCG 5-32-27, CGCG 161-64
NGC 5169
13 28 10.0
+46 40 20
SBbc
14.3
13.5
2.1 × 0.8
vF, pS, R
UGC 8465, MCG 8-25-4, CGCG 246-2
NGC 5173
13 28 25.2
+46 35 32
E1
13.2
12.2
1 × 0.9
F, vS, R, stellar
UGC 8468, MCG 8-25-5, CGCG 246-3, NPM1G +46.0259
NGC 5187
13 29 48.2
+31 07 48
Sb
14.2
13.4
1.3 × 0.8
vF, vS, R, glbM
MCG 5-32-29, CGCG 161-69, KUG 1327+313, IRAS 13274+3123
NGC 5194
13 29 52.6
+47 11 44
Sbc
9.0
8.4
11.2 × 6.9
!!!, Great Spiral neb
M 51, UGC 8493, MCG 8-25-12, IRAS 13277+4727, KCPG 379A, CGCG 246-8, Arp 85, VV 1, VV 403, Whirlpool galaxy
NGC 5195
13 29 59.2
+47 16 03
SB0-a
10.5
9.6
5.9 × 4.6
B, pS, lE, vgbM, inv in M 51
UGC 8494, MCG 8-25-14, CGCG 246-9, IRAS 13278+4731, KCPG 379B, Arp 85, VV 1, Whirlpool galaxy
NGC 5198
13 30 11.4
+46 40 15
E1
12.7
11.8
2 × 1.7
pF, pS, R, mbM
UGC 8499, MCG 8-25-15, CGCG 246-10, 1ZW 59
NGC 5199
13 30 42.7
+34 49 52
S0
14.6
13.6
0.9 × 0.9
vF, vS, lE
UGC 8504, MCG 6-30-24, CGCG 190-16, NPM1G +35.0274
NGC 5214
13 32 48.5
+41 52 20
Sc
14.3
13.6
1.1 × 0.8
vF, S, R, lbM
UGC 8531, MCG 7-28-30, CGCG 218-21, KCPG 381A, AM 1332-331, KUG 1330+421
NGC 5214 A
13 32 47.2
+41 51 54
Sbc
15.8
15.0
0.6 × 0.2
vF, S, R, lbM
MCG 7-28-29, KCPG 381A, IRAS 13306+4207
NGC 5223
13 34 25.1
+34 41 26
E1
14.0
13.0
1.5 × 1.3
F, cS, R, * 10 p, p of 2
UGC 8553, MCG 6-30-40, CGCG 190-25
NGC 5225
13 33 20.0
+51 29 27
S
14.4
13.6
0.7 × 0.7
cF, pS, iR, lbM
UGC 8540, MCG 9-22-78, CGCG 271-50
NGC 5228
13 34 35.1
+34 46 40
E-S0
14.3
13.3
1 × 0.9
vF, vS, R, f of 2
UGC 8556, MCG 6-30-43, CGCG 190-26
NGC 5229
13 34 02.9
+47 54 52
SBcd
14.4
13.7
3.3 × 0.5
eF, L, mE, v diffic
UGC 8550, MCG 8-25-19, CGCG 246-13, FGC 1638
NGC 5233
13 35 13.4
+34 40 38
Sab
14.7
13.9
1.4 × 0.7
F, S, R, vS * nr
UGC 8568, MCG 6-30-47, CGCG 190-29
NGC 5238 1
13 34 42.6
+51 36 50
Sd
13.9
13.3
1.5 × 1.2
cF, pL, R, vlbM
UGC 8565, MCG 9-22-82, CGCG 271-52, KCPG 384A, MK 1479, VV 828, 1ZW 64
NGC 5238 2
13 34 43.6
+51 36 34
Sc
15.0
14.3
0.8 × 0.8
cF, pL, R, vlbM
UGC 8565, MCG 9-22-82, CGCG 271-52, KCPG 384B, MK 1479, VV 828, 1ZW 64
NGC 5240
13 35 55.1
+35 35 18
SBc
13.8
13.1
1.9 × 1.4
vF, pL, R, lbM
UGC 8587, MCG 6-30-56, CGCG 190-34
NGC 5243
13 36 15.1
+38 20 36
Sbc
14.0
13.2
1.5 × 0.4
cF, pL, E 65°, biN ?
UGC 8592, MCG 7-28-36, CGCG 218-27, IRAS 13340+3836
NGC 5259 1
13 39 24.6
+30 59 28
E4
15.2
14.2
1.1 × 0.7
vF, S, iR
MCG 5-32-52, CGCG 161-105, NPM1G +31.0291, double system
NGC 5259 2
13 39 23.1
+30 59 33
S
16.5
15.7
0.3 × 0.2
vF, S, iR
MCG 5-32-52, CGCG 161-105
NGC 5263
13 39 55.6
+28 23 59
Sc
14.1
13.4
1.6 × 0.4
cF, S, mE 0° ±, * 9 sp
UGC 8648, MCG 5-32-58, CGCG 161-113, KUG 1337+286, IRAS 13376+2839
NGC 5265
13 40 09.0
+36 51 41
SBcd
14.6
13.9
0.7 × 0.6
F, cS, vlE, er
MCG 6-30-68, CGCG 190-40, KUG 1337+371, IRAS 13379+3706
NGC 5267
13 40 40.0
+38 47 40
SBb
14.3
13.5
1.4 × 0.5
F, S, R, gbM, S * np
UGC 8655, MCG 7-28-49, CGCG 218-36
NGC 5271
13 41 42.4
+30 07 31
SBa
15.0
14.1
0.9 × 0.7
vF, vS, R, gvlbM
MCG 5-32-65, CGCG 161-120
NGC 5273
13 42 08.3
+35 39 14
S0
12.4
11.6
2.8 × 2.5
cB, pL, R, g, psmbM
IC 895, UGC 8675, MCG 6-30-72, CGCG 190-41, KCPG 391A
NGC 5274
13 42 23.3
+29 50 52
E0
15.6
14.6
0.4 × 0.4
vF, vS, R, bM
MCG 5-32-66, CGCG 161-125
NGC 5275
13 42 23.6
+29 49 31
S0
15.2
14.2
0.7 × 0.7
F, S, R, gmbM
MCG 5-32-67, CGCG 161-124, VV 543
NGC 5276
13 42 21.9
+35 37 27
SBb
14.6
13.8
0.9 × 0.5
F, S
UGC 8680, MCG 6-30-74, CGCG 190-43, IRAS 13400+3553, KUG 1340+358, KCPG 391B
NGC 5277
13 42 38.4
+29 57 15
Sbc
15.3
14.5
0.6 × 0.4
eF, S, R, bM
CGCG 161-129, KUG 1340+302
NGC 5280
13 42 55.5
+29 52 09
E0
14.7
13.6
0.8 × 0.8
F, vS, R, bM
MCG 5-32-72, CGCG 161-131, NPM1G +30.0309
NGC 5282
13 43 24.8
+30 04 12
E3
14.3
13.3
1.1 × 0.8
F, S, R, gbM * 14
UGC 8687, MCG 5-32-75, CGCG 161-133, NPM1G +30.0310
NGC 5287
13 44 52.5
+29 46 15
S0
16.3
15.3
0.7 × 0.3
F, S, irr, r?
MCG 5-32-79
NGC 5289
13 45 08.7
+41 30 13
SBab
14.0
13.0
1.9 × 0.6
vF, vS, lE 90° ±, sbM
UGC 8699, MCG 7-28-58, CGCG 218-42, IRAS 13430+4145
NGC 5290
13 45 19.1
+41 42 47
Sbc
13.0
12.5
3.7 × 1
cB, pL, E 90° ±, bMN
UGC 8700, MCG 7-28-61, CGCG 218-43, IRAS 13432+4157
NGC 5296
13 46 18.6
+43 51 06
S0-a
15.1
14.4
0.9 × 0.6
R, bM, is sp h 1668
MCG 7-28-62, CGCG 218-44, NPM1G +44.0258, KCPG 394A
NGC 5297
13 46 23.4
+43 52 21
SBc
12.5
11.8
5.6 × 1.3
cB, L, pmE 142°, gbM
UGC 8709, MCG 7-28-63, CGCG 218-45, KCPG 394B, IRAS 13442+4407
NGC 5301
13 46 24.2
+46 06 27
SBc
13.4
12.7
4 × 0.8
cF, L, vmE
UGC 8711, MCG 8-25-41, CGCG 246-23, IRAS 13443+4621
NGC 5303
13 47 45.2
+38 18 16
Sc/P
13.1
12.4
0.9 × 0.4
pF, cS, lE, F ** inv
NGC 5303A, UGC 8725, MCG 7-28-67, IRAS 13455+3833, KCPG 397A, KUG 1345+385A, ARAK 428, CGCG 218-47
NGC 5303 B
13 47 45.4
+38 15 34
Sbc
15.4
14.6
0.7 × 0.3
pF, cS, lE, F ** inv
MCG 7-28-66, CGCG 218-46, KUG 1345+385B, KCPG 397B
NGC 5305
13 47 55.7
+37 49 34
SBb
14.4
13.6
1.5 × 1.1
eF, S, R
UGC 8729, MCG 6-30-87, CGCG 190-57
NGC 5311
13 48 55.8
+39 59 11
S0-a
13.2
12.3
2.6 × 2.3
cF, cS, R, sbM, p of 2
UGC 8735, MCG 7-28-72, CGCG 218-52, IRAS 13467+4014
NGC 5312
13 49 50.5
+33 37 20
S0-a
14.8
13.9
0.8 × 0.4
vF, R, stellar, 1st of 4
MCG 6-30-92, CGCG 190-61, NPM1G +33.0291
NGC 5313
13 49 44.3
+39 59 07
Sb
12.8
12.0
1.7 × 1
pB, pS, vlE, glbM, f of 2
UGC 8744, MCG 7-28-74, CGCG 218-54, IRAS 13475+4013
NGC 5318
13 50 35.9
+33 42 19
SB0
13.8
12.9
1.5 × 0.9
F, S, R, psbM, 2nd of 4
UGC 8751, MCG 6-30-96, CGCG 190-63
NGC 5319
13 50 40.5
+33 45 42
S
16.3
15.5
0.6 × 0.2
vF, R, n of III 423, 3rd of 4
KUG 1348+340
NGC 5320
13 50 20.2
+41 21 58
SBc
12.8
12.1
3.6 × 1.7
cF, pL, R, gbM
UGC 8749, MCG 7-28-76, CGCG 218-56, CGCG 219-1, IRAS 13482+4136
NGC 5321
13 50 43.6
+33 37 59
SB0-a
14.9
14.0
0.8 × 0.7
eF, pL, R, svmbM *, 4th of 4
MCG 6-30-101, CGCG 190-65, NPM1G +33.0292
NGC 5325
13 50 54.0
+38 16 29
Sc
16.0
15.3
0.9 × 0.8
eeF, pS, R, v diffic, 2 B st nr
NGC 5325A, MCG 7-28-80, CGCG 218-62, VV 607, KUG 1348+385, CGCG 219-7
NGC 5325 B
13 50 53.2
+38 14 25
S?
16.9
16.1
0.6 × 0.3
eeF, pS, R, v diffic, 2 B st nr
MCG 7-28-81, MCG 6-30-103
NGC 5326
13 50 50.5
+39 34 31
Sab
12.9
11.9
2.2 × 1.2
cF, S, vlE, sbM
UGC 8764, MCG 7-28-82, CGCG 218-61, CGCG 219-6
NGC 5336
13 52 09.8
+43 14 35
Sc
13.5
12.8
1.4 × 1
cF, pL, R, psbM
UGC 8785, MCG 7-29-3, CGCG 219-11, CGCG 218-66, IRAS 13500+4329
NGC 5337
13 52 23.0
+39 41 17
S?
13.5
12.6
1.7 × 0.8
vF, S, iR, * 7 p
UGC 8789, MCG 7-29-4, CGCG 219-12
NGC 5341
13 52 32.1
+37 49 01
SBd
13.9
13.3
1.3 × 0.5
lE, bM, sp h 1697
UGC 8792, MCG 6-31-2, CGCG 190-69, IRAS 13503+3803, CGCG 191-2, KUG 1350+380
NGC 5346
13 53 02.0
+39 34 51
Sc
14.5
13.8
2 × 0.8
eF, pL, irrR, glbM, r?
UGC 8804, MCG 7-29-7, CGCG 219-14, KUG 1350+398
NGC 5347
13 53 18.0
+33 29 27
SBab
13.4
12.6
1.6 × 1.3
pF, cL, R, lbM
UGC 8805, MCG 6-31-7, CGCG 191-7, KUG 1351+337A, IRAS 13510+3344
NGC 5349
13 53 13.1
+37 52 59
SBb
14.8
14.0
1.7 × 0.5
bM, sp 1697
UGC 8803, MCG 6-31-5, CGCG 190-72, CGCG 191-6, IRAS 13510+3807
NGC 5350
13 53 21.5
+40 21 50
SBbc
12.2
11.3
3.2 × 2.3
cF, pL, bM, * 7 p, 1st of 4
UGC 8810, MCG 7-29-9, MK 1485, IRAS 13512+4036, KUG 1351+406, CGCG 219-17, HCG 68C, near HD 121197
NGC 5351
13 53 28.0
+37 54 54
SBb
13.0
12.1
2.9 × 1.6
cF, L, lE 90°, vgbM
UGC 8809, MCG 6-31-8, CGCG 191-8, IRAS 13513+3809, CGCG 190-73, KUG 1351+381
NGC 5352
13 53 38.3
+36 08 03
E-S0
14.0
13.0
1.2 × 1
cF, S, R, lbM, * nf 90"
UGC 8812, MCG 6-31-11, CGCG 191-9
NGC 5353
13 53 26.7
+40 16 59
S0
12.0
11.0
2.2 × 1.1
pB, S, R, 2nd of 4
UGC 8813, MCG 7-29-10, CGCG 219-18, HCG 68A
NGC 5354
13 53 26.7
+40 18 11
S0
12.3
11.4
1.4 × 1.3
pF, S, R, 3rd of 4
UGC 8814, MCG 7-29-11, CGCG 219-19, HCG 68B, near HD 121197
NGC 5355
13 53 45.5
+40 20 20
S0
14.0
13.1
1.2 × 0.7
vF, pS, 4th of 4
UGC 8819, MCG 7-29-12, CGCG 219-20, HCG 68D, near HD 121197
NGC 5358
13 54 00.4
+40 16 40
S0-a
14.6
13.6
1.1 × 0.3
vF, vS, R, 2 vF st inv
UGC 8826, MCG 7-29-13, CGCG 219-22, HCG 68E
NGC 5361
13 54 35.3
+38 26 58
S?
14.8
13.9
0.8 × 0.5
eF, cS, E
MCG 7-29-15, CGCG 219-25, KUG 1352+386, IRAS 13524+3841
NGC 5362
13 54 53.1
+41 18 49
Sb
13.1
12.3
2.2 × 1
pB, pL, E
UGC 8835, MCG 7-29-16, CGCG 219-26, KUG 1352+415, IRAS 13527+4133
NGC 5371
13 55 40.0
+40 27 44
SBbc
11.3
10.6
4.2 × 3.4
pB, L, R, bMFN
NGC 5390, UGC 8846, MCG 7-29-20, CGCG 219-29, IRAS 13535+4042
NGC 5377
13 56 16.7
+47 14 08
SBa
12.2
11.3
4.7 × 2.4
B, L, mE 42°, smbMN
UGC 8863, MCG 8-25-52, CGCG 246-27, KARA 604, IRAS 13542+4729
NGC 5378
13 56 50.9
+37 47 50
SBa
13.4
12.5
2.7 × 2.2
pB, lE, vglbM
UGC 8869, MCG 6-31-27, CGCG 191-20
NGC 5380
13 56 56.7
+37 36 37
E-S0
13.3
12.3
1.7 × 1.7
F, cS, R, smbM
UGC 8870, MCG 6-31-28, CGCG 191-21
NGC 5383
13 57 04.9
+41 50 46
SBb
12.1
11.4
3.2 × 2.7
cB, cL, R, gbM
UGC 8875, MCG 7-29-23, MK 281, IRAS 13550+4205, CGCG 219-33, KUG 1355+420
NGC 5394
13 58 33.7
+37 27 13
SBb/P
13.7
13.0
1.9 × 1.3
cF, S, np of 2
UGC 8898, MCG 6-31-33, CGCG 191-24, IRAS 13564+3741, KCPG 404A, VV 48, Arp 84, KUG 1356+376A, Z 1356.4+3742
NGC 5395
13 58 37.9
+37 25 31
Sb
12.1
11.4
2.7 × 1.3
cF, cL, E 15°, lbM, sf of 2
UGC 8900, MCG 6-31-34, CGCG 191-26, KCPG 404B, 1ZW 77, VV 48, Arp 84, KUG 1356+376B
NGC 5396
13 56 55.9
+29 09 51
SBab
12.3
11.5
3.3 × 2.8
vF, S, iR, sbM *
NGC 5375, UGC 8865, MCG 5-33-27, IRAS 13546+2924, KARA 605, CGCG 162-35
NGC 5399
13 59 31.2
+34 46 24
Sbc
14.7
13.9
1.2 × 0.3
eF, vS, pmE 90°
UGC 8912, MCG 6-31-39, CGCG 191-27, IRAS 13573+3500
NGC 5401
13 59 43.5
+36 14 17
Sa
14.6
13.7
1.5 × 0.3
cF, cS, E
UGC 8916, MCG 6-31-40, CGCG 191-28
NGC 5403
13 59 50.9
+38 10 55
SBb
14.4
13.6
3.1 × 0.7
vF, pL, iF
UGC 8919, MCG 6-31-41, CGCG 191-29, IRAS 13577+3825, VV 310, "mini Sombrero"
NGC 5406
14 00 20.1
+38 54 55
SBbc
13.1
12.3
1.9 × 1.4
F, pS, R, lbM
UGC 8925, MCG 7-29-31, CGCG 219-38, IRAS 13582+3909
NGC 5407
14 00 50.0
+39 09 24
E?
14.2
13.2
1.1 × 0.6
vF, vS, R, bM, in Cl
UGC 8930, MCG 7-29-33, CGCG 219-40, NPM1G +39.0338
NGC 5410
14 00 54.5
+40 59 17
SB?
13.9
13.1
1.5 × 0.8
pF, pS, bM
UGC 8931, MCG 7-29-34, CGCG 219-41, KCPG 406A, VV 256, KUG 1358+412A
NGC 5421 A
14 01 41.4
+33 49 36
SB?
14.2
13.2
1.4 × 1
F, irrR, 2 vF st inv
UGC 8941, MCG 6-31-45, MK 665, Arp 111, KUG 1359+340, CGCG 191-33, VV 120, IRAS 13594+3404, KCPG 407A, 1ZW 78
NGC 5421 B
14 01 42.1
+33 49 19
C
14.2
13.2
0.8 × 0.8
F, irrR, 2 vF st inv
UGC 8941, MCG 6-31-45, MK 665, Arp 111, KUG 1359+340, CGCG 191-33, VV 120, IRAS 13594+3403, KCPG 407B, 1ZW 78
NGC 5433
14 02 36.1
+32 30 37
Sd
14.1
13.5
1.6 × 0.4
vF, cS, lE 0°, bM
UGC 8954, MCG 6-31-50, CGCG 191-38, KUG 1400+327, IRAS 14003+3245
NGC 5439
14 01 57.5
+46 18 41
Sbc
14.7
13.9
1.1 × 0.4
vF, pL, cE, bet 2 st
UGC 8947, MCG 8-26-2, CGCG 247-3, KARA 609, IRAS 14000+4632
NGC 5440
14 03 00.6
+34 45 24
Sa
13.2
12.3
2.2 × 1
pF, cS, lE, bM, * 11 sp
UGC 8963, MCG 6-31-52, CGCG 191-40
NGC 5441
14 03 11.9
+34 41 04
Sc
16.3
15.6
0.6 × 0.6
vF, S
MCG 6-31-53, KUG 1401+349
NGC 5444
14 03 24.1
+35 07 57
E2
12.8
11.9
2.5 × 2
pB, pL, ivlE, vsmbM
UGC 8974, MCG 6-31-54, CGCG 191-41
NGC 5445
14 03 31.3
+35 01 29
S0
14.0
13.0
1.5 × 0.7
F, * 13 p
UGC 8976, MCG 6-31-55, CGCG 191-42
IC 801
12 33 44.8
+52 15 17
Sa
14.6
13.7
1.2 × 1
eeF, S, R, * close n
UGC 7717, MCG 9-21-17, CGCG 270-9
IC 861
13 15 07.5
+34 19 42
S0-a
15.5
14.6
0.8 × 0.5
F, vS, R, sbM
UGC 8326, MCG 6-29-68, CGCG 189-46
IC 883
13 20 35.5
+34 08 19
Im/P
14.4
13.8
1.4 × 0.7
F, pS, iR, bM
UGC 8387, CGCG 189-54, 1ZW 56, Arp 193, VV 821, PRC D-25, IRAS 13183+3423
IC 3002
12 07 04.2
+33 22 57
Sc
16.3
15.6
0.5 × 0.5
F, cS, R, gbM, r
MCG 6-27-10, CGCG 187-8
IC 3014
12 08 36.9
+38 49 55
SBbc
14.3
13.5
1.2 × 0.8
pB, cS, R, gbM, r
UGC 7119, MCG 7-25-28A, CGCG 215-31, KUG 1206+391
IC 3022
12 10 02.3
+38 44 26
E-S0
14.5
13.5
2.9 × 0.9
pB, pS, gbM
MCG 7-25-39, CGCG 215-41
IC 3110
12 17 44.8
+37 24 01
S
16.8
16.0
0.55 × 0.4
vF, S, dif
NPM1G +37.0353
IC 3405
12 28 59.5
+37 43 50
S0
17.1
16.1
0.7 × 0.2
F, S, R, vlbM
NPM1G +38.0255
IC 3687
12 42 15.1
+38 30 13
IBm
13.7
13.5
2.5 × 1.5
vF, cL, dif, sev N
UGC 7866, MCG 7-26-39, DDO 141, CGCG 216-19
IC 3697
12 42 58.8
+39 50 46
S?
16.1
15.3
0.8 × 0.7
vF, S, N, ? neb *
MCG 7-26-41, NPM1G +40.0293
IC 3713
12 44 03.1
+41 10 10
S0
15.7
14.7
0.8 × 0.7
F, pS, dif, * 13 sf 1'
MCG 7-26-46, CGCG 216-23, NPM1G +41.0305
IC 3717
12 44 23.0
+39 31 20
S?
16.3
15.5
0.7 × 0.2
F, cS, E 150°, bM, * 15 np
MCG 7-26-47
IC 3723
12 44 30.6
+40 44 14
S
15.9
15.1
0.3 × 0.2
pF, vS, R, bM
MCG 7-26-48, MK 441, CGCG 216-24
IC 3726
12 44 42.6
+40 40 44
Sc
15.4
14.7
1.5 × 0.3
F, cS, E 145°, bM
UGC 7921, MCG 7-26-49, CGCG 216-25, IRAS 12423+4057
IC 3729
12 44 53.0
+39 21 06
S?
16.3
15.5
0.3 × 0.2
F, vS, iF, N, neb st np
MCG 7-26-50, NPM1G +39.0299
IC 3746
12 45 31.8
+37 49 26
C
15.8
14.8
0.2 × 0.2
F, S, iF, N
CGCG 188-19, NPM1G +38.0264
IC 3751
12 45 45.1
+37 49 25
E0
16.5
15.5
0.2 × 0.2
F, vS, iF, N, neb * 15 p
NPM1G +38.0266
IC 3758
12 45 59.6
+40 46 31
E0
15.4
14.4
0.4 × 0.4
pF, S, neb *
CGCG 216-26, NPM1G +41.0308
IC 3771
12 46 52.6
+39 10 25
E3
16.7
15.7
0.3 × 0.2
vF, S, dif
NPM1G +39.0300
IC 3772
12 46 56.1
+36 31 52
SB?
15.6
14.8
0.7 × 0.4
pF, cS, iF, N
MCG 6-28-28, CGCG 188-20
IC 3774
12 47 01.0
+36 17 17
S
16.5
15.7
0.9 × 0.4
F, cS, iF, N
UGC 7947, MCG 6-28-29
IC 3778
12 47 01.9
+40 35 49
E3
15.5
14.5
0.4 × 0.3
pF, S, R, bM
CGCG 216-28, NPM1G +40.0298
IC 3783
12 47 27.8
+40 33 59
S
15.5
14.7
0.7 × 0.6
pF, S, iF, N
MCG 7-26-52, CGCG 216-29
IC 3786
12 47 36.8
+39 02 47
S
16.6
15.8
0.4 × 0.3
vF, S, iF, p dif
NPM1G +39.0301
IC 3795
12 48 05.0
+40 43 08
S0
16.0
15.0
0.5 × 0.1
F, S, iF, N
MCG 7-26-53, CGCG 216-30
IC 3800
12 48 27.3
+36 34 30
E0
16.5
15.5
0.4 × 0.4
F, S, iF, N
vf comp p, contact
IC 3808
12 48 58.8
+40 35 45
Sbc
15.5
14.7
0.7 × 0.3
pF, S, iF, N, * 14 f ½'
MCG 7-26-55, CGCG 216-32, MK 445
IC 3809
12 49 04.4
+36 29 22
E4
16.6
15.6
0.5 × 0.3
pF, S, iF, N
NPM1G +36.0289
IC 3816
12 49 28.4
+37 13 51
C
15.4
14.4
0.5 × 0.5
pF, vS, R, bM
MCG 6-28-34, NPM1G +37.0372
IC 3820
12 49 39.0
+37 07 02
C
16.0
15.0
0.2 × 0.2
vF, vS, iF, N
IC 3828
12 50 20.6
+37 56 58
S
16.0
15.2
0.3 × 0.2
F, vS, iF, ? neb *
NPM1G +38.0267
IC 3832
12 50 49.0
+39 48 36
Sc
16.3
15.6
0.5 × 0.5
F, S, iF, p dif
MCG 7-26-57
IC 3835
12 50 55.8
+40 11 12
S
16.0
15.2
0.4 × 0.2
vF, vS, iF, N
IC 3836
12 51 03.6
+40 11 02
S
16.2
15.4
0.3 × 0.1
vF, vS, iF, N
IC 3842
12 51 35.8
+40 22 19
C
16.2
15.2
0.3 × 0.3
vF, cS, dif, neb * np ½'
NPM1G +40.0299
IC 3843
12 51 39.0
+39 00 03
S
16.2
15.4
0.4 × 0.2
F, vS, mE 160°, am 3 st
IC 3844
12 52 06.4
+39 49 07
Sc
16.2
15.5
0.3 × 0.2
vF, S, iF, N
MCG 7-26-59, NPM1G +40.0300
IC 3850
12 52 39.6
+40 06 11
S
15.6
14.8
1 × 0.8
pF, vS, iF, N
MCG 7-27-1
IC 3852
12 53 03.2
+35 46 23
SBcd
15.0
14.3
1.2 × 0.6
F, pS, E 60°, bM
UGC 8019, MCG 6-28-38, KUG 1250+360
IC 3853
12 53 10.5
+38 49 46
E3
17.0
16.0
0.4 × 0.3
eF, S, p dif
IC 3854 1
12 53 12.6
+40 50 56
S
16.8
16.0
0.5 × 0.2
vF, pL, dif, diffic, * 15 f
NPM1G +41.0311
IC 3854 2
12 53 14.5
+40 50 55
E0
16.5
15.5
0.3 × 0.3
vF, pL, dif, diffic, * 15 f
NPM1G +41.0312
IC 3855
12 53 22.6
+36 47 11
S0
16.7
15.7
0.5 × 0.2
pF, eS, R, bM
NPM1G +37.0374
IC 3861
12 53 50.8
+38 16 57
E3
16.2
15.2
0.3 × 0.2
F, eS, ? neb *
IC 3862
12 53 53.2
+36 05 12
Sd
15.1
14.5
1.3 × 0.6
vF, pS, dif, * 15 att
UGC 8023, MCG 6-28-39, VV 266, Arp 265, KUG 1251+363
IC 3863
12 53 53.9
+38 28 51
S0
16.0
15.0
0.6 × 0.2
F, S, iF, * 14 att
IC 3879
12 54 32.0
+38 37 43
S
16.5
15.7
0.7 × 0.5
F, S, R, bM
MCG 7-27-2
IC 3885
12 54 42.7
+37 09 16
S
16.0
15.2
0.3 × 0.3
F, S, R, neb *
IC 3888
12 54 46.3
+39 34 19
S0
15.3
14.3
1 × 0.2
F, S, lE 60°, N
MCG 7-27-3, NPM1G +39.0303
IC 3890
12 54 50.1
+37 11 07
S
16.2
15.4
0.3 × 0.1
vF, S, iF, N
IC 3891
12 54 58.3
+36 03 09
S
16.2
15.4
0.3 × 0.2
vF, S, iF, diffic
IC 3892
12 55 06.0
+39 13 23
Sab
15.2
14.4
1.3 × 0.6
F, S, iF
UGC 8044, MCG 7-27-5, CGCG 217-2, KCPG 360A
IC 3893
12 55 07.6
+38 37 28
S
16.5
15.7
0.4 × 0.2
vF, S, iF, N
IC 3895
12 55 09.3
+39 12 13
Sb
15.3
14.5
0.8 × 0.8
F, cS, iF, N, * 15 nf conn
MCG 7-27-6, CGCG 217-3, KCPG 360B
IC 3897
12 55 19.0
+39 40 23
S
16.4
15.6
0.3 × 0.2
F, vS, E 40°, bM
NPM1G +39.0305
IC 3898
12 55 23.8
+37 35 00
E5
17.2
16.2
0.2 × 0.1
eF, vS, v diffic, att eF *
NPM1G +37.0376
IC 3904
12 55 45.5
+36 17 36
SBc
15.8
15.1
0.7 × 0.5
F, S, bM, spir
MCG 6-28-43, CGCG 189-1, CGCG 188-29, KARA 558, KUG 1253+365
IC 3909
12 56 02.7
+40 23 07
E3
16.2
15.2
0.3 × 0.2
vF, vS, R, bM
IC 3911 1
12 56 09.2
+35 38 13
E0
16.3
15.3
0.3 × 0.3
vF, pS, dif, diffic
IC 3911 2
12 56 09.6
+35 38 20
E0
17.0
16.0
0.2 × 0.2
vF, pS, dif, diffic
IC 3914
12 56 22.7
+36 21 38
E0
16.7
15.7
0.2 × 0.2
eF, vS, iF, N
IC 3916
12 56 31.2
+38 36 51
S
15.4
14.6
0.9 × 0.6
pF, S, bM, spir ?
UGC 8063, MCG 7-27-8, CGCG 217-4
IC 3919
12 56 48.7
+38 35 19
C
15.8
14.8
0.3 × 0.2
F, vS, bM, spir
NPM1G +38.0265
IC 3920
12 56 50.0
+39 57 33
S0
15.7
14.7
0.6 × 0.2
F, vS, iF, N
NPM1G +40.0303
IC 3921
12 56 56.7
+38 38 24
S
16.2
15.4
0.5 × 0.2
F, vS, bM, spir
IC 3922
12 56 57.5
+38 28 43
S0
15.8
14.8
1 × 0.2
vF, vS, iF
IRAS 12546+3844
IC 3928
12 57 18.3
+40 26 30
E3
16.5
15.5
0.3 × 0.2
vF, pL, dif, * 13 att
IC 3930
12 57 22.4
+38 45 53
S
16.0
15.2
0.5 × 0.2
F, vS, N, ? neb *
IC 3940
12 58 16.4
+35 50 22
C
15.7
14.7
0.4 × 0.2
cF, vS, R, bM
NPM1G +36.0291, KUG 1255+361
IC 3941
12 58 13.8
+39 46 24
E0
16.7
15.7
0.3 × 0.3
F, vS, iF, N
NPM1G +40.0304
IC 3945
12 58 29.6
+39 56 08
S0
16.0
15.0
0.6 × 0.2
F, vS, iF, N
IC 3952
12 58 52.1
+38 52 11
E0
16.0
15.0
0.3 × 0.3
F, cS, iF, N
IC 3956
12 58 56.4
+37 23 55
C
16.2
15.2
0.3 × 0.3
F, vS, R, bM
NPM1G +37.0377
IC 3966
12 59 13.1
+35 51 15
Sc
15.5
14.8
0.7 × 0.5
F, S, iF, N
MCG 6-29-7, KUG 1256+361
IC 3967
12 59 12.8
+36 07 47
S?
16.1
15.2
0.4 × 0.2
pF, vS, iF, N
MCG 6-29-5, CGCG 189-7, NPM1G +36.0293
IC 3975
12 59 15.6
+38 52 59
S0
15.4
14.4
0.7 × 0.4
pF, vS, E 40°, bM
MCG 7-27-9
IC 3980
12 59 18.6
+39 09 04
S
16.3
15.5
0.3 × 0.2
eF, vS, iF
IC 3987
12 59 25.0
+38 44 02
E0
15.6
14.6
0.4 × 0.4
pF, vS, R, bM
NPM1G +39.0306
IC 3993
12 59 30.4
+40 36 08
E0
15.8
14.8
0.3 × 0.3
F, vS, iF, N
NPM1G +40.0305
IC 3997
12 59 37.0
+36 41 42
E3
16.5
15.5
0.3 × 0.2
vF, S, iF
IC 4000
12 59 36.6
+39 35 16
C
16.3
15.3
0.2 × 0.2
vF, vS, iF, ? neb *
IC 4001
12 59 37.8
+38 52 11
S
15.8
15.0
0.6 × 0.3
pF, vS, R, bM
IC 4002
12 59 40.7
+36 45 52
C
16.0
15.0
0.4 × 0.2
pF, S, iF, N
NPM1G +37.0378, KUG 1257+370
IC 4003
12 59 39.3
+38 48 58
S
15.1
14.3
0.7 × 0.7
pF, vS, iF, N
MCG 7-27-10, CGCG 217-5, NPM1G +39.0307
IC 4004
12 59 42.8
+38 48 40
S M
15.3
14.5
0.8 × 0.8
pF, vS, iF, N
MCG 7-27-11, CGCG 217-5
IC 4010
12 59 53.9
+37 51 34
S
16.5
15.7
0.4 × 0.2
F, vS, iF, N
NPM1G +38.0270
IC 4016
12 59 59.9
+37 11 14
S?
15.8
15.0
0.4 × 0.2
D neb, eF, S, iF, N
NGC 4893A, UGC 8111, MCG 6-29-9, CGCG 189-10, VV 222
IC 4018
12 59 57.4
+40 29 20
E3
16.5
15.5
0.3 × 0.2
vF, S, iF, N
IC 4020
13 00 03.4
+38 36 35
S
16.0
15.2
0.8 × 0.1
eF, pL, dif
IC 4027
13 00 13.8
+37 08 27
SB0
16.0
15.0
0.3 × 0.1
F, S, iF, N, 4893 np
IC 4028
13 00 16.5
+36 15 11
SBc
15.1
14.4
0.7 × 0.6
F, cS, iF, N
UGC 8115, MCG 6-29-12, CGCG 189-11
IC 4029
13 00 14.2
+38 45 35
S0
16.0
15.0
0.3 × 0.1
vF, vS, iF, N
IC 4031
13 00 15.5
+39 08 42
E0
16.5
15.5
0.2 × 0.2
vF, S, R, bM
IC 4034
13 00 19.8
+37 02 45
E0
16.0
15.0
0.2 × 0.2
cF, S, iF, N
IC 4035
13 00 16.7
+40 17 58
S
16.2
15.4
0.4 × 0.2
vF, S, v iF, diffic
IC 4037
13 00 19.5
+39 00 08
C
16.5
15.5
0.3 × 0.2
F, vS, iF, N
IC 4038
13 00 21.7
+37 02 23
S0
16.3
15.3
0.3 × 0.2
F, vS, iF, N
NPM1G +37.0380
IC 4043
13 00 34.9
+37 04 15
Sd
16.5
15.9
0.9 × 0.3
vF, S, iF
UGC 8123
IC 4048
13 00 38.2
+39 49 50
S
16.0
15.2
0.4 × 0.2
vF, vS, iF, N
IC 4049
13 00 42.6
+36 20 45
S0
15.3
14.3
0.8 × 0.8
pB, vS, sbM *
UGC 8124, MCG 6-29-13, CGCG 189-12, NPM1G +36.0294
IC 4056
13 00 44.3
+39 45 16
SBbc
16.0
15.2
0.8 × 0.6
F, vS, exc N
UGC 8126, MCG 7-27-12, VV 418
IC 4060
13 00 52.4
+40 35 04
S?
15.2
14.3
0.7 × 0.5
vF, cS, iF, N
MCG 7-27-13
IC 4061 1
13 00 57.4
+39 35 00
C
16.0
15.0
0.3 × 0.2
vF, S, iF
IC 4061 2
13 00 58.1
+39 35 01
C
16.5
15.5
0.2 × 0.2
vF, S, iF
IC 4062
13 00 58.7
+39 51 31
SB M
15.0
14.2
0.4 × 0.4
vF, cS, iF, N
MCG 7-27-14
IC 4063
13 01 06.6
+39 14 42
C
16.5
15.5
0.2 × 0.2
F, S, iF, N
IC 4064
13 01 06.7
+39 50 30
S0
14.1
13.1
1.6 × 1.2
pF, S, R, bM, ? spir
UGC 8131, MCG 7-27-15, CGCG 217-6
IC 4065
13 01 10.9
+39 44 40
S
15.4
14.6
0.8 × 0.4
vF, vS, sbM *
MCG 7-27-16
IC 4067
13 01 20.2
+39 56 27
S0
16.0
15.0
0.3 × 0.3
vF, vS, iF, N
IC 4068
13 01 20.2
+39 53 56
S0
16.0
15.0
0.3 × 0.2
vF, vS, iF, N
MCG 7-27-17
IC 4069
13 01 24.9
+36 06 45
S
16.5
15.7
0.3 × 0.1
vF, vS, pR, eF N
IC 4073
13 01 25.6
+39 54 53
S
15.4
14.6
0.7 × 0.2
F, vS, iF, N
MCG 7-27-18, NPM1G +40.0307
IC 4077
13 01 34.0
+37 23 12
C
16.1
15.1
0.3 × 0.2
F, S, R, bM
NPM1G +37.0381, KUG 1259+376
IC 4082
13 01 39.3
+37 20 27
E3
16.5
15.5
0.3 × 0.2
F, S, iF
IC 4083
13 01 38.7
+38 08 32
SB0
16.5
15.5
0.4 × 0.3
F, vS, iF, neb *
IC 4085
13 01 38.1
+39 42 12
E3
16.0
15.0
0.3 × 0.2
vF, vS, R, bM
NPM1G +39.0308
IC 4086
13 01 43.0
+36 38 52
Sc
15.3
14.6
0.9 × 0.8
F, pS, iF, N, * 15 n
UGC 8141, MCG 6-29-17, CGCG 189-14, KUG 1259+369
IC 4094 1
13 01 58.5
+37 47 43
S
16.2
15.4
0.3 × 0.2
F, vS, iF, N
NPM1G +38.0271
IC 4094 2
13 01 59.0
+37 47 20
S0
17.5
16.5
0.2 × 0.1
F, vS, iF, N
IC 4098
13 02 04.1
+37 58 48
P
16.0
15.2
0.4 × 0.2
F, vS, R, bM
IC 4100
13 02 04.8
+40 24 31
Sc
14.7
14.0
1.4 × 1.1
pF, cS, iF, 3 wings
UGC 8144, MCG 7-27-19, CGCG 217-7
IC 4102
13 02 18.0
+36 09 07
E5
16.5
15.5
0.2 × 0.1
F, vS, R, sbM *
IC 4103
13 02 19.1
+38 00 59
S
15.6
14.9
0.8 × 0.5
F, vS, iF, N
MCG 6-29-19
IC 4104
13 02 18.2
+38 35 32
E3
16.0
15.0
0.3 × 0.2
F, S, iF, N
IC 4105
13 02 18.9
+38 16 16
E0
16.0
15.0
0.3 × 0.3
vF, vS, iF, neb *
IC 4108
13 02 31.5
+38 28 44
S
15.6
14.8
0.8 × 0.4
F, vS, iF, N
MCG 7-27-20, NPM1G +38.0272
IC 4114
13 02 42.0
+40 06 17
S
16.5
15.7
0.3 × 0.1
vF, S, v iF, N
IC 4115
13 02 49.0
+37 13 20
S?
15.9
15.1
0.4 × 0.4
F, pL, iF, N
MCG 6-29-20, KUG 1300+374
IC 4118
13 02 51.6
+38 17 37
S0
15.8
14.8
0.5 × 0.3
F, vS, R, bM
MCG 7-27-21, NPM1G +38.0273
IC 4123
13 03 05.8
+38 18 54
S?
15.9
15.0
0.5 × 0.5
F, S, fan, Ns
MCG 7-27-23
IC 4127
13 03 17.5
+38 02 46
S0
16.3
15.3
0.5 × 0.3
F, vS, iF, neb *
MCG 6-29-22
IC 4131
13 03 25.5
+38 57 04
P
16.3
15.5
0.6 × 0.4
F, cS, iF, N
IC 4135
13 03 37.3
+40 14 55
S
16.0
15.2
0.9 × 0.7
vF, cS, iF, N
UGC 8163
IC 4144
13 03 50.2
+36 56 33
Sb
16.1
15.3
1.1 × 0.1
F, cS, iF
UGC 8169, MCG 6-29-23
IC 4145
13 03 49.8
+38 17 11
S
15.8
15.0
0.6 × 0.2
vF, S, iF
Reiz 3199
IC 4151
13 03 59.2
+36 51 26
P
16.5
15.7
0.3 × 0.2
vF, cS, iF
IC 4152
13 03 58.5
+38 11 57
C
16.2
15.2
0.3 × 0.3
F, vS, iF, N
IC 4158
13 04 24.6
+36 28 50
S0
15.8
14.8
0.5 × 0.2
F, S, iF, N
NPM1G +36.0296
IC 4161
13 04 35.2
+39 58 39
S0
16.0
15.0
0.5 × 0.1
F, vS, iF, N
IC 4165
13 04 57.1
+39 55 29
Sc
15.5
14.8
0.7 × 0.7
F, cS, p dif
MCG 7-27-25
IC 4166
13 05 18.7
+31 26 31
SBab
15.1
14.3
0.9 × 0.5
F, S, dif
UGC 8180, MCG 5-31-122, CGCG 160-133
IC 4168
13 05 10.8
+40 02 59
S
16.0
15.2
0.6 × 0.4
F, vS, R, bM, * 13 sp
MCG 7-27-29
IC 4169
13 05 12.5
+38 46 25
C
16.0
15.0
0.2 × 0.2
vF, S, iF, N
IC 4171
13 05 18.8
+36 06 09
Scd
14.5
13.8
0.9 × 0.5
F, cS, E 60°, bM
UGC 8182, MCG 6-29-26, KUG 1302+363
IC 4178
13 05 41.6
+36 01 03
Im
15.7
15.1
1.1 × 0.4
vF, cS, R, bM, dif
UGC 8187, MCG 6-29-30
IC 4182
13 05 49.3
+37 36 23
Sm
11.8
11.1
4.8 × 4.1
cF, vL, iF, N
UGC 8188, MCG 6-29-31, CGCG 189-20
IC 4184
13 05 51.7
+38 50 16
S0
15.5
14.5
0.4 × 0.3
pF, S, iF, N
NPM1G +39.0310
IC 4187
13 05 59.7
+36 17 54
E-S0
15.9
14.9
0.3 × 0.3
F, S, iF, N, D * s
MCG 6-29-32
IC 4188
13 06 02.5
+36 19 38
Sbc
16.2
15.7
0.6 × 0.3
vF, S, iF, cF neb p 1'
MCG 6-29-33, KUG 1303+365
IC 4189
13 06 03.7
+35 58 48
Sc
14.2
13.5
1.3 × 0.9
pF, pS, E 60°, bM
UGC 8191, MCG 6-29-34, CGCG 189-21, KUG 1303+362
IC 4193
13 06 06.2
+39 25 24
E4
15.6
14.6
0.5 × 0.3
pF, S, iF, N, eF * att np
CGCG 217-11
IC 4201
13 07 51.3
+35 50 02
S
15.4
14.6
0.5 × 0.5
F, S, iF, N
MCG 6-29-42
IC 4204
13 08 21.6
+39 27 39
SBc
15.3
14.6
1.3 × 0.2
F, cS, ? spir
UGC 8224, FGC 1566
IC 4207
13 09 27.0
+37 49 22
E3
16.5
15.5
0.3 × 0.2
vF, cS, iF
IC 4213
13 12 11.3
+35 40 17
Sc
14.0
13.3
2.5 × 0.5
F, L, vmE ns, gvlbM
UGC 8280, MCG 6-29-57, CGCG 189-39
IC 4225
13 20 00.9
+31 58 55
S0-a
15.2
14.3
1 × 0.3
F, cS, R
UGC 8378, MCG 5-31-177, CGCG 160-198, CGCG 161-16
IC 4226
13 20 30.3
+32 00 16
S0
15.0
14.0
0.4 × 0.3
F, vS, stell N
MCG 5-32-2, CGCG 160-205, CGCG 161-23, NPM1G +32.0345, DFOT 448
IC 4227
13 20 53.4
+32 11 28
S
15.6
14.8
0.4 × 0.2
F, S, gbM, r
CGCG 161-25, DFOT 450
IC 4238
13 23 59.9
+30 55 57
S0
15.8
14.8
0.8 × 0.2
F, vS, dif, 5131 np
IC 4239
13 24 25.4
+30 57 33
SB0-a
15.3
14.4
0.8 × 0.4
F, cS, dif
MCG 5-32-15, CGCG 161-45
IC 4240
13 24 27.5
+30 58 40
S0
16.5
15.5
0.4 × 0.2
F, vS, dif
IC 4242
13 24 41.1
+31 01 34
S0
16.0
15.0
0.5 × 0.3
F, S, R, N
IC 4256
13 27 03.1
+30 58 35
Sb
15.5
14.7
0.4 × 0.2
vF, S, R
CGCG 161-54
IC 4258
13 27 53.3
+28 30 31
E3
15.2
14.2
0.7 × 0.5
F, S, gbMN
MCG 5-32-22, CGCG 161-57, NPM1G +28.0272
IC 4263
13 28 33.4
+46 55 37
SBcd
15.2
14.5
1.9 × 0.4
eF, pL, mE, mbM
UGC 8470, MCG 8-25-7, CGCG 246-4
IC 4266
13 29 05.7
+37 36 42
S0
16.5
15.5
0.3 × 0.2
F, S, R, N
IC 4268
13 29 12.2
+37 39 40
E0
16.6
15.6
0.2 × 0.2
F, S, R, N
NPM1G +37.0394
IC 4269
13 29 20.9
+37 37 25
S0
16.1
15.1
0.8 × 0.6
F, S, N
MCG 6-30-14, NPM1G +37.0395
IC 4271 1
13 29 21.4
+37 24 49
S
15.8
15.0
0.6 × 0.4
F, S, R, gbM, r
MCG 6-30-15, CGCG 190-12, VV 355, Arp 40
IC 4271 2
13 29 21.3
+37 24 35
C
16.3
15.3
0.3 × 0.3
F, S, R, gbM, r
MCG 6-30-15, CGCG 190-12, VV 355, Arp 40
IC 4277
13 30 16.5
+47 18 52
S
16.5
15.7
0.9 × 0.1
eF, S, vmE, nf M 51
IC 4278
13 30 27.4
+47 14 49
Irr
16.0
15.4
0.5 × 0.3
eF, vS, R, bM, f M 51
IC 4282
13 31 19.8
+47 11 02
dE?
18.0
17.4
0.3 × 0.3
eF, S, R, dif
IC 4283
13 32 10.7
+28 23 20
SBb
15.4
14.6
0.5 × 0.3
F, S, R, * 14 att
CGCG 161-78
IC 4284
13 31 31.9
+46 47 41
E0
17.0
16.0
0.2 × 0.2
eF, vS, R
IC 4285
13 31 45.5
+46 49 19
S
17.5
16.7
0.2 × 0.1
eF, vS, lE
IC 4300
13 35 25.1
+33 25 11
C
16.1
15.1
0.2 × 0.2
F, vS, dif
MCG 6-30-48
IC 4301
13 35 35.8
+33 22 28
Sbc
15.8
15.0
0.9 × 0.2
F, S, dif, N
UGC 8579, MCG 6-30-50
IC 4302
13 35 35.9
+33 28 46
Sc
15.6
14.9
1.3 × 0.1
vF, cS, dif
UGC 8580, MCG 6-30-51, FGC 1641
IC 4304
13 35 57.9
+33 25 47
Sab
14.9
14.1
1.2 × 0.4
pB, pS, R, gbM, r
UGC 8586, MCG 6-30-55, CGCG 190-32
IC 4305
13 35 58.3
+33 28 28
E5
14.8
13.8
0.7 × 0.6
pB, cS, lE ns, bMN
MCG 6-30-54, CGCG 190-33
IC 4306
13 36 19.6
+33 25 27
S?
15.8
15.0
0.5 × 0.2
F, vS, gbM, * 13 nr
MCG 6-30-58, CGCG 190-35
IC 4334
13 49 48.2
+29 41 38
S0 R
15.4
14.4
0.5 × 0.5
F, vS, R, N
MCG 5-33-8, CGCG 162-14
IC 4336
13 50 43.1
+39 42 25
SBb
14.8
14.0
1.4 × 0.4
eF, pL, dif, lbM, r
UGC 8761, MCG 7-28-77, CGCG 218-59, CGCG 219-4, IRAS 13485+3957
IC 4340
13 53 33.6
+37 23 12
S0
15.0
14.0
1 × 0.7
F, S, R, gbM
MCG 6-31-9, CGCG 191-10
IC 4341
13 53 34.3
+37 31 19
Sc
14.6
13.9
0.7 × 0.7
F, S, R, r, * 12 nr
IC 4339, MCG 6-31-10, CGCG 191-11, KUG 1351+377
IC 4355
13 58 06.0
+28 25 20
Sa
15.4
14.5
0.5 × 0.3
F, S, R, glbM
MCG 5-33-30, CGCG 162-37, IRAS 13557+2839
IC 4356
13 58 45.0
+37 29 28
C
16.0
15.0
0.3 × 0.3
F, vS, stell N = * 15
NPM1G +37.0419
IC 4357
14 00 43.7
+31 53 39
Sbc
14.7
13.9
1.1 × 0.6
F, S, R, gvlbM
UGC 8926, MCG 5-33-40, CGCG 162-47
IC 4369
14 04 05.8
+33 19 17
Sbc
16.2
15.4
0.4 × 0.3
vF, S, R, dif
MCG 6-31-58, HCG 70E, KUG 1401+335
IC 4370
14 04 09.9
+33 20 48
S?
16.1
15.2
0.3 × 0.2
F, S, iF, gbM, * 14 nr
MCG 6-31-60, CGCG 191-46, HCG 70D
IC 4371
14 04 10.9
+33 18 29
SB0-a
15.1
14.2
0.9 × 0.6
F, S, R, vlbM
MCG 6-31-61, CGCG 191-45, HCG 70B